The recent Daytona Prototype is a very nice slot car. It looks great and testing revealed we had a promising platform to build upon.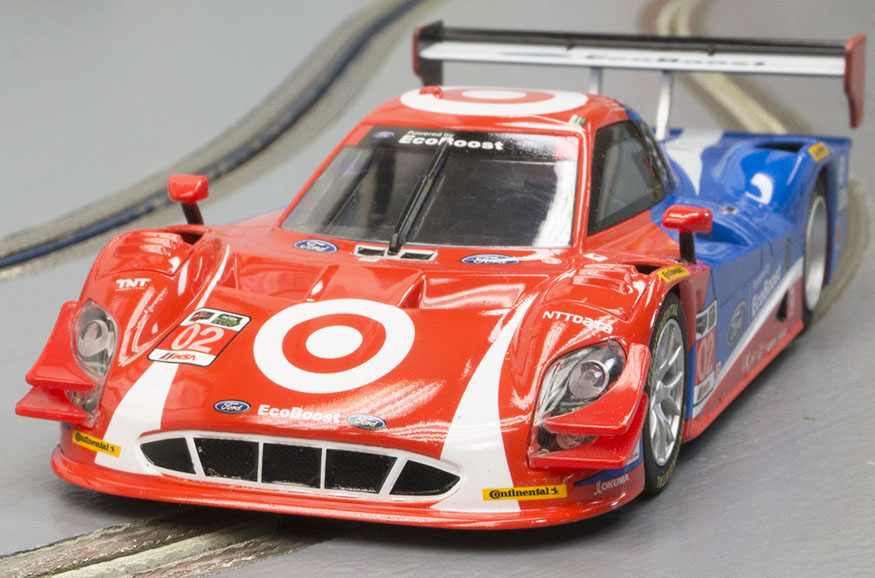 The stock running gear was round and true enough to keep and the easy to float chassis meant no need in body/chassis grinding. I knew this model had real potential to be a fast mover, even with keeping most of the gear inside.
Parts List:
Scaleauto Guide #1603
Guide Shims To Fine Tune Height
Tinned Copper Braid
Paul Gage PGT 20125LM tires
Adhesive backed sheet lead – Various Thickness.
CG Slotcars Guide Adaptors – Coming soon to a performance dealer near you.
Contact Slot Car Corner or Cloverleaf Racing For Arrival Dates
*Note – Given the vast amount of aftermarket options, you can truly go all out and replace everything if you feel you need to. I am just stubborn. I have no need to replace something if I can make it work. My goal was to improve the performance while keeping the model as stock as possible. I feel that was accomplished. YOUR mileage and personal taste will vary.
The real concern was the front guide. I just do not care for the system Scalextric employs. I wanted more depth and width on the blade. Not to mention the improvement in overall handling a precision fit guide delivers.
CG Slotcars sent in the first prototypes of the new guide adaptors. Now there is no need to make them by hand like I recently showed here. No one is more excited than myself to see these ready to go.
For wiring and guide install information, please check the recent guide modifications article here.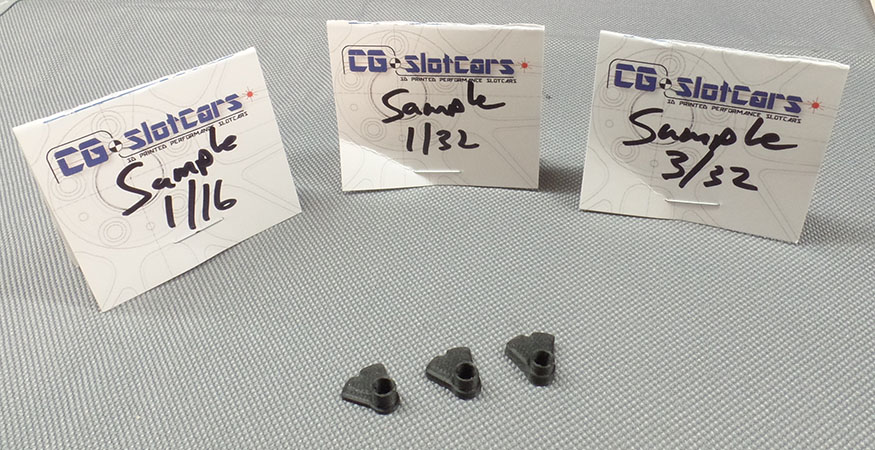 I chose the 3/32nd thickness and it fit the car perfectly.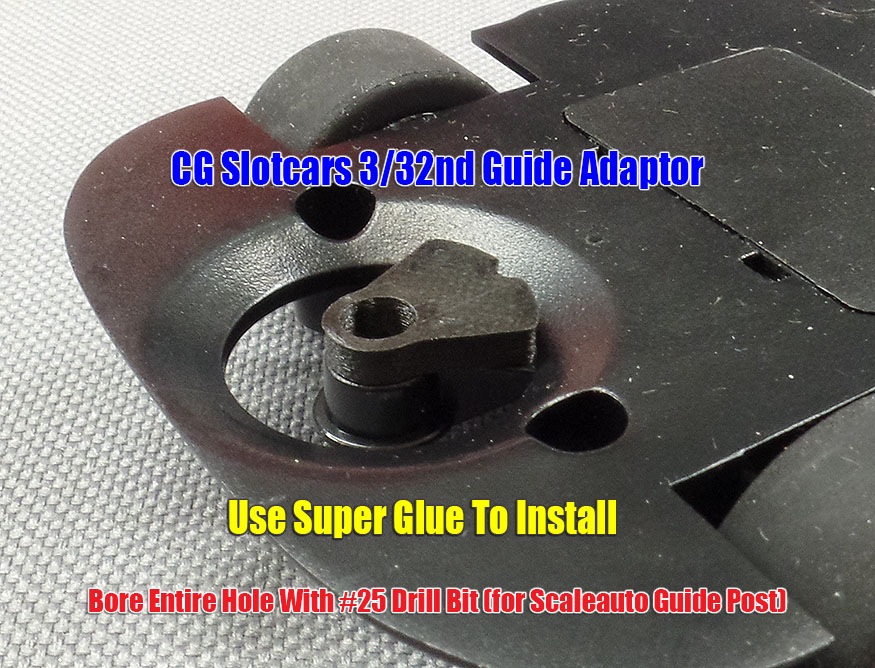 You will need to file or drill out the hole to match the guide post you are using. Very easy task. For the Scaleauto guide I used a metric #25 (3.7 MM) bit. I just did it by hand and then cleaned away any flash I left behind. Some Super Glue secures it to the chassis.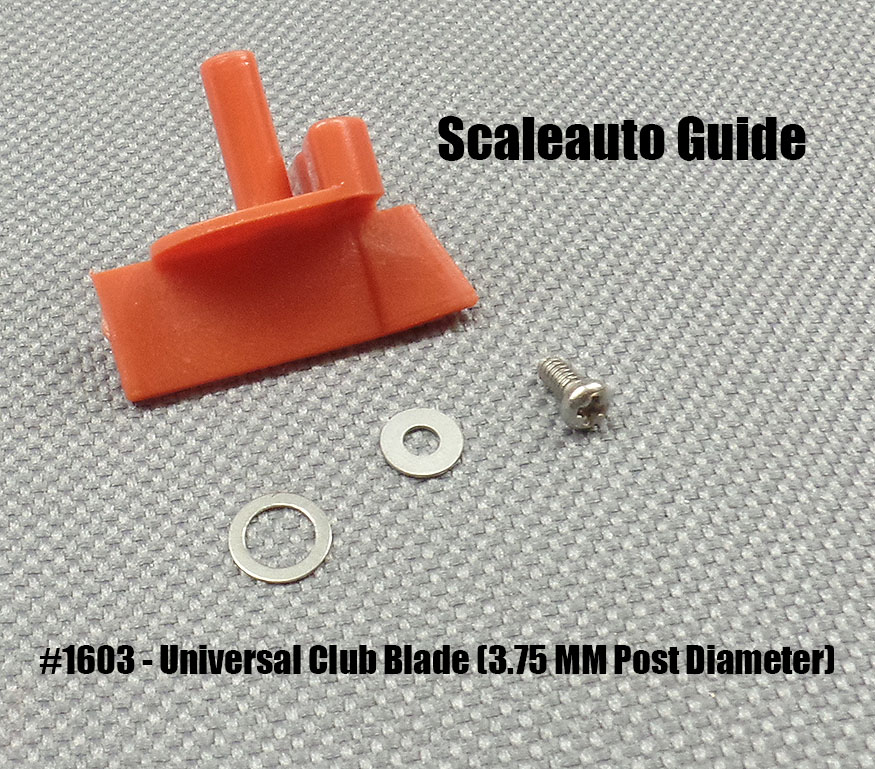 This is a decent guide I like to use from time to time. Some do not want to trim or adjust the blades (why I don't know) so this guide is a drop in and go choice. You will need additional shims as I listed in the parts list to fine tune your height for your track.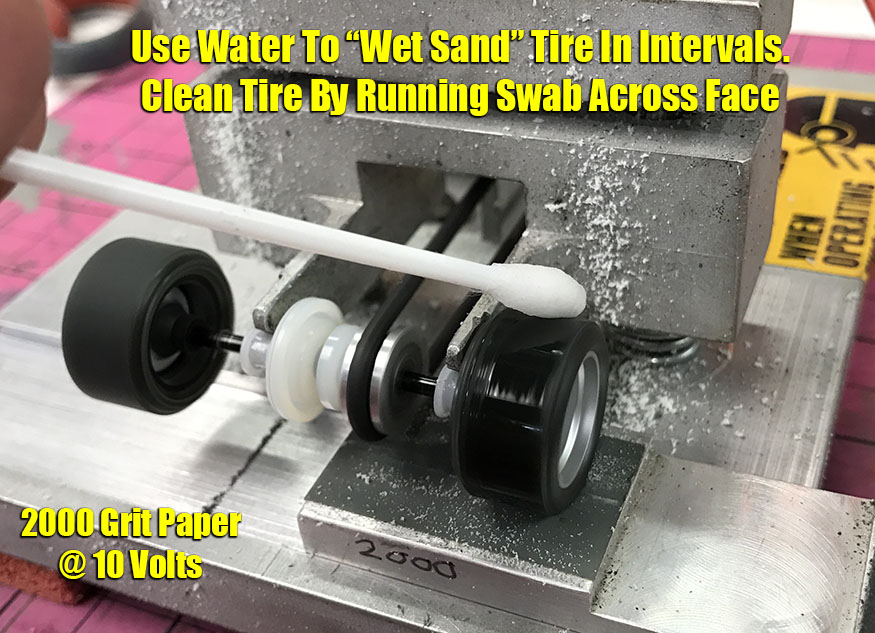 Tire Time! I installed the wheel set in the Razor first and trued the wheels the best they could be. This is why I have this tool on the bench. If I can save a stock component, I will.
Using Hansens Hard as Nails nail polish, I glued on the PGT 20125LM tires. I started with 600 grit to get the surface nearly flat and then finished with 2000 grit.
You notice the swab and water application. This is really a great way to get a smooth finish on your urethane tires. As shown above, I work with it until I have the desired finish.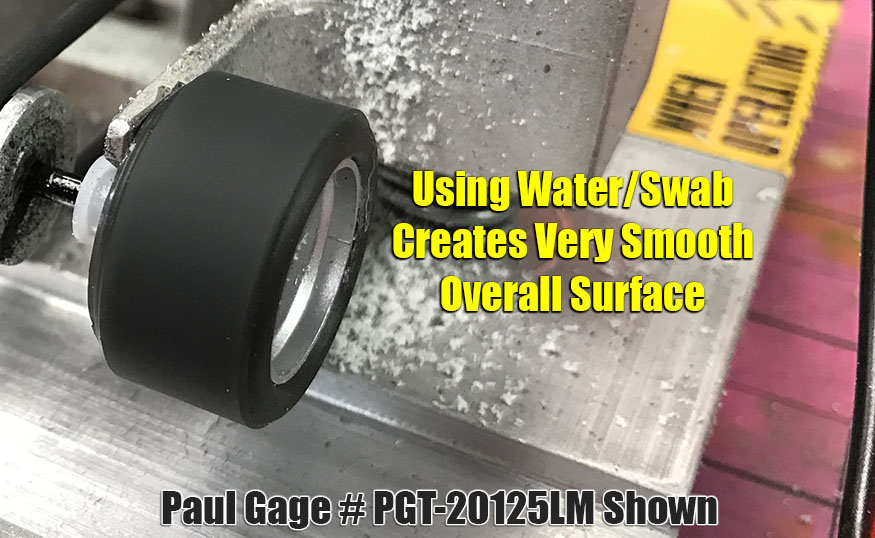 This is about as smooth and clean as you can ask for. Or at least what I can achieve. Is there a difference by using the water technique? Yes. I have tested tires with and without and the grip is noticeable.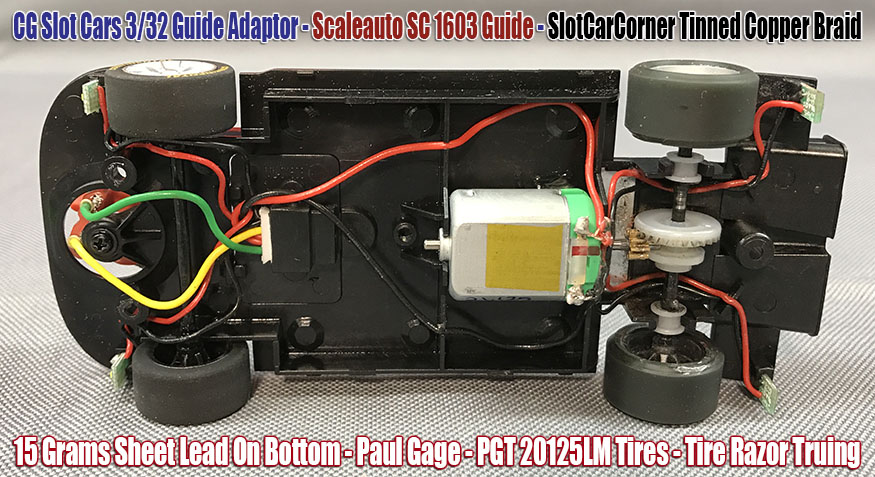 Here is the finished model once assembled. 
*NOTE – You notice a new brass pinion. It's still a 9 tooth. Sometimes the plastic pinions split over time. Sometimes they last for years. Since I had it apart I swapped them. I had suspected the stock was split but I was incorrect. So this is needed nor does it impact the stock ratio.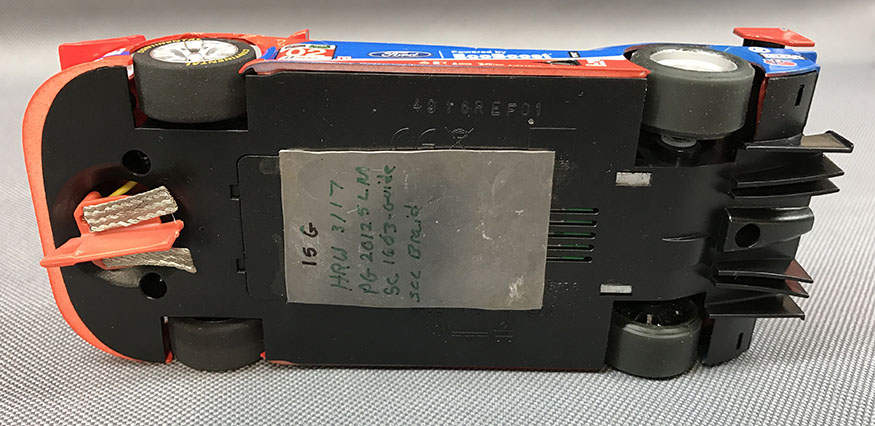 I simply started by using a large sheet on bottom. I centered it the best I could. Upon testing this proved to be just the right amount. With the performance of the car now, I'll stay with it.
I used duct tape to temporarily hold the lead. Once I decided to use this as is, I used the adhesive to secure it. 

The difference? Quite dramatic for our track. All the way down into the 3.6 ranges. 
Not to mention the overall smoothness and grip. This car is just on rails around our smaller course.
As a wood track owner, I am perfectly happy knowing that these models are not made for my track. Therefore I do not harshly critique them if they do not perform perfectly out of the box. I realize each model is going to need some work to achieve the performance I am looking for. Sometimes it takes a lot more time and a lot more budget, sometimes not. Such was the case with this release. A guide and tire swap were the main changes and that's really not much compared to others in stable.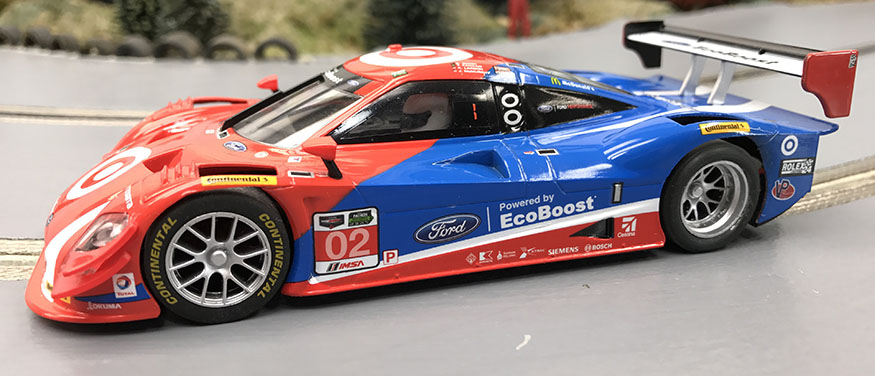 -Harry