07/29/2014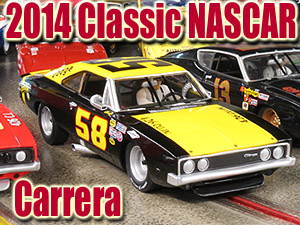 1/32nd Scale Carrera Dodge Charger 500 - Andy Hampton #58 -
The very latest classic NASCAR from Carrera has finally arrived at my track. This series continues to be one of the longest running and most successful lines Carrera has ever offered. This model has significance aside from the fact it carries on the tradition but it does take much for me to add another one.
Special because it features Andy Hampton. He may not be known to all of you, but old school ARCA race fans certainly do. Here is a good historical page about him and it is well worth the read. It is not everyday we see drivers like this who made history here in the good old USA modeled in our scale. Perhaps it means little to some, but it means a great deal to me.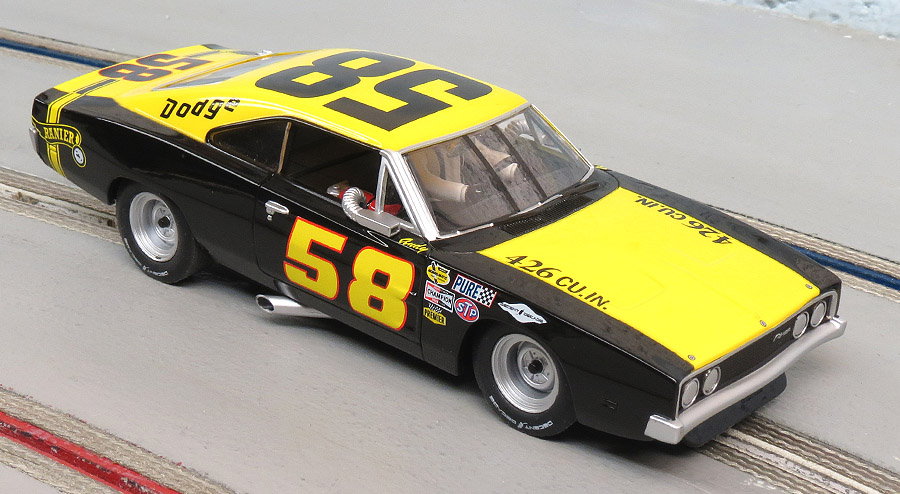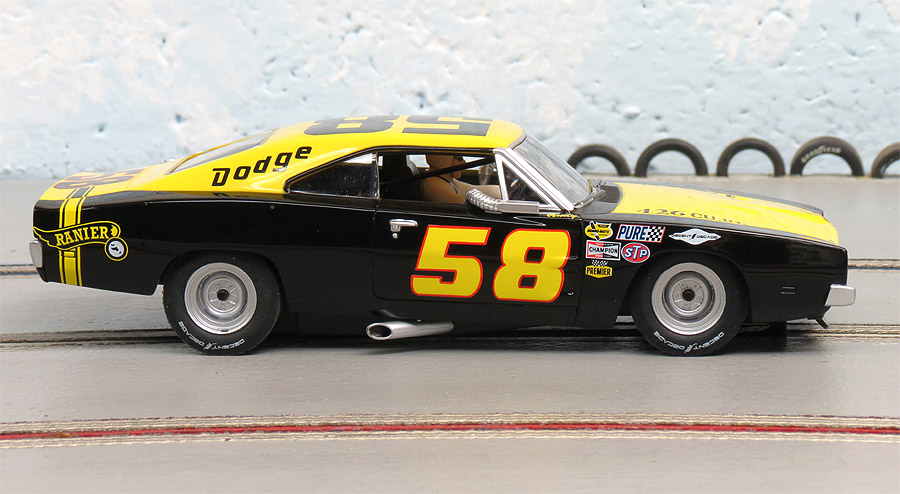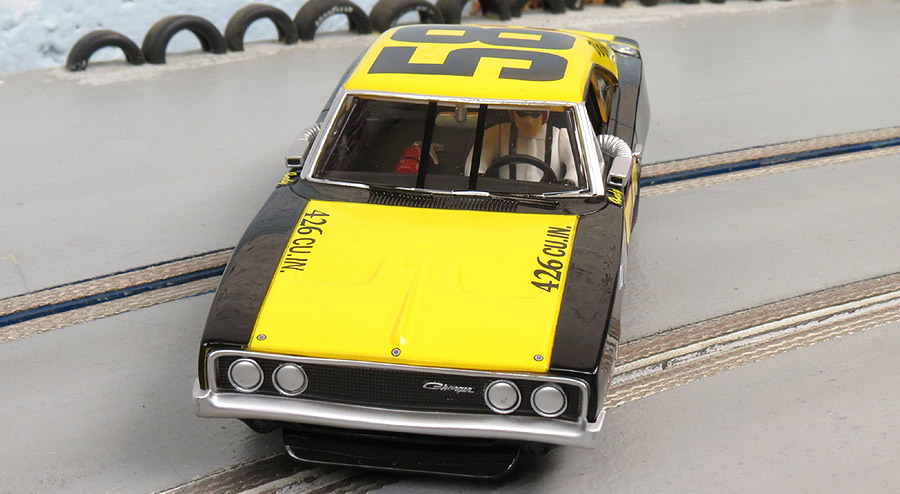 Now that you know how special the model is, let's just take a quick look. My photos are no where near as good as the press release images provided by Dave Kennedy of Carrera of America. But this paint scheme likes the camera so I gave it my best shot(s). Ahem.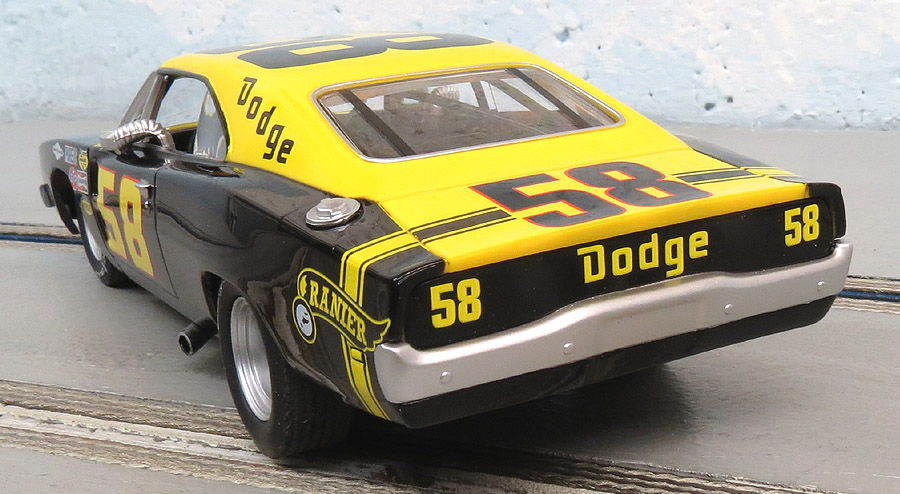 I fully admit to being biased towards this brand. I can't help it. Carrera delivers models that not only run very well right from the box, but they have a great overall fit and finish. In that fit and finish department Carrera models rival, if not exceed, some other brands I own that cost a considerable amount more.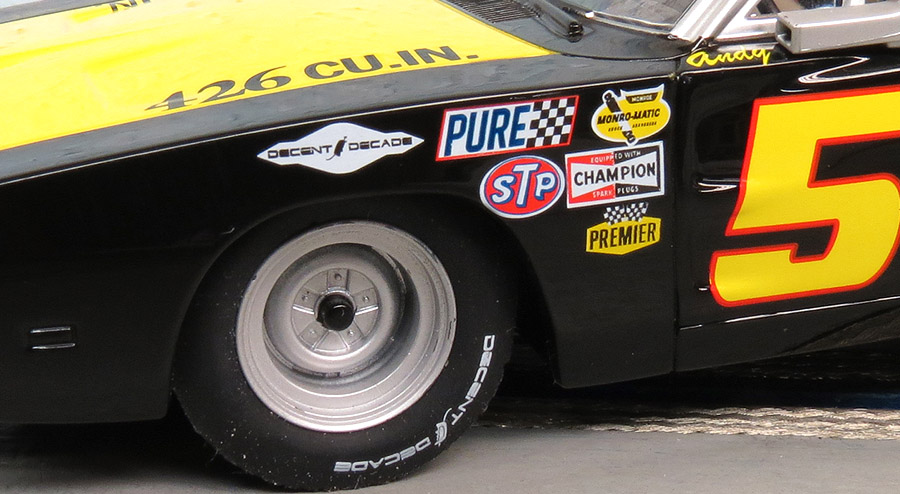 And such is the case with this model. The paint and markings are very clean and it is really an eye catching model. Markings are very accurate in placement for those that care about such things, but as many veteran stock car fans know, these changed from race to race depending on how badly the car was hammered in the prior event. Although the Goodyear markings have been replaced with the creative alternative, don't fully blame Carrera. They produce models with licensing and the price tag from Goodyear was simply out of reach. Does it bother me? Not in the least. As the models run past me I can't tell and neither can anyone else I have ever raced with.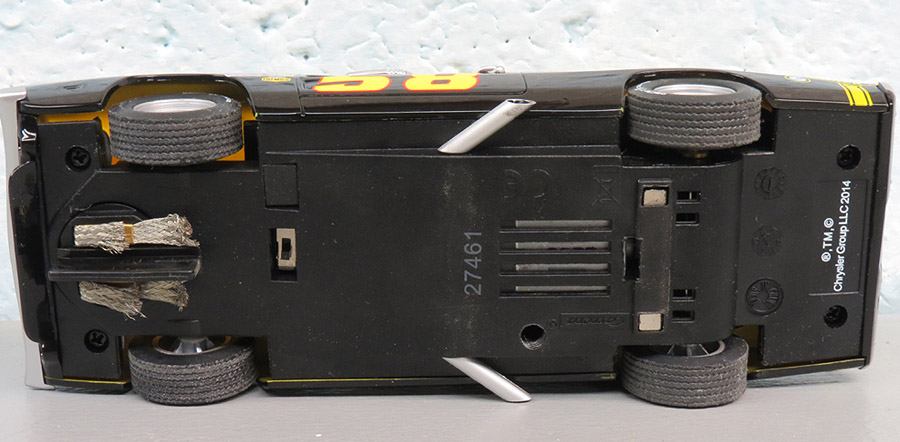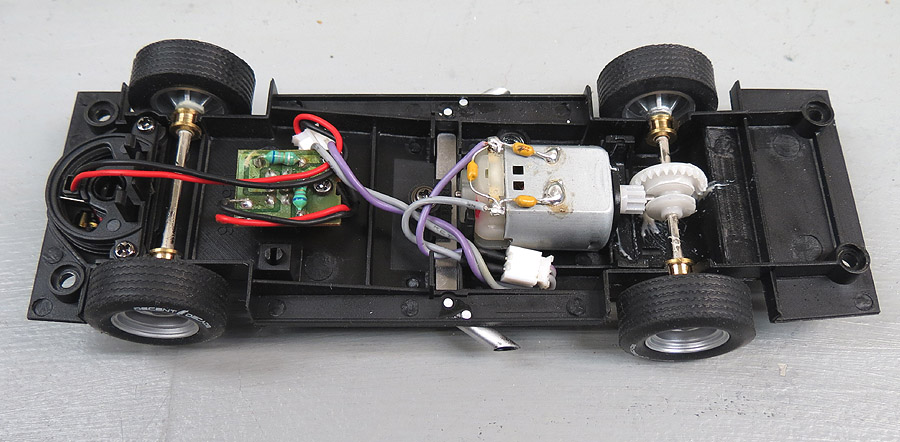 As far as performance? It runs as it should straight from the base. The chassis has changed slightly over the years to be digital-friendly, but it mostly stayed the same. My model was a little rough the first few laps but clearly has potential like all the ones before it. And remember that this is on a WOOD surface. For a simple toy to run this well on a surface it was not designed for is a positive, not a negative point.
New Guide Reminder. Smaller guide for compatibility on other plastic track systems.
From a newcomer standpoint the car will deliver the fun you expect from the box to the case. It runs smoothly and is not lacking in speed. The magnets inside help keep it pretty well pinned down but you can of course push it too far. And when you do, you can expect some very hard crashes.
Which puts the spotlight on durability. Not many slot cars can withstand the literal beatings these cars can. I can inform you that I am more than qualified to report on how well it holds up to hard crashes :) You will earn a few scratches and scuffs here and there but there is not much to break.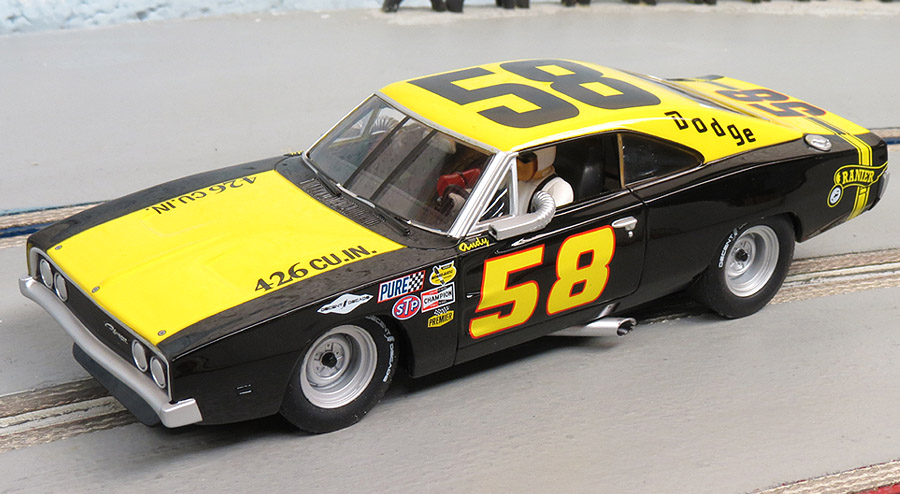 Veteran enthusiasts also like the models because you can tune them to match just about any track surface. Over the years we have seen a significant increase of after-market parts and many of them work just fine for these models. From simple chassis modifications to almost full rebuilds, you can go almost as far as you want with this series. So these models are not only fun the way they are, they offer the advanced enthusiasts the added bonus of tuning which just adds to the value.
Here is a good example: Carrera NASCAR Full Wheels, Tires & Gears Upgrade
And value is another trait of Carrera that is unmatched in our hobby. As prices of other brands skyrocket well above $50.00 with many being closer to $70.00, Carrera analog models are far below that. My model was purchased from LEB Hobbies for $31.99. That is about as good as it gets in the budget-friendly department.
Click Above For Our Video Review Of This New Model
To say I am happy another Classic NASCAR has arrived is clearly an understatement. We have collected all of them and many duplicates for re-paints and modeling projects over the years and we will continue to. Our hobby has a vast selection to choose from but the selection of Classic NASCAR is not as frequent. So when one does appear, you can bet I'll be one of the first in line to get one. Maybe two.
- Harry
Contact ME here about this review or the hobby in general.
Model Purchased From LEB Hobbies


Copyright © 2014 HomeRacingWorld.com All Rights Reserved