The list is out and so...
Here is the list posted on the
Main Scalextric Website here
This is from January to June only. No ship dates of course. Just proposed release for this time frame.
But the one I want to highlight is this one. This has been a fun project to see come to life.
C3947 -
Chevrolet Monte Carlo 1986
- Red & White [NEW TOOLING 2018] - subject to licensor approval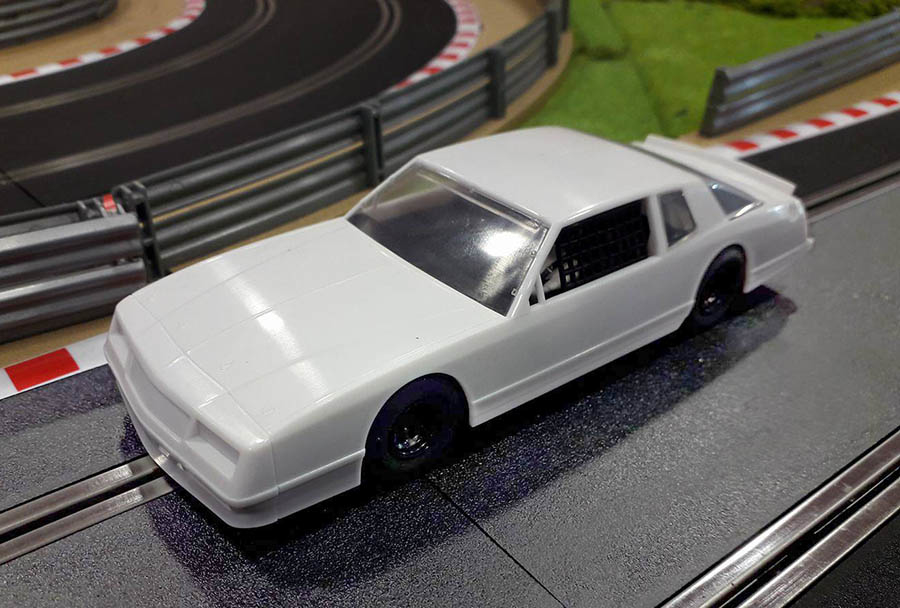 MRE shared this and just posting for the news since it has been already published.
Scalextric Cars Classic Rally 1:32
C3951 - Ford MKIV 1967 Mario Andretti / Lucien Bianchi
C3952 - Jaguar E-Type Nurburgring 1000KM 1963
C3946 - 412P Daytona 1967
C3916 - Ford GT MKII Sebring 1967 - subject to licensor approval
C3917 - McLaren F1 GTR 1997 Nurburgring BBA Competition - subject to licensor approval
Scalextric Cars Classic Rally 1:32
C3931 - Lancia Stratos 1978 San Remo Rally - Markku Alen
C3930 - Lancia Stratos Tour De Course Rally Winner 1975 Bernard Daniche - subject to licensor approval
Scalextric Cars Classic Street 1:32
C3936 - Dodge Charger (gloss black) with blower
C3933 - Volkswagen Campervan- Jungle - subject to licensor approval
C3934 - Ford Escort MkI 50th Anniversary - subject to licensor approval
C3935 - Dodge Challenger 1970, white - subject to licensor approval
C3937 - Ford XY Road Car - Candy Apple Red - subject to licensor approval
Scalextric Cars Classic Touring 1:32
C3899 - BMW E30 M3 1988 Mario Ketterer DTM
C3921 - AMX Javelin Trans Am - Roy Woods 1971
C3910 - Ford Sierra RS500 ANZ Sierra Bathurst 1988
C3922 - Chevrolet Camaro 1970 Stephen Sorenson
C3923 - Ford XC Falcon Bathurst Dick Johnson 1978 - subject to licensor approval
C3924 - Ford Escort MK1 Team Castrol Brands Hatch 1971 - subject to licensor approval
C3926 - Ford Boss Mustang 1970 Frank Gardner - subject to licensor approval
C3927 - Holden A9X Torana 1978 Peter Brock Sandown #05 - subject to licensor approval
C3928 - Ford XY GTHO 1971 Bathurst Winner Allen Moffat #65E - subject to licensor approval
C3929 - BMW E30 M3 1988 Peter Brock Bathurst #56 - subject to licensor approval
C3913 - Downton Mini Cooper 1962 Targa Florio - subject to licensor approval
Scalextric Cars GT 1:32
C3941 - Mercedes AMG GT3 2017 SunEnergy1 Racing Daytona 24 Hours - subject to licensor approval
C3942 - Mercedes AMG GT3 2017 Team ABBA Racing
C3944 - Porsche 911 991 GTE LeMans 2016
C3945 - Aston Martin GT3 2017 HUD Motorsports
C3857 - Ford GT GTE Le Mans 2017 No. 68 [NEW TOOLING 2018] - subject to licensor approval
C3948 - Ford Daytona Prototype Sebring 2014 Chip Ganassi Racing Telcel Ford - subject to licensor approval
C3858 - Ford GT GTE Le Mans 2017 No. 69 [NEW TOOLING 2018] - subject to licensor approval
Scalextric Cars Gulf Edition 1:32
C3969 - McLaren F1 GTR 1995 – Gulf Edition [NEW TOOLING 2018] - subject to licensor approval
Scalextric Cars Limited Edition 1:32
C3898A - 1963 Goodwood International Sussex Trophy - Limited Edtion
C3896A - Ford GT40 1968 – Gulf Triple Pack - Limited Edtion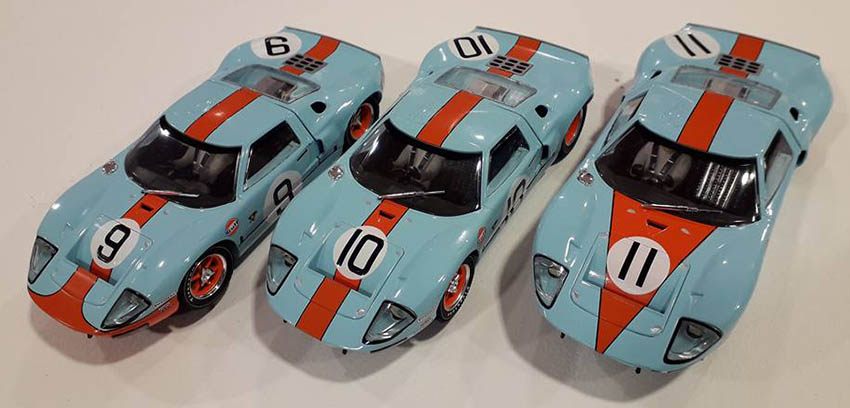 C3893A - 50 Years of Ford at Le Mans [NEW TOOLING 2018] - Limited Edtion
C3965A - McLaren F1 GTR LeMans 1995 [NEW TOOLING 2018] - Limited Edtion - subject to licensor approval
C3966A - VW Beetle and Camper Van – West Coast Rat Look - Limited Edtion - subject to licensor approval
Scalextric Cars Street 1:32
C3932 - Audi R8 Police Car - Black & White
Scalextric Cars Touring 1:32
C3914 - BMW Series 1 NGTC - BTCC 2017 Andy Jordan
C3915 - Honda Civic Type R NGTC – BTCC 2017 Matt Simpson
C3918 - VW Passat CC NGTC Team HARD - BTCC 2017 Jake Hill
C3919 - Honda Civic NGTC - BTCC 2017 Gordon Shedden
C3920 - BMW Series 1 NGTC - BTCC 2017 Colin Turkington
Scalextric Cars Super Resistant 1:32
C3954 - Team LMP Gulf
C3955 - 2017 Williams Formula 1 Car F.Massa [NEW TOOLING 2018]
C3956 - 2017 McLaren Formula 1 Car Alonso [NEW TOOLING 2018]
C3957 - Lamborghini Centanario - Green [NEW TOOLING 2018] - subject to licensor approval
C3958 - 2017 Formula One Car - Red [NEW TOOLING 2018] - subject to licensor approval
C3947 - Chevrolet Monte Carlo 1986 - Red & White [NEW TOOLING 2018] - subject to licensor approval
C3959 - Team GT - Zombie Anime - subject to licensor approval
C3960 - 2017 Formula One Car - Blue [NEW TOOLING 2018] - subject to licensor approval
C3961 - Lamborghini Centanario - Carbon [NEW TOOLING 2018] - subject to licensor approval
Scalextric 1:32 Standard Analogue Sets
C1379 - Urban Outrun (Zombie v Spartan)
C1385 - Grand Prix (Williams v McLaren) [NEW TOOLING 2018]
C1399 - Endurance (GT v LMP)
C1384 - Gulf Racing (GT v LMP)
C1383 - Stock Car Challenge (Chevy Monte Carlo v Chevy Monte Carlo) [NEW TOOLING 2018]
Scalextric ARC PRO Digital 1:32 Sets
C1388 - ARC PRO Sunset Speedway (McLaren 720S v McLaren P1 v Lamborghini Centanario) [NEW TOOLING 2018]