Picked up one of the new JAG Hobbies 1.2 chassis to play with!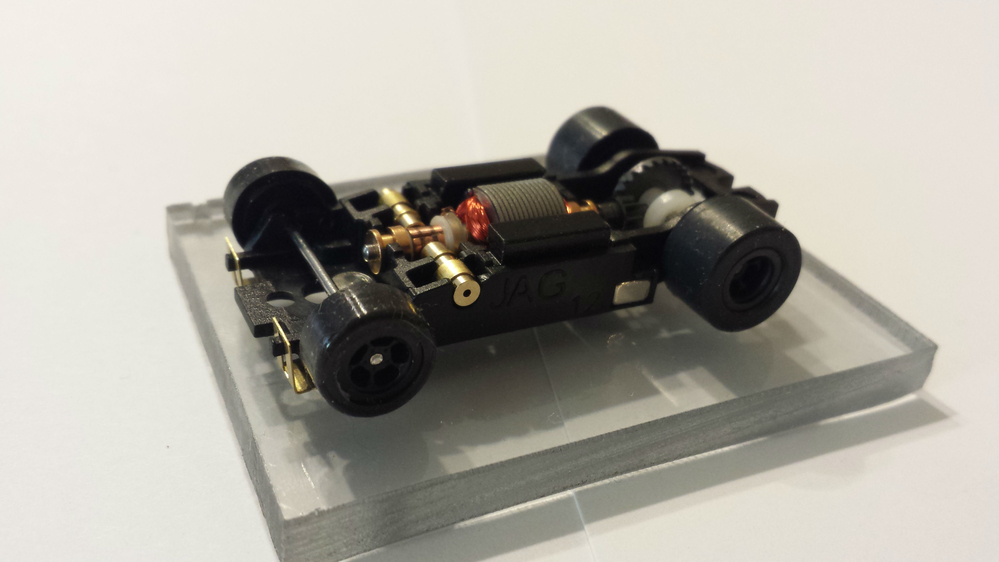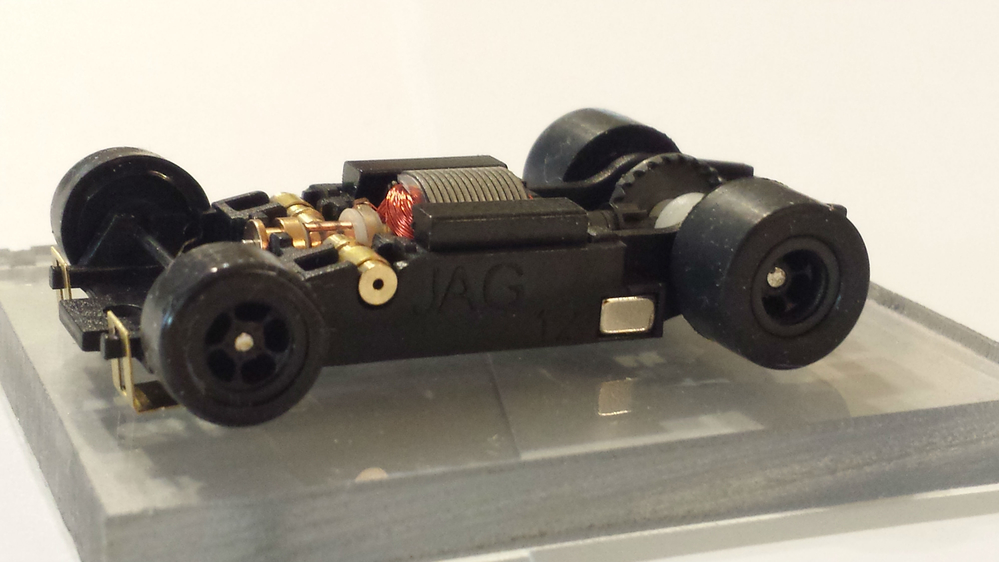 I was attracted to these due to the fact that they are designed to allow t-jet type bodies to be directly bolted on (no mods required) and thought that I would give one a whirl! These are still in what can be best called a developmental stage, with some growing pains being realized along the way - but JAG Hobbies is taking the input from racers and using it to improve each release, which is great to see!
They are currently on version 1.2 and still having some "teething" issues - but they note it on their site and have been quick to share the feedback they are receiving!
Here is a link to chassis:
JAG Hobbies Chassis link
And here is what they have posted in regard to this latest release:
Features:
- Silicone front and rear tires
- Stainless steel axles
- Stainless steel guide pin (plastic available)
- Neodymium traction magnets
- Polymer motor magnets
Update!
- Front and rear screws are now included with all JAG Hobbies Rolling chassis!
- Now with new / more tear resistant / medium hardness tires.
Like all newly released products we are going through some growing pains.
Below are the current known issues:

- Removing and replacing the rear axle and brush tubes
may cause the chassis to lose its "snap" and will result in these items popping out in an impact. We are working to revise the mold and should have a new chassis to address this soon.

Thank you for you patience, Jim
So with all of that being said - here are my initial impressions (hope to have it to the track this next week!)
- Chassis design appears to be pretty robust with good stiffness
- Ground clearance is roughly .050" which should allow for running on nearly any type of HO layout with getting hung up / dragging.
- Front screw pocket is countersunk for use with a beveled FRAY type screw (rear is standard t-jet type design)
- Chassis down force (used my digital scale modified similar to this:
Digital scale - magnetic force tool
) and the down force as received checks at roughly 90% of a stock Tyco 440x2 pan chassis.
- Rear axle rpm checked in the same range as a Tyco 440x2.
- T-jet body fit is good - with tires centering in the wheel wells nicely. With the wide tires there are some bodies that won't work without opening up the wheel wells, but I found that Dodge Charger and Ford Fairlane bodies I had handy fit nicely. (I will be using these for testing at the track.)
Below are a couple additional pictures showing the ground clearance / bottom of the chassis, the recessed screw pocket and mounted bodies. I will update the "impressions" after I get a chance to run at the track - but thus far, I like what I see!
The chassis sounds smooth and strong on my little break in station (shown here:
Home made break in station
) and with the fit of the bodies, I can see these as a possible fun option for lower voltage / traction magnets removed type racing!
Enjoy!