Every year we like to recognize the products and brands we feel deliver us the best. From the cars to tools, it's just our way of shining a light on the past year.
Now REMEMBER, this is just OUR list. Based mostly on my own personal thoughts, but also from the feedback I have received from many enthusiasts over the past year. I am sure YOU have your own picks and we invite you to share your own.
So without further delay, the coveted HRW 2015 Slot Car Of The Year Awards (SCOTY)

Might as well kick things off with our easy pick for manufacturer. Carrera has no doubt earned it in my opinion.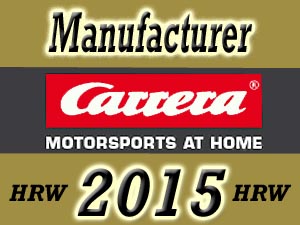 But let's summarize it. NO one else offers all this company does. 3 scales, digital, and still the best track system in our hobby. Looking at the new releases this past year in 1/32 would have given them the win regardless. From the re-releases of the Classic Vette and MONZA, to the latest 917K and Corvette C7R, they gave us plenty to be happy with. The DTM series is fast becoming a big favorite in many clubs as well as good old home racing. But my personal favorite was the latest 57 Chevrolet that was based on a paint scheme created by Robert Livingston many years ago. Just seeing a slot car come to us that was inspired by one of our own pegs out the cool meter.
Just as significant is the work Carrera of America does throughout the year PROMOTING our hobby. Not sure how many events our own Dave Kennedy has held this year, but every one they have done has exposed our great hobby to those that may not have known it's existence. There is no other slot car company that does all of this here on our side of the pond.
Award justly earned.
Slot Car Of The Year
Criteria: NEW mold. Not just a new paint job.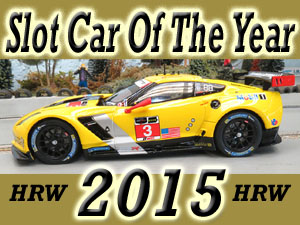 This was not an easy choice. This car wins over the 917K only because it has never been done before and that the modern GT series really needed a CHEVY that looked and ran this good.
Excellent scale detail, overall finish, and don't forget how affordable it is.
Carrera C7R Review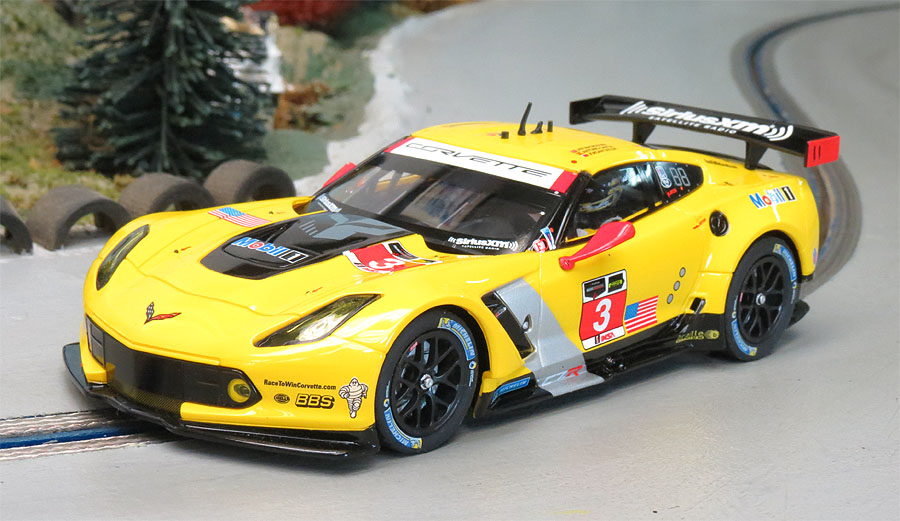 Runner Up #1
Criteria: Old or new mold.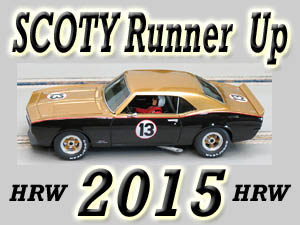 You had to see this coming

The only bad thing about this release for me is that I am done with the Camaro's. Nothing can top this one

Pioneer Camaro Review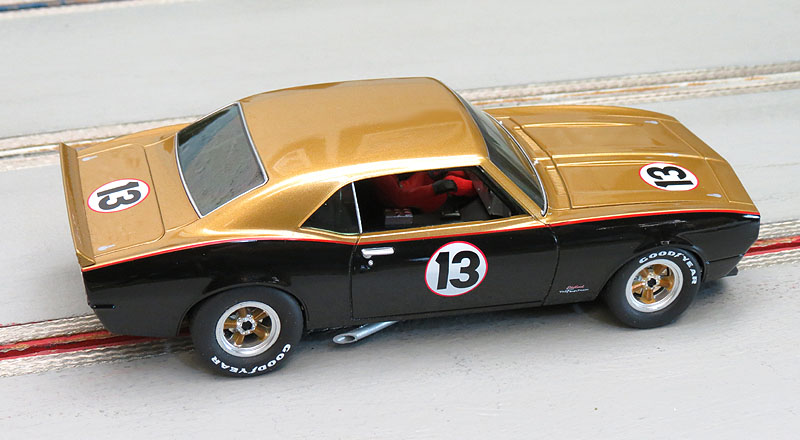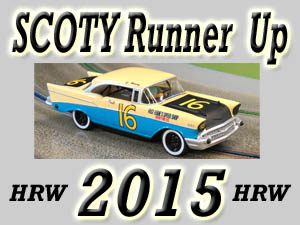 This iconic car never gets too old for us. The behind the scenes action of how it came to be is just the gravy on the biscuits. It looks like the classic race car we wanted and it keeps the classic series alive and well. Speaking of that series...umm, well let's move on shall we?
Carrera 57 Review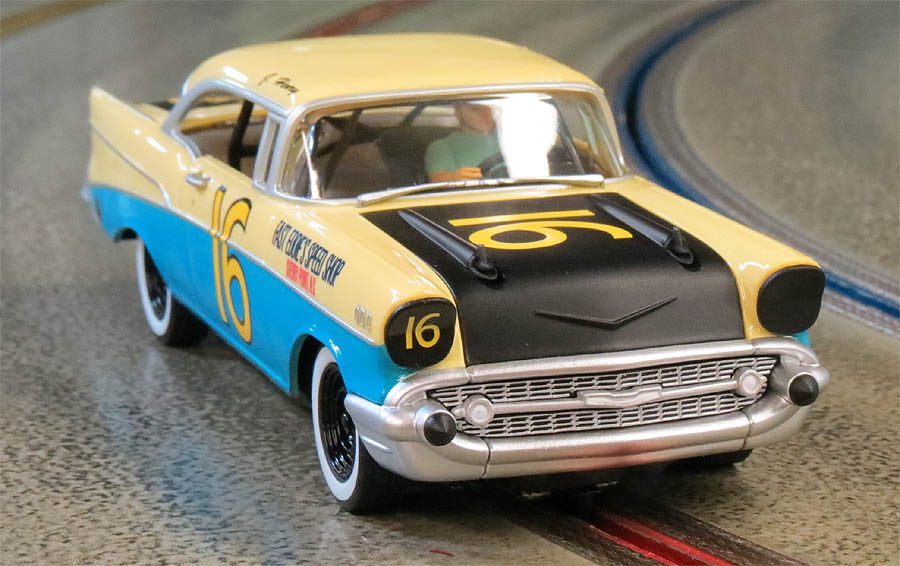 New Award - Excellence in 3D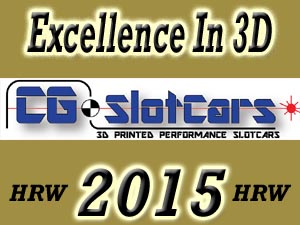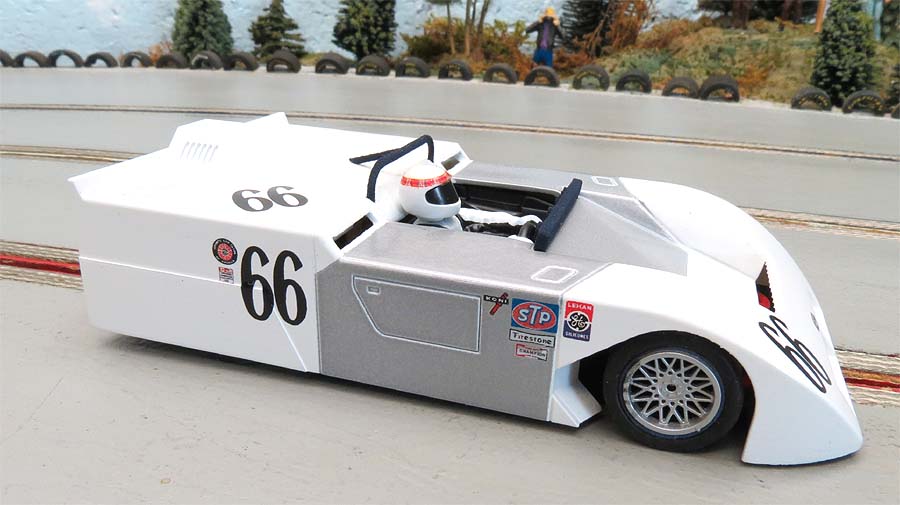 Seems 3D is all the rage. One company that stood out this year was CG Slotcars. They made one cool car and offer some great chassis options some of you are enjoying.
CG Slotcars Review
Best Resins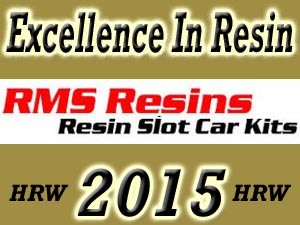 Our own "Doc" wins again this year and well earned. His castings are second to none in quality and his service is top notch. The latest Corvair is a cool customer and his efforts in the Trans-Am and Can-Am areas are still impressing newcomers.
Runner Up - BOB TAYLOR & Shotgun Dave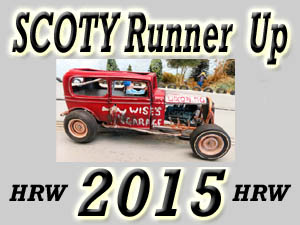 Ok, these guys deserve a nod. There are quite a few of you who have a jalopy body thanks to the work these guys have done. Bob alone has sent out quite a few bodies to folks on HRW and even brought plenty to hand out at our race events.
Home grown home racers who make the cars some of us old oval racers really want. I think most all would agree that these guys earned a big THANK YOU!
Slot Car Tools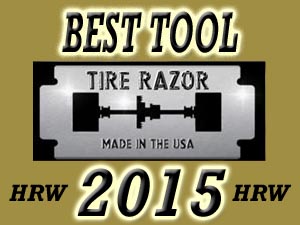 Our own RazorJon and his RAZOR are without a doubt our top tool. Made right here, supported right here.
Razor Review
RUNNER UP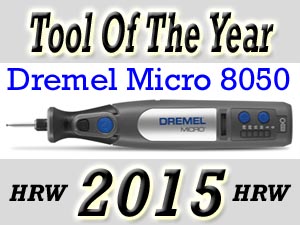 Watch on
youtube.com
I have had this Dremel for one full year and it has proven to be the best cordless Dremel I have owned. In fact, it has replaced the corded model and has built quite a few cars this year. It holds a strong charge for longer than you would think and takes up a small footprint on the table.
BEST WHEELS
No contest. The guys at CB Design are still #1.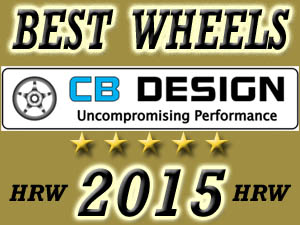 And for an unprecedented 5th year. No surprise for those discerning enthusiasts who require the best in accuracy and performance. With more sizes, colors, and styles joining the range, this wheel system is still tops in our slotbox.
Best Tires - SILICONES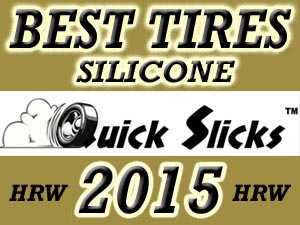 Silicone tire enthusiasts have spoken. Quick Slicks is the brand of choice in silicone and with good reasons. From the quality in mold tolerances to the constant additions of new sizes, the brand is fast to establish itself as the best. Combine that with the superior service, the checkered flag was easy to wave.
Best Tires - Urethane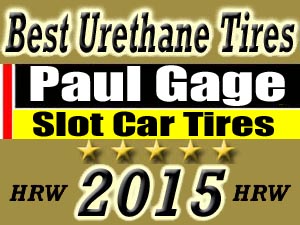 Easy win once again. Who else? We all know the great work Paul does for us and his efforts earn him top billing. It's the #1 tire most advise around here and the only blend we use here.
Best Motor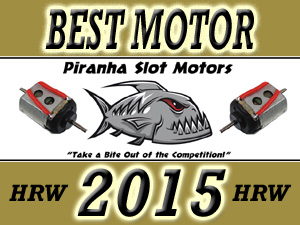 This motor is really an impressive outfit. It's fast enough for the speed freaks, yet has a milder low end for good control in the tight sections. I cannot count the emails I have about this motor. It doesn't hurt that it's actually affordable.







********************************************
Finally I want to thank all the folks who help make HRW a great place to talk about our hobby.
That means YOU

The help you give others is priceless and it's what makes a great forum.