Chassis building on a honeycomb ceramic plate is an easy job. I have said this before but my thread accidentally got deleted and I was asked to re-post. I don't remember exactly what I posted before, but I decided to re-post in a sort of tutorial style. (the retired teacher coming out in me, eh?)
1. The board- Sold as a tool for making jewellery, actually the ceramic plate from propane heaters. I got mine from Amazon for less than $10. The nails I use are 18 gauge brads that come in strips for an Arrow Nailmaster electric Nailer. Other similar products will work if they fit the holes, or 1" lengths of the right size of piano wire would work also.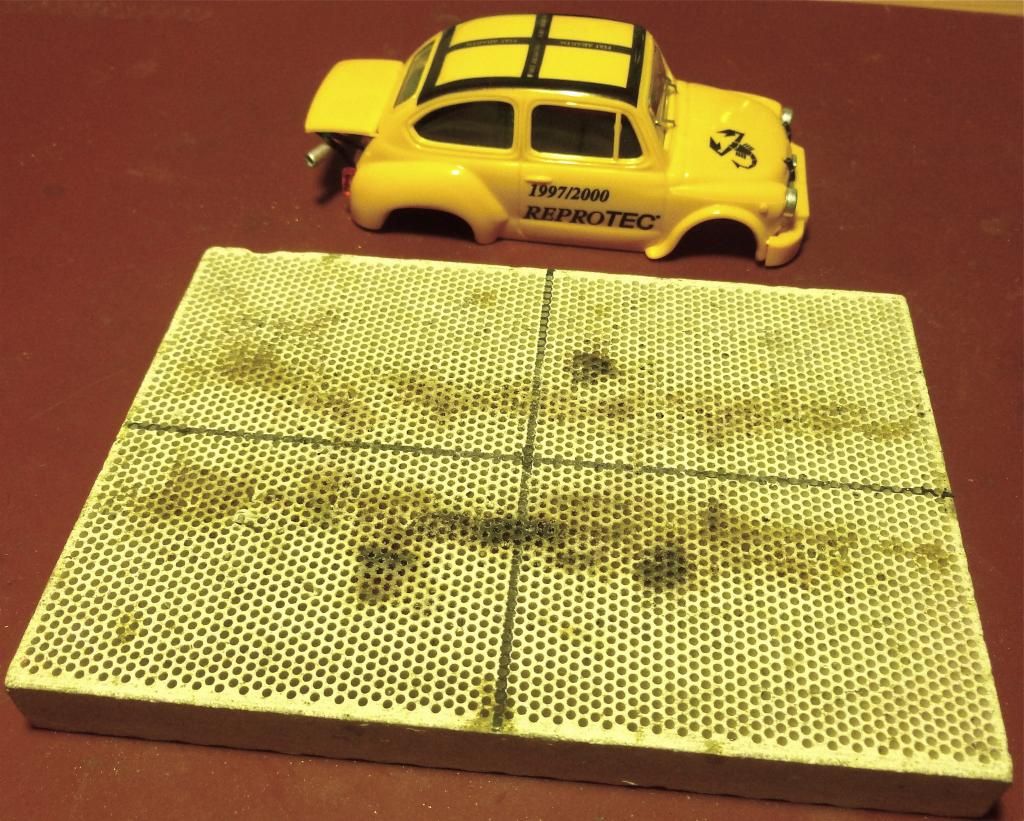 You can see that my board is well used, having been used to make between 15 and 20 chassis. I found it easier to use with a grid on it, so carefully drew it in with a Jiffy marker. Make sure your grid lines exactly bisect the two dimensions of the board.
For this build I am making the chassis for a Reprotec Fiat Abarth 1000TC body that VTECFOUR kindly gave me. Time to get started.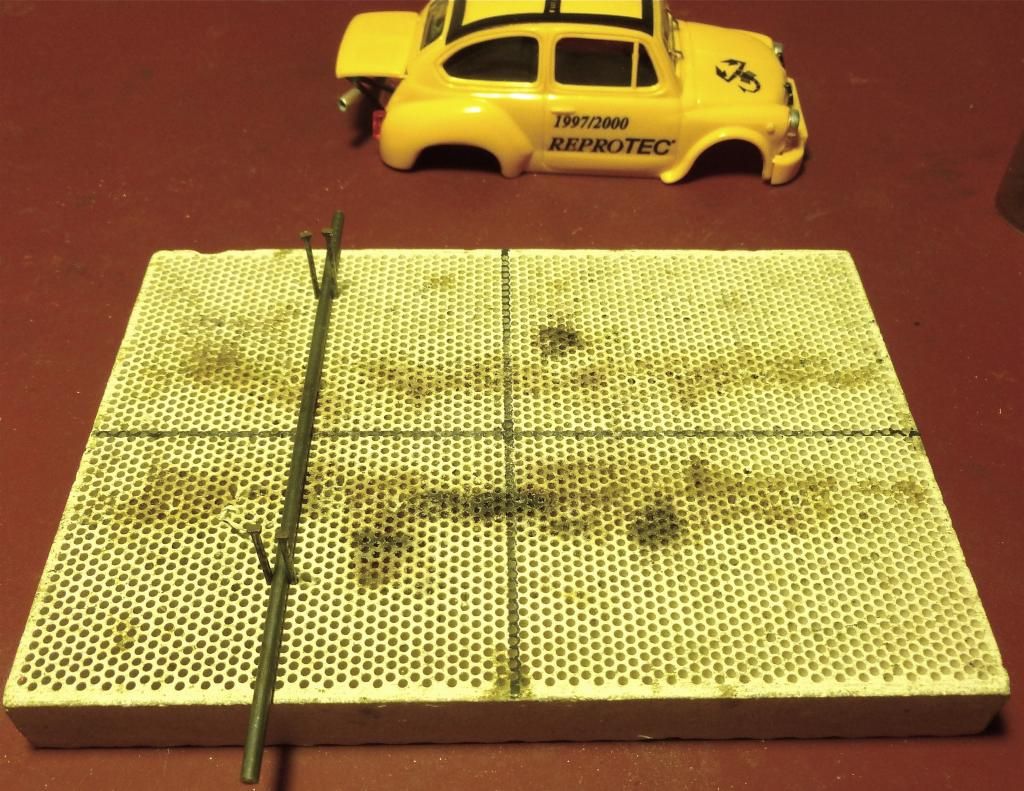 The first axle can be placed anywhere so that the centre of the car is near the middle line. This is not too important with such a little car, but would be with a big sedan or LMP. Make sure you line up the axle with the holes so it is straight. I use extra long lengths of 3/32 piano wire for axles while building.
Placing the second axle is the most critical step in chassis making as it has to be the right wheelbase for the body you plan to use. It is a good idea to keep the body handy while building, and check it often against your work.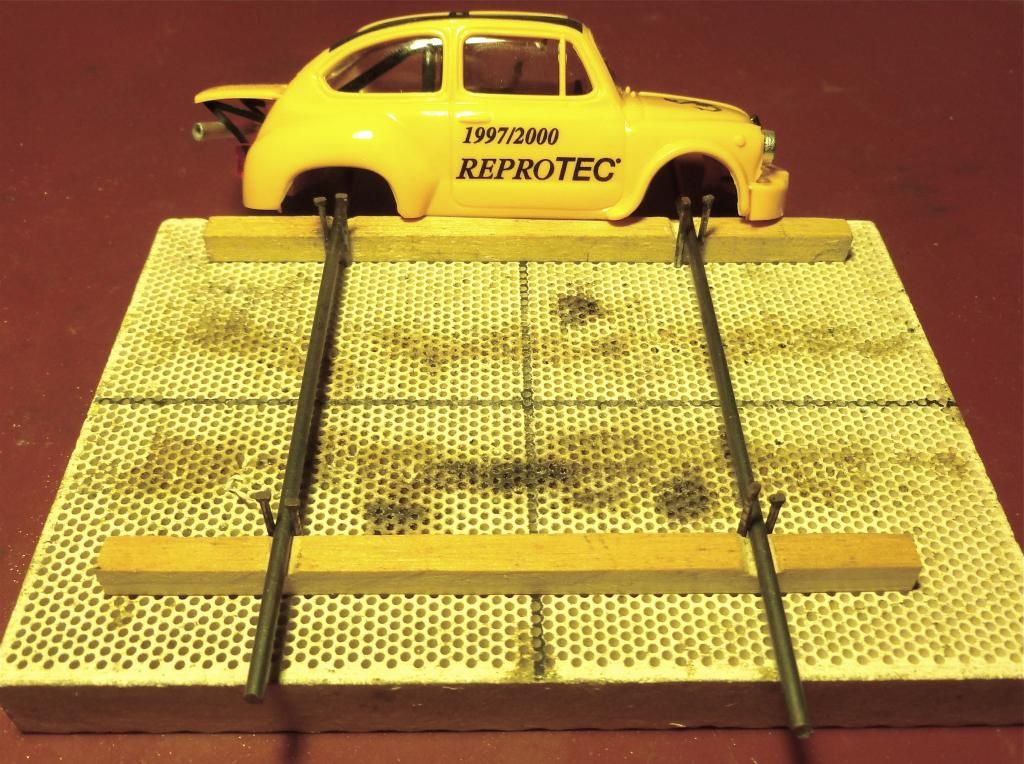 To make sure my chassis sits flat, I put pieces of 1/4 x 1/4 wood under the axles. You could also use square brass tubing for this, and if you have different sizes could use the one, err two, that fit best. Since I plan to use very small wheels and tires on this car, I notched the wood to fit lower.
The front guide holder is the most time consuming part of this job, but that is because of the way I like to make them. Sorry the pic is a bit blurry. Three pins in a triangle hold the guide tube in place.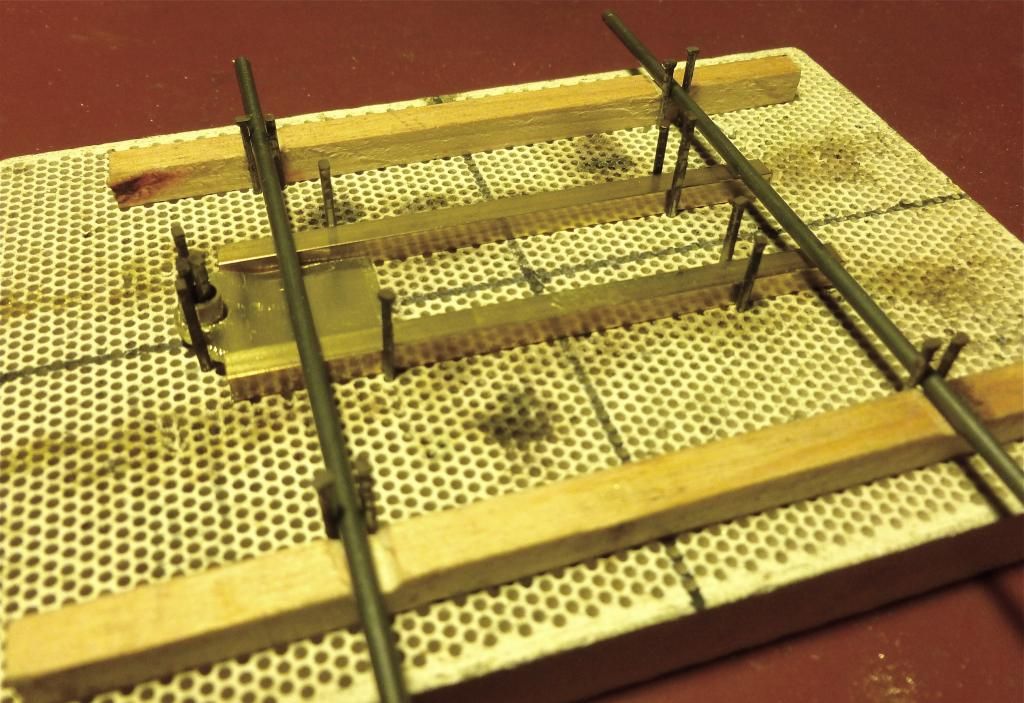 Now the side rails are put in place. In the past I have used brass rod, tubing, both round and square, and piano wire (my least favourite). Brass is easier to solder later.
A piece of square tubing is added for the front axle. It sits right on the frame rails. Pins at the ends keep it centred.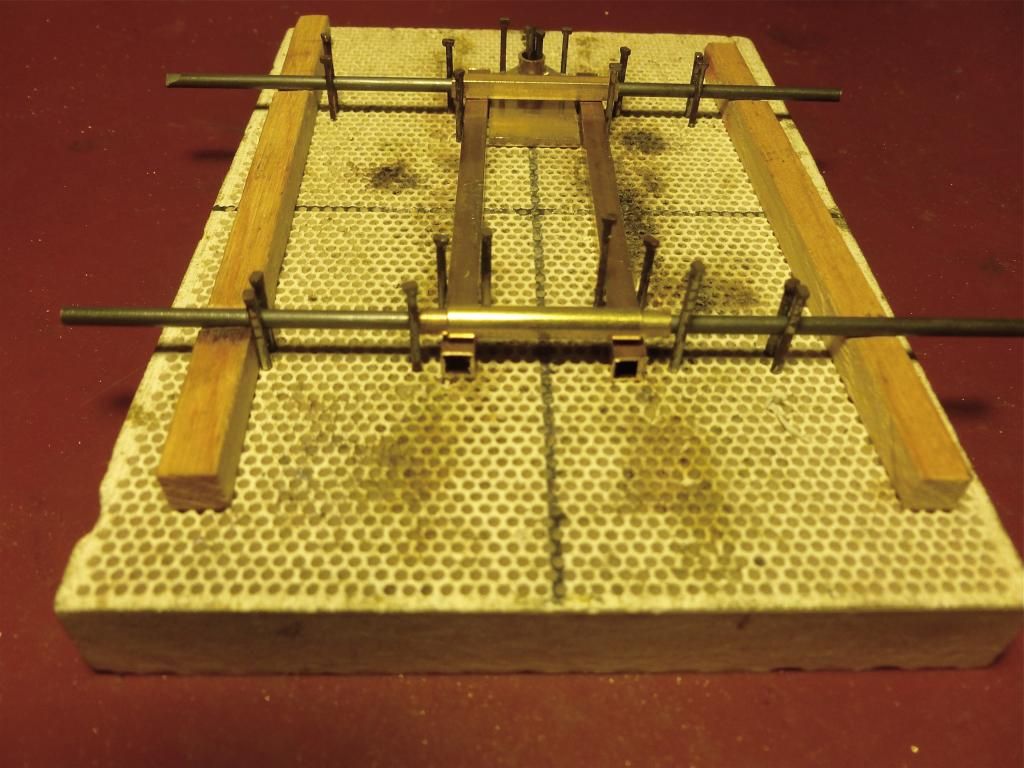 I am using a tube within a tube for the rear axle mount. A single tube would not touch the frame rails. This way you can build it up without disturbing anything.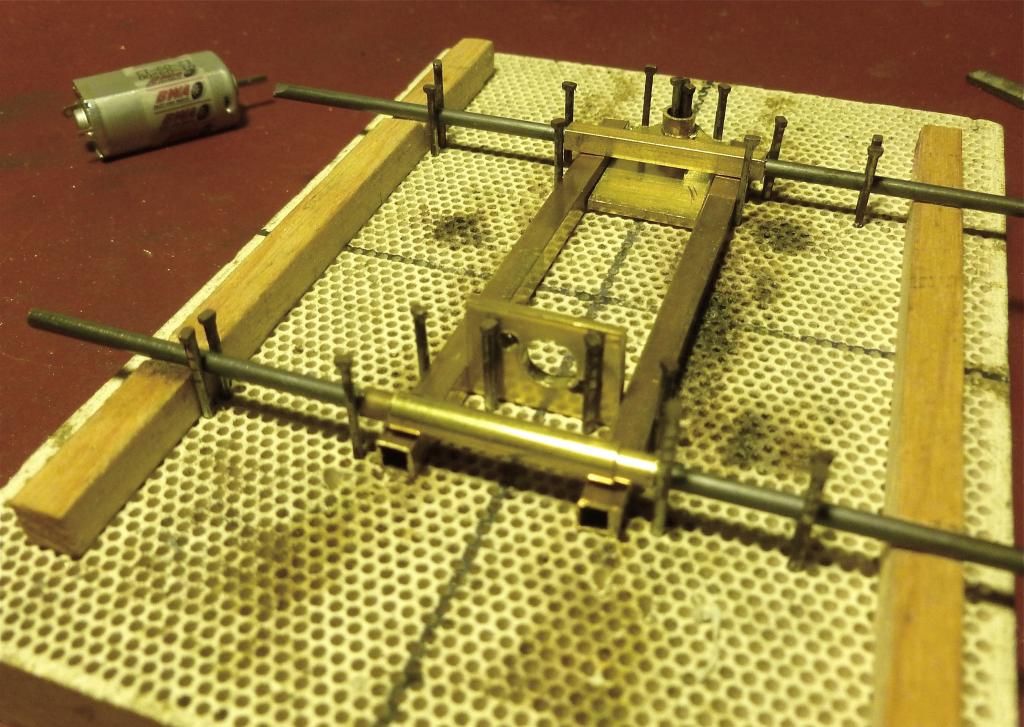 I will be using a BWA slim can motor for this car and it took a bit of time to cut and drill the motor plate. I was considering just soldering the motor into place, but re-considered as I might wish to change the motor later.
Small lengths of 1/4 in wide brass will add weight and also a place to mount the body. I will drill one hole in the middle of each before I solder it up. It is important at this point to hold the body in place to adjust these pieces to fit right under the running boards of the car.
The final step before soldering is to add elastic bands to hold the axles tight to the board. She's ready to heat up!
I will post a follow up when I have soldered it with a last summary of the process.
Happy chassis building,
Keith