That came out really great, Dave! The look with the body on and the exterior bar work is totally awesome.
I've got a 60's modified that I'd like to do. Maybe we can get a jalopy/modifieds proxy going................like the one you had last year. Think there'd be any interest in that?
Here's a pic of it; "The Big O", raced by a local hot-shoe, Olie Silva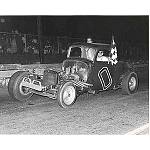 I need to ID the body that was on the car.
Allan