All of the attached pictures are of 1/24 cars that were very successful in their day, and were the basis of many winning cars at the then many local commercial tracks.
I had original versions of all of these (long since lost/misplaced) and the pictures are of cars that I have re purchased over the years and refurbed. They all have original parts (the pink Parma PSE crowns have since been replaced with NOS Cox crowns) and any chassis modifications made/built, were typical for the time.
All of the motors have been extensively rebuilt;...... drill blank motor shafts, new comms., rewound/balanced arms, Arco 33 motor magnets, shims, brushes, springs etc. , but all of the parts/modifications were available/typical for the time.
First is is a Cox LaCucaracha.......The fastest RTR of its time , and a bazillion sold. The stock motor was invariably swapped out as well as tires etc. etc., and tons of these were lapping the local tracks very quickly indeed. It was common to cut the body for wider tires and motor cooling, and while there are a ton on the auction sites, many have cut bodies, and many non original parts. I have painted my "Cuc",... not a good idea, as the polypropolene body does not like paint, and a rebuilt Cox "Nascar" FT16D motor has been installed....while it does not get run much, it runs very very well!!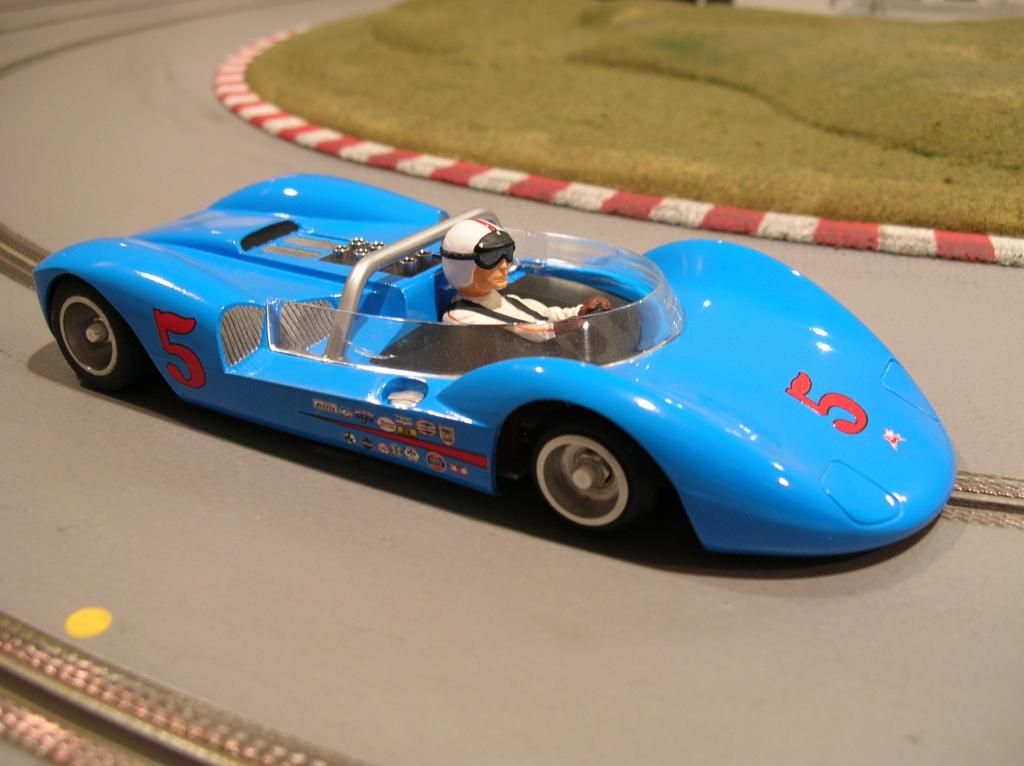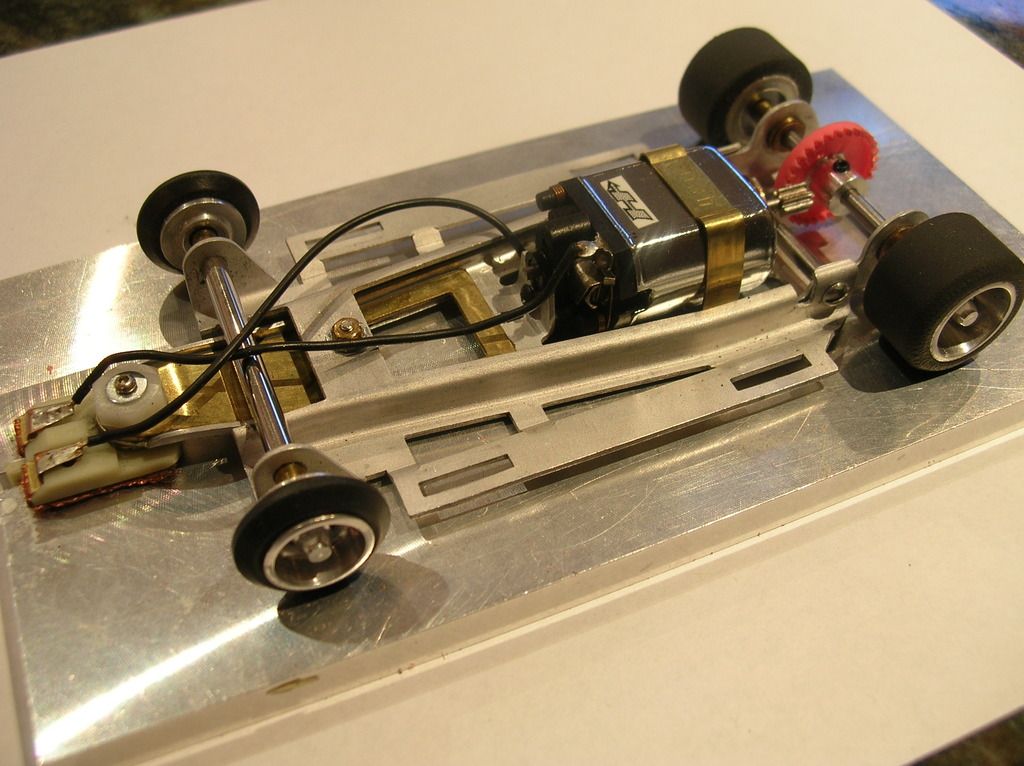 Next is a Champion 4 rail chassis with a Dynamic lolaT160 body, and a "hot" Champion 26D motor. This chassis came ready built, and you purchased/installed your choice of motor/gears/guide/body etc. This chassis was introduced in 1967 (I think), and offered the less skilled builder the opportunity to obtain near scratchbuilt performance.....a very quick car!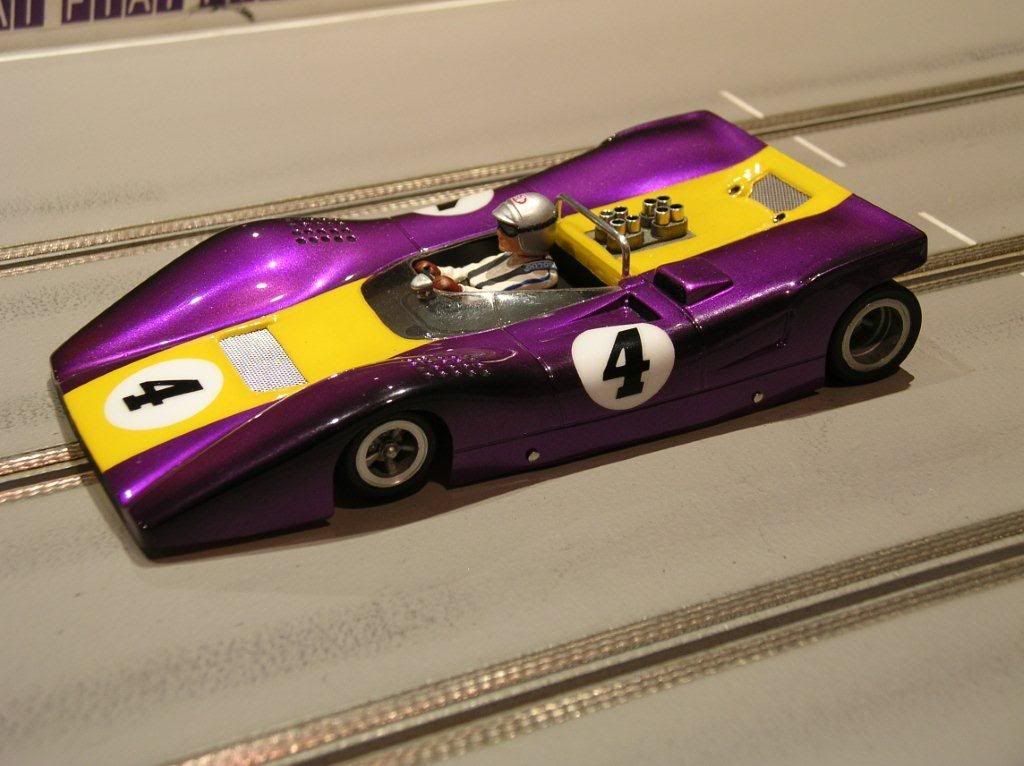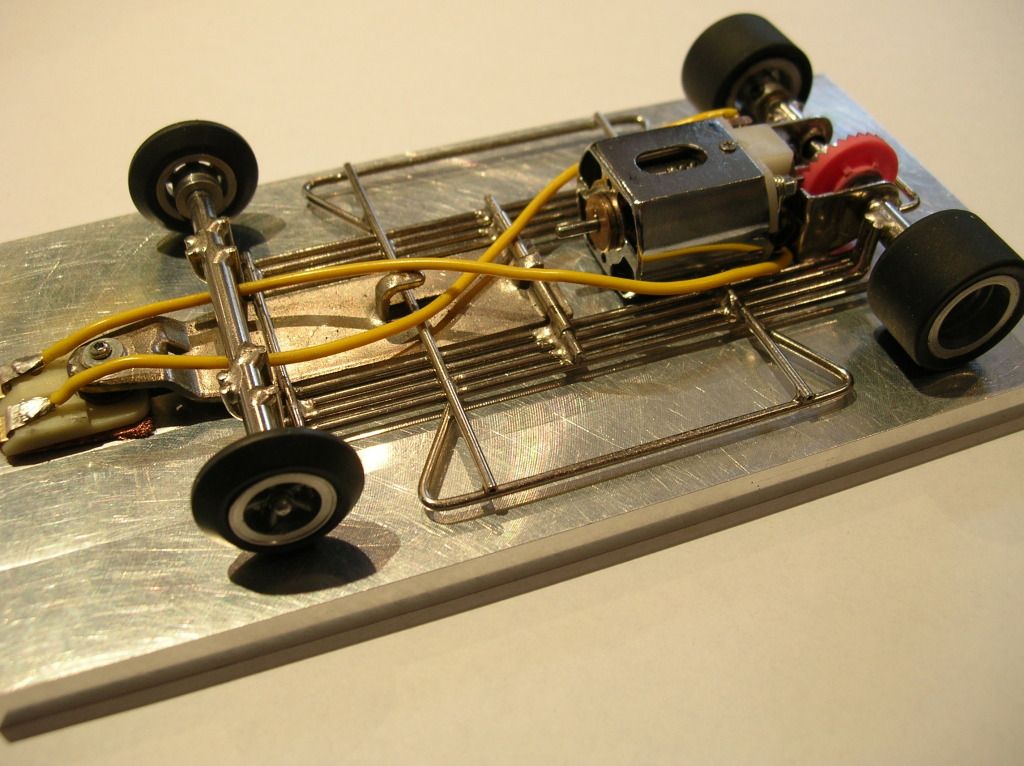 Dynamic, made magnesium chassis components....motor carriers (motor pods today), guide tongues, front axle uprights, body pans etc. etc., all held together with machine screws so that you could build an inline or sidewinder for virtually any size body available..........they must have made more than 20+ different cast magnesium motor pods for every motor type available.....that type of quality/variation is just not available today.....it was reflective of the size of the hobby back then.
Anyway, for a time, Dynamic chassis parts bolted to a brass pan, were the hot ticket in both 1/24 and 1/32, with the 1/32 club racers using these chassis well into the 70's.......a well sorted 1/32 Dynamic/brass car is still more than potent today.
The following pictures are of a copy of a car I built back in the mid 60's........a Dynamic 26D sidewinder bracket/guide tongue with a scratchbuilt flexing brass pan.
The body is a repop of a Champion Lola GT........this is a very sweet running car.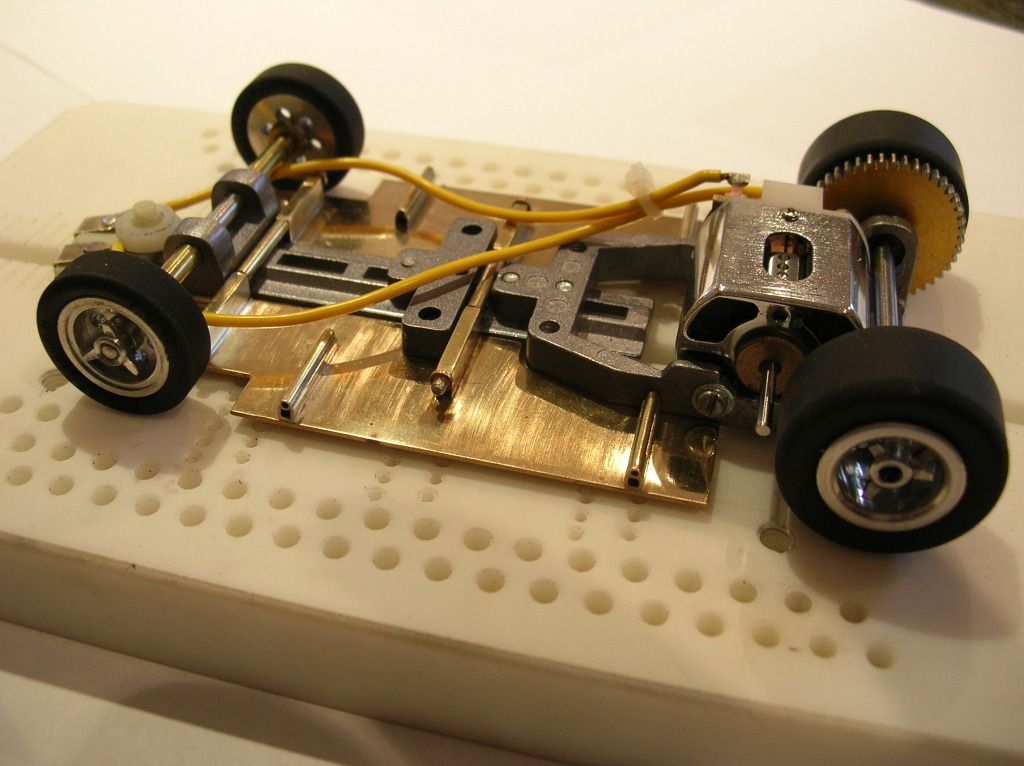 Next is a Russkit "Carrera" series car (mine is the McLaren Mk11 body)......this car had an anodised aluminum sidewinder pan chassis, and when it appeared (67) it was absolutely the RTR to have....you needed to be a fairly handy scratchbuilder to beat this thing. Mine has a reworked Russkit "23" motor, and on a local Carrera commercial track is noticeably quicker than any of the current 1/32 modified no mag cars. Of the several 1/24 vintage cars that I have, this would hands down be my weapon of choice for vintage car racing, particularly on the shorter flat commercial tracks, or on big Carrera tracks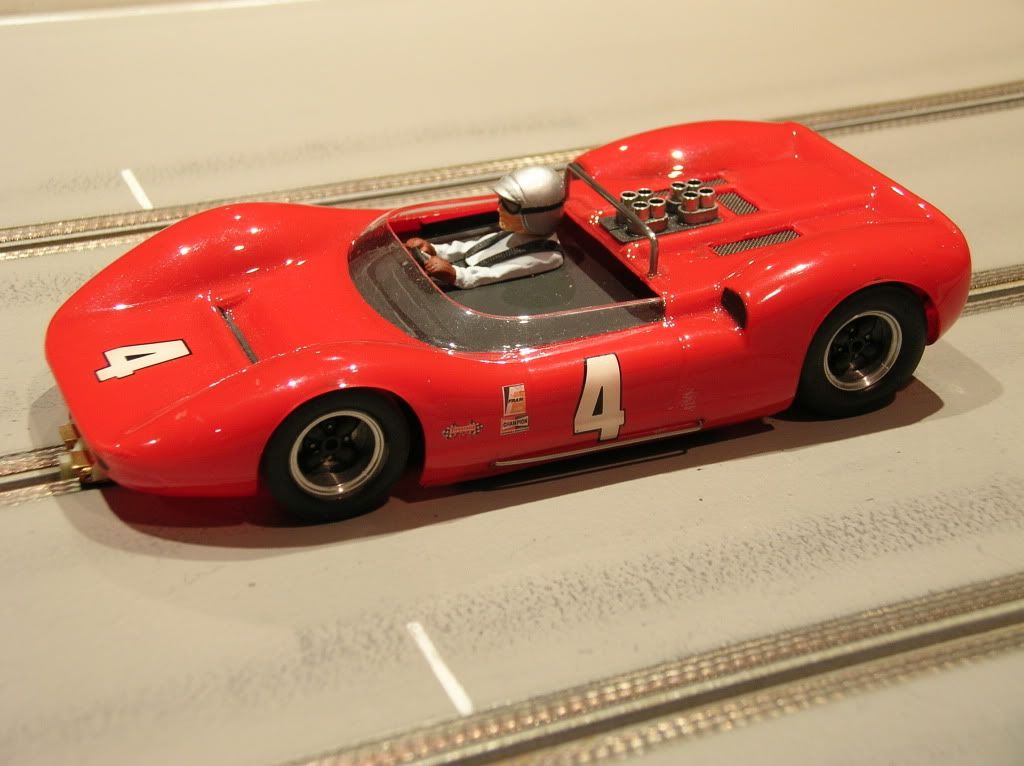 And lastly, another Dynamic/Brass pan variation....this one a Dynamic inline can drive FT16D motor mount, with the factory Dynamic brass pans....these pans are now quite rare (read costly), and I am very happy to have them.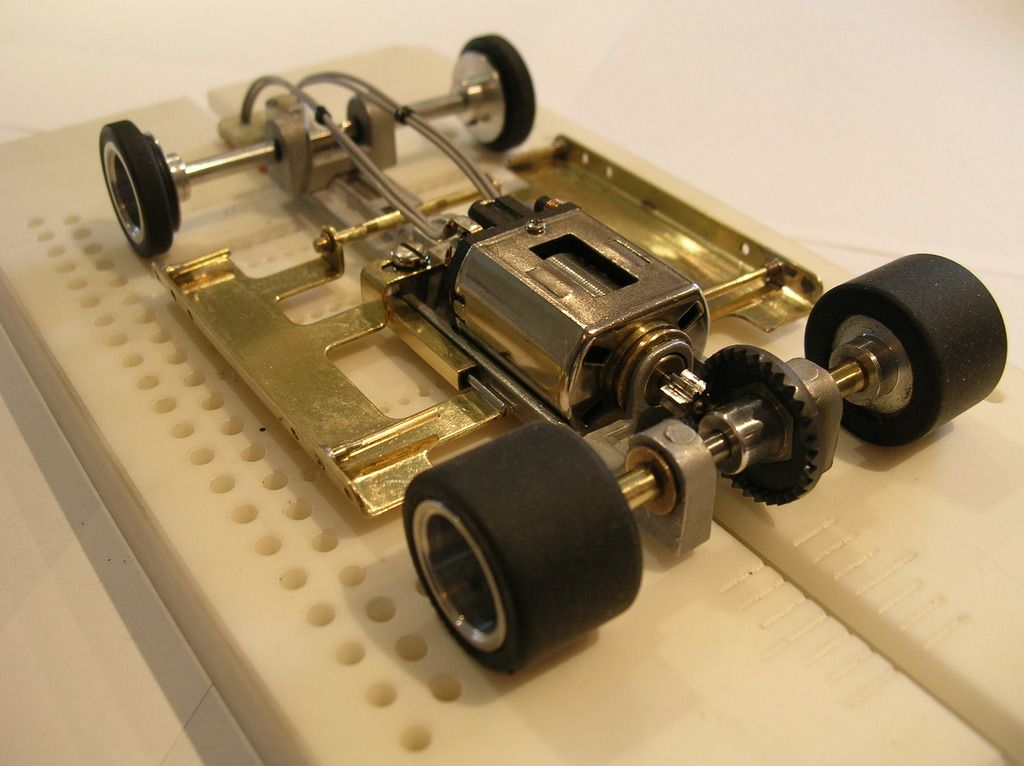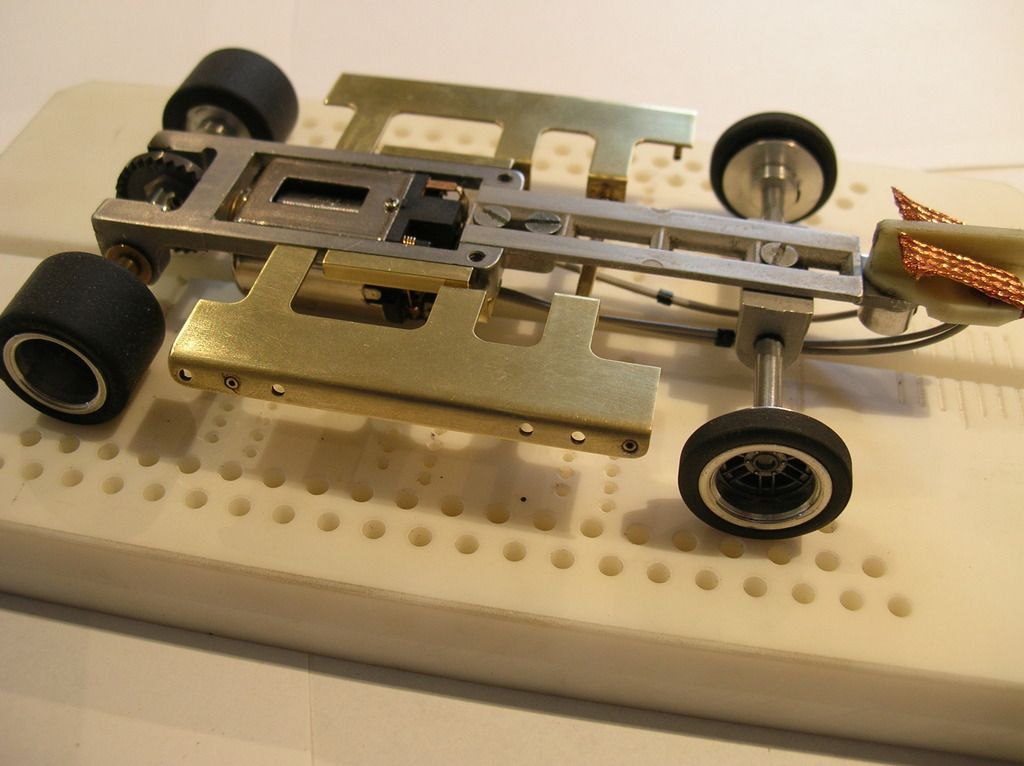 So for those who remember this stuff, a little nostalgia, and for those who don't, a little glimpse into the past..............and remember when you see the next newfangled motor pod released..........most were done (and were better made) 50 years ago by Dynamic.

Cheers
Chris Walker