I have been meaning to add a bit more detail to the 'origami' bodies/cars that I make
(and race, and sometimes sell)
at nymodifieds.com.
This one was built with more detail in mind, being more of a "display" car rather than a beater/racer.
It was built up for "Wild Child Designs" - a company which does race car lettering on a host of local cars as well as operating as a sign shop and handling advertising out east on Long Island. They did the actual lettering/design/vinyl on the real #36 race car itself.
Ultimately they presented the finished piece to the driver of the actual 1:1 scale #36 Tour Modified.
It ended up being a unique and interesting build because I got to work with the actual art files that were used to create the full size race car graphics - I just shrunk them down and made them work in scale. No arguments about accuracy here - this one is right on the money. "Wild Child" is a good guy, known and respected in the racing community, and also a slot car racer who I have raced against in the underground network of home tracks on Long Island - See, it all comes down to slot cars!
R-GEO OFFSET CHASSIS BASIS -
I started with the R-Geo Chassis - one of two modern chassis that have been recently designed for offset oval racing, and are made to fit the nymodifieds.com bodies perfectly.
The key here was to eyeball the real race car and replicate the side crash bars and nerfs and bumpers as they appear on the the actual car.
TROYER STYLE CHASSIS -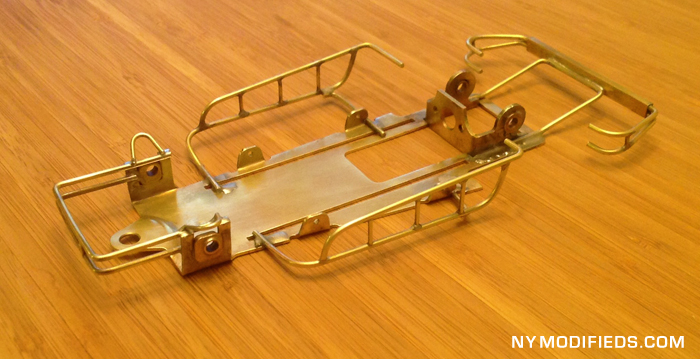 The front uprights are a bit tall on the R-Geo, so I made them stand a bit less proud with the Dremel cutoff wheel - bzzzzzzt.
Once they were cut, I bent a simple upper A-arm and soldered it in place. Sometime a small detail or addition can fool the eye and give the impression of more detail than is actually present.
So far so good - looks a little like a Tour modified chassis.
More to come...