This one is a pretty straightforward build.
South Shore Speedway
on Long Island is running a "Retro-Modified" class, so I had to build something up. Even if it isn't an all-out contender for the top of the podium, it is a great excuse to build another
Islip Speedway
replica of a local race car I remember from when I was a kid.
4.5" FCR BASED MODIFIED COUPE -
On the bottom is the original style Parma FCR (4.5" wheelbase). Above that, is the trimmed down pan to better conform to the shape of the coupe body.
4.5" FCR BASED MODIFIED COUPE -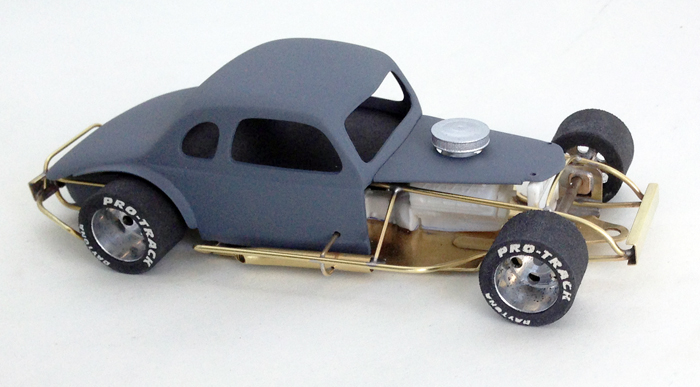 I used the 'old standby' '36 Chevy Modified kit - I think it originally was an MPC release in the 1970s, then it was AMT, then Model Car King, and then DTR... and right now it is not in production. I added in some styrene to form a cowl, and I added some back in at the rear fenders so the wheel cutouts wouldn't take "a bite out of" the rear deck lid area. I also made up some little rear fenders - all in an effort to replicate the actual car driven by "Tiger' Tom Baldwin at the famous 1/5 mile oval -
Islip Speedway
.
RIGHT REAR VIEW -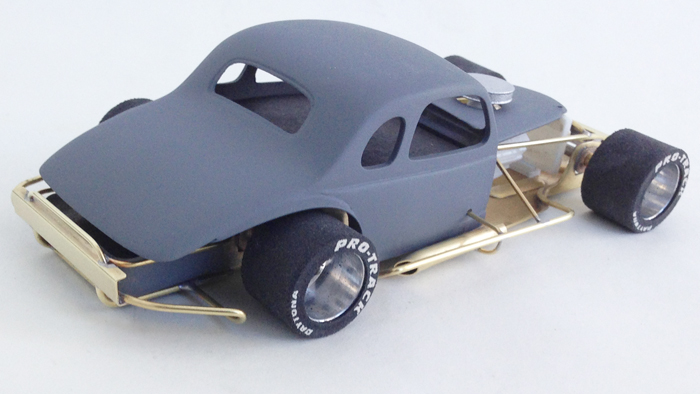 I added in small construction details like the brass 'over rider' on the rear bumper and the rear quarter nerf bars.
EXHAUST DUMPS AND FUEL CELLS -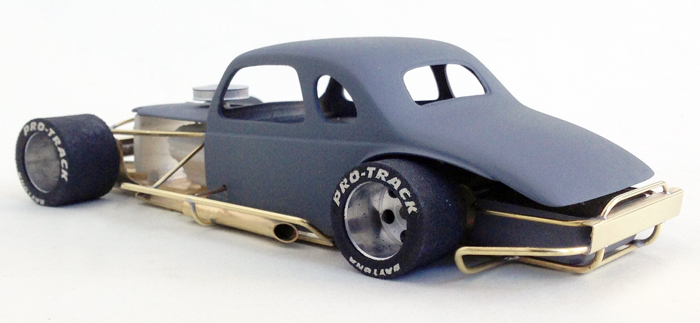 I made some brass exhaust dumps soldered to the chassis, and I used a thin plastic blister pack (actually the packaging from an H&R motor) painted and double-stick taped in place to simulate the rear fuel tank on the actual car.
AIR CLEANER FITTED TO THE CARB -
I used two really tiny neo-magnets to mount the air cleaner. One glued in the carb and one glued in the air cleaner. This works really well, allowing me to pop it off when removing the body, and it just finds it's position magnetically. *Click* and it is in the exact correct position.
PRIMER STANCE -
I tried to make up the various chassis bars to match photos of the actual car. I will post up some pics when this is closer to finished. I have already turned laps with it and it is a lot of fun. So I guess I am already enjoying a return on investment!