Saturday, January 20th – 2018
Mail in deadline – 17 January 2018
Check The LIVE FORUM For Updates And Follow The Builds of Others HERE


This race event is all about the great circle track racers many of us grew up watching.
We have our own versions of these legendary cars here at the Show-Me Speedway in 1/32nd scale, and we invite YOU to join in the fun!
---
This event is ran by a different approach than others you might see.
Many "proxy" type races focus on speed/performance above all else.
Such is not the case for this event and it's important you understand that before deciding to enter.
---
1. – This is a scale modeling event. The actual modeling and appearance of the cars are on equal terms as performance. Almost any racer can make a car go fast. An enthusiast can make them go fast in style.
2. – This is a ONE TRACK ONLY event. This is a simple "FUN RUN" at only our track. Once the race is completed, your models are returned.
3. – Three Contests – One Big Fun Run. You win by participation. Bragging rights is your reward if you come in first. No official prizes. (Always a surprise though)
4. – Entry Fee – $5.00. You can simply DONATE HERE for these.  If you are sending from outside the continental USA, we will work with that as well. 
"Best In Show" – The modeling portion of the event where your models will be photographed and a page for them created. Then all the models will be judged by the discerning members of our forum and the results posted.
Here is last year's BEST IN SHOW PAGE for reference.
"FAST LAP SHOOTOUT". Your models will be timed in one lane and the best overall time winner will be posted.
Here is last year's FAST LAP SHOOTOUT times.
"The Showdown" – The cars will be ran in a rotation format. Drivers will be stationary.
Tires will be cleaned (deglazed) using simple sponge material that has a 50% alcohol/Water mix .
This does NOT sand them, just cleans them. The very mild 50% alcohol/water mix does not harm the tires or reduce the shelf life. It does NOT reduce diameter as already stated. I have tested this compound for nearly 2 years and all my cars from prior events are still in 100% performance.
Performing this between heats simply gives the cars the maximum traction.
"A clean tire is a happy tire"
Race Divisions
1. Sportsman – The standard full fender body styles.
We are combining the older classics with modern late models.
2. StrangeBrew Modifieds – The famous modified series.
Inspired by the modeling of our own "Strangebrew" Dave.
---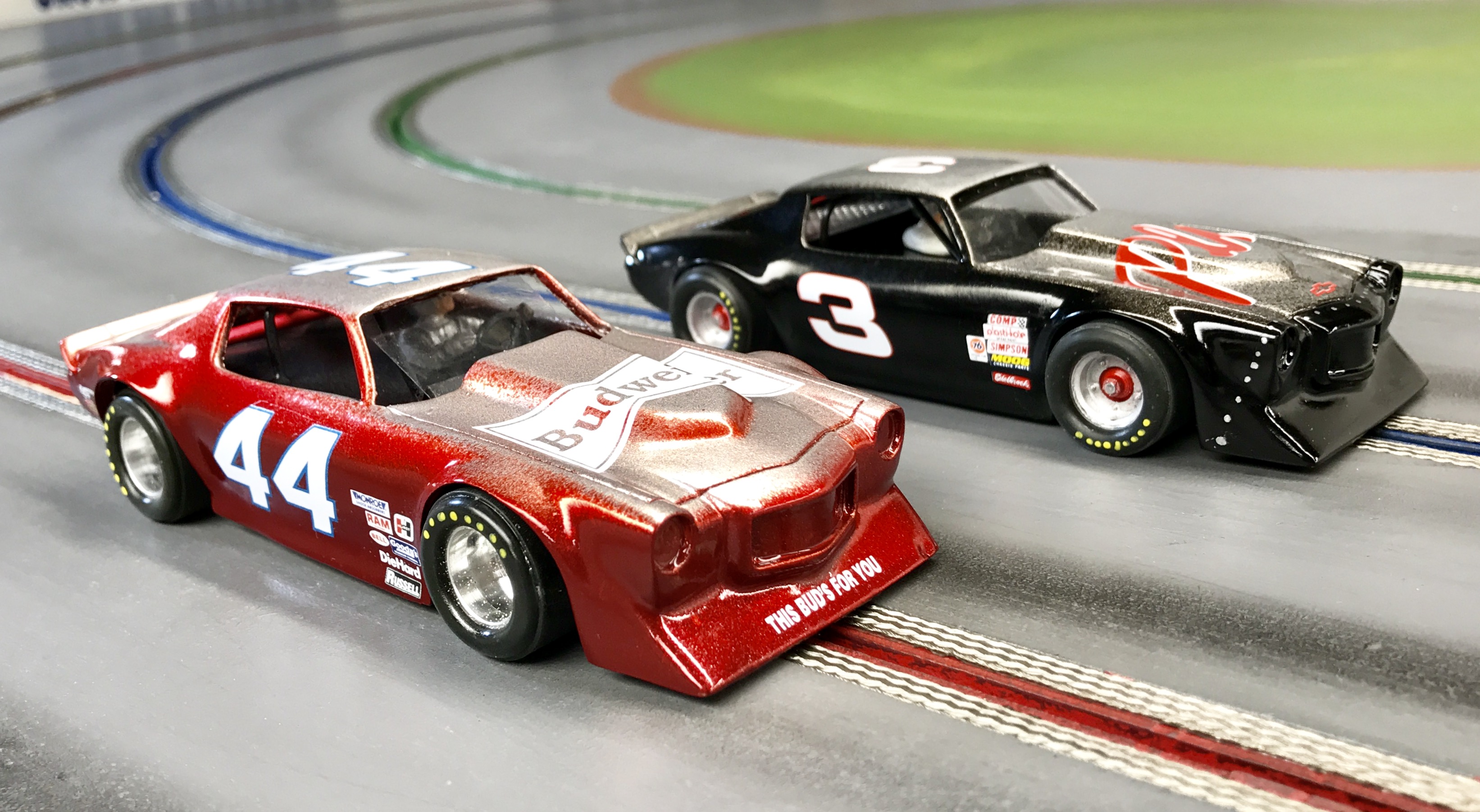 Sportsman Series Examples
APPROVED BODIES FOR SPORTSMAN CLASS
---
– Carrera Classic NASCAR Ford Torino, Plymouth Road Runner, Dodge Charger. *** No Wing Cars ***
– Carrera 57 Chevrolet, 60 Plymouth, 70 Chevelle, early release GTO, Mustang
– Revell/Monogram Classic NASCAR – Galaxies, GTX, Charger, Fairlanes.
– Scalextric -70 Camaro, 69 Camaro, 69/70 Mustangs, Challenger, Cougar, 69 Charger, 72 Torino
– Pioneer Charger/Mustang/Camaro
– SCX Cuda
– MT Racing Resins – 70/71 USAC Racer, 69 Nova Sportsman, 65 Shovelle, Late Model 69 Chevelle. ASA Camaro, Mustang & Firebird
– Gunze Sangyo – 57 Chevy hard top, 59 Chevy hardtop
– Revell Snap-Tite – 55 Chevy, 69 Camaro, 70 Mustang, GTO, 78 Camaro, Firebird
– RMS Resins Nova II, 65 Fury, 65 Galaxie, 66 Chevelle, 65 Impala, 63 Falcon, 67 Cougar, 68 Camaro, 68 Firebird, 70 Challenger, 70 Camaro, 70 Cuda, NEW CHEVELLE & DUSTER
– Skunkworks ShapeShifter – Buick LM, 7123 Camaro, AM Camaro, 65 Ford
* If you create your own resin bodies, please email me for approval.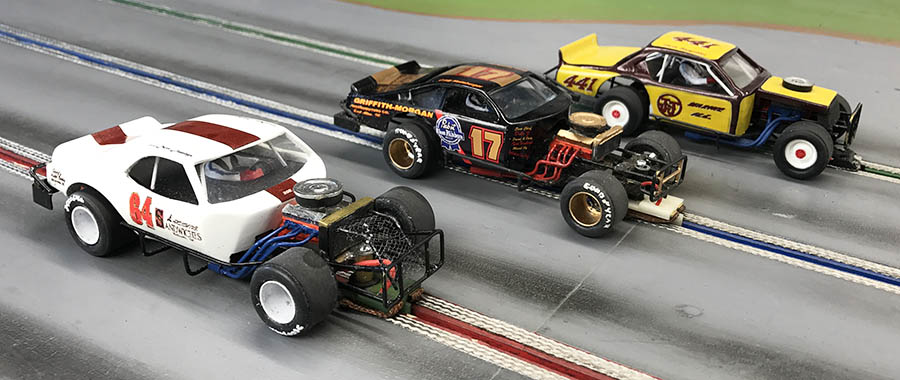 Strangebrew Modifieds Series Examples
---
Modified Division Bodies
---
This is a special series that could include many different body styles. See the above photo for examples. If you truly want to enter a model in this division, please contact me with your body style idea. I will ask that your common sense should guide you first. Researching the classic modifieds will give you 1000's of ideas. You can also contact "Shotgun Dave" or myself for bodies we might have on hand.
---
Modified Body Guidelines
---
Bodies must be as close to 1/32nd scale as possible. Body shapes should resemble the many prototypes easily researched.
American 2 door or 4 door sedans. Example: 40 Ford Sedan allowed. Cut down 57 Chevy Nomad allowed.
Interior: Must have driver, dash, steering wheel, roll cage detail.
Glass or screen in front windscreen area. Optional sides/rear.
Body Clearance To Track: 1/8″ is a good minimum
---
Sportsman Body Modeling Guidelines
---
Body Height: Keep it stock. Original A/B pillars intact, in other words no low rider/rat rod chopped tops.
Body Width: Keep it stock. You can add flares if you want for scale appearance, but no narrowing of the stock body shell.
MAX Body Width: 2 5/8". This applies to models with flaring. In other words, no wider than the allowed track width which is 2 5/8″
Body Style: American hardtops cars. No convertibles. No Trucks, Vans, SUV's, Zamboni's, Semi's, Street Sweepers, etc. Common sense time.
Body Clearance To Track: 1/8″ is a good minimum. Front spoiler, if used, at 3/32nd. This will make sure the bodies/spoiler do not drag the track.
Must keep all fenders. This isn't the modifieds.
Interior: Must have a driver, dash, steering wheel, roll cage detail. NO pre-molded lexan types.
Windows: Front needs glass or screen, your choice. Sides and rear optional.
Bumpers: Stock or you can replace them with custom/brass. Again, let realism guide you.
Side Bars: Allowed but cannot be wider than the outer sidewall of tires. (2 5/8″)
---
Chassis Modeling Guidelines
Both Divisions
---
CHASSIS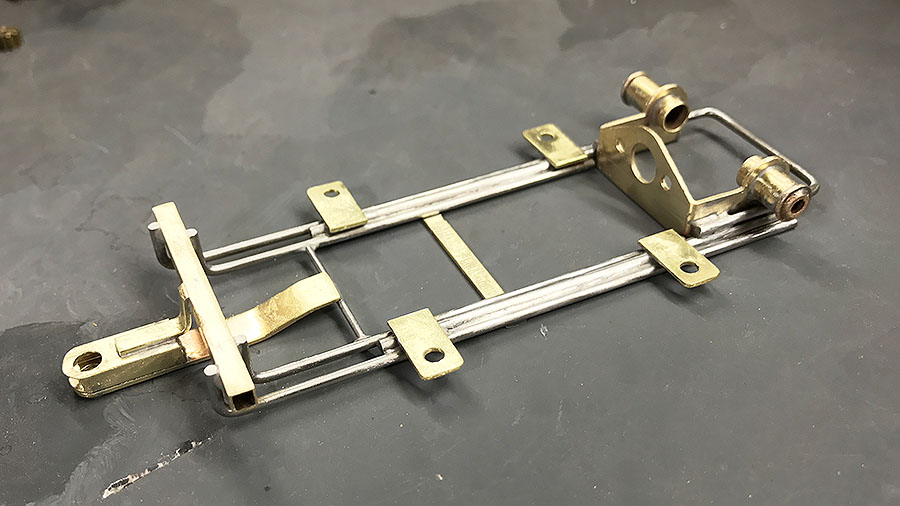 Brass/Steel Wire Chassis. From scratch, but forged or stamped brass motor brackets and guide tongues are allowed.
Inline or sidewinder/anglewinder.
Offset motor configuration allowed.
No Slot.it pods or other plastic/3D/hybrid combos.
2 Wheel Drive Only. Only 4 Wheels. 
Chassis to Track Clearance: 1/8″ is a good minimum.
MAX Track Width: 2 5/8″ from sidewall to sidewall.
Stagger is allowed. In other words you can run a 15×8 on the left front and a larger size on the right front, just adhere to the width maximum.
Common sense rule – *If the chassis, gearing or body drag on the track? DQ. I will contact the builder and we will see if anything can be addressed to remedy it. 
Running Gear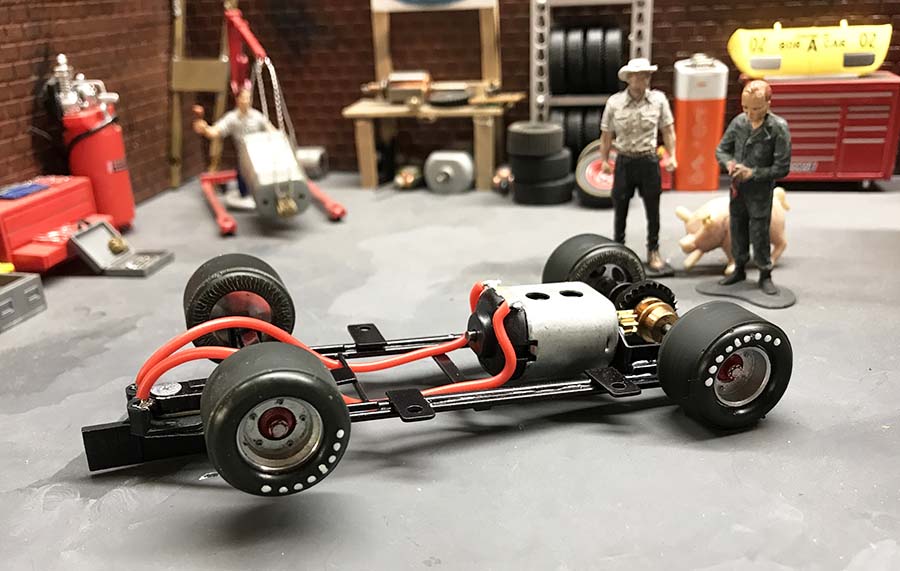 The goal is to create as close of a field as possible. 
Door to door action is the most fun as any enthusiast will tell you. The large body and chassis designs allow for almost unlimited creativity that does impact the performance.
Our own models at HRW will be:
Inline configuration
9 tooth pinion, 27 tooth crown
CB Design 15×10 size wheels
Paul Gage 22166FF tires all around
Sloting Plus guide
WHEELS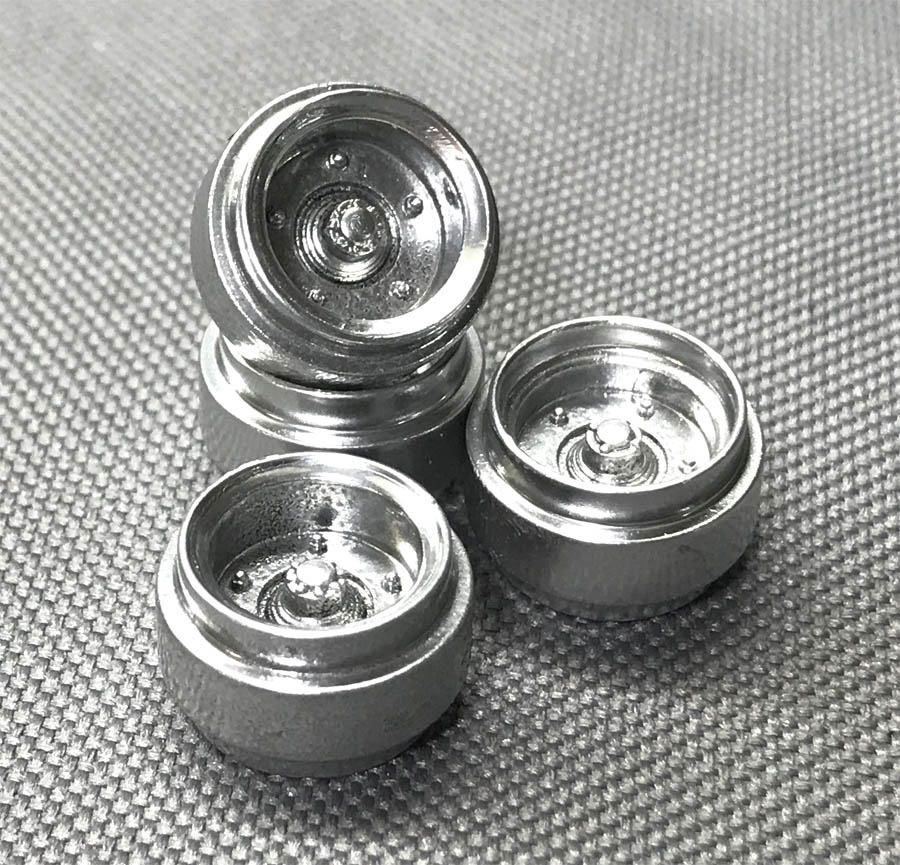 Click Below To See Wheels and Tire Combos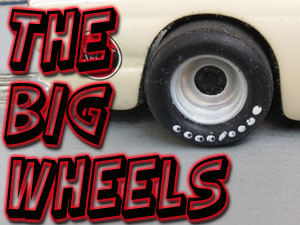 C.B. Design 15×8, 15×10, 15×11, 15×13
(Insert, Stock Car, 5 Spoke Racing, F1/MOD, & Classic Steel) If insert wheel used, please use an insert 🙂
Sloti.it 15×8 Aluminum, Slot.it Plastic 15×8 – Just in case you want to use them up front.
The minimum size wheel/tire combination is 15×8 with PG 22125.
Scratchbuilt or other aluminum wheels allowed if they meet the size restrictions.
TIRES
---
PAUL GAGE URETHANES ONLY Standard PG or XPG – Sizes Listed
-22125, 22126 for 15×8
-22166FF, 22168FF for 15×10, 15×11, 15×13
REMINDER! MAX Track Width: 2 5/8″ from outer sidewall to outer sidewall.
Stagger is allowed.
In other words you can run a 15×8 on the left front and a larger size on the right front, just adhere to the width maximum please.
GEARING
---
Standard inline configurations: 
8, 9, 10, 11 tooth pinions.
26, 27, 28, 29, 30 tooth crown gears.
Sidewinder/Anglewinder – Open

Our personal models will be inline and geared 9/27
Guides
---
Almost any guide allowed. Our slot is deep enough (3/8″ or better) to handle any commercial blades as well. Try to keep the front of the guide flush with the front of the body. It just looks better and increases the scale appeal.
Guide Height Modeling Notes – Our track is braided and flush.
Motor
---
SPORTSMAN CLASS – Piranha Motor Only
Modifieds – Piranha – MT5 – JAWS Only
---
There you have it. Everything you need to know to join in the fun.
There will be 3 Awards:
1. "RaceStopper Award" for Best Looking Car
2. "HRW Haulin' The Mail" Award for Fastest Lap
3. "Smokey's Choice Award" for my overall favorite.
Here are a couple articles to help you get started.
A complete video series on our chassis.
Look forward to all of your builds!
CONTACT ME with any questions.
-Harry