Every once in a while a slot car comes along that really impresses you.  Such was the case of the first Scalextric Ford Daytona Prototype when it first arrived almost a year ago.
The only downside of the model was I wished there was a running mate for it.  The wait is over and just by the looks alone it was worth that wait.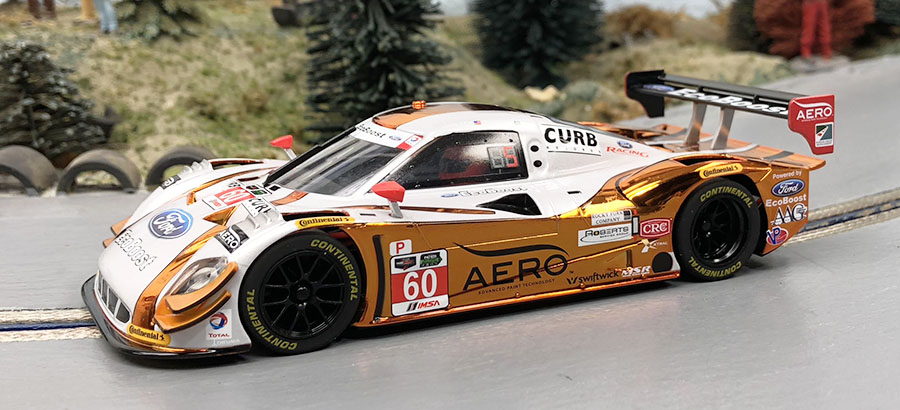 What impressed me was the how well they captured it in our scale and how it performed. The inline configuration works smoothly enough and it was easy to tune for my wood track. 
Based on the car Michael Shank Racing piloted in 2014, it appears they have done a very good job capturing it in scale.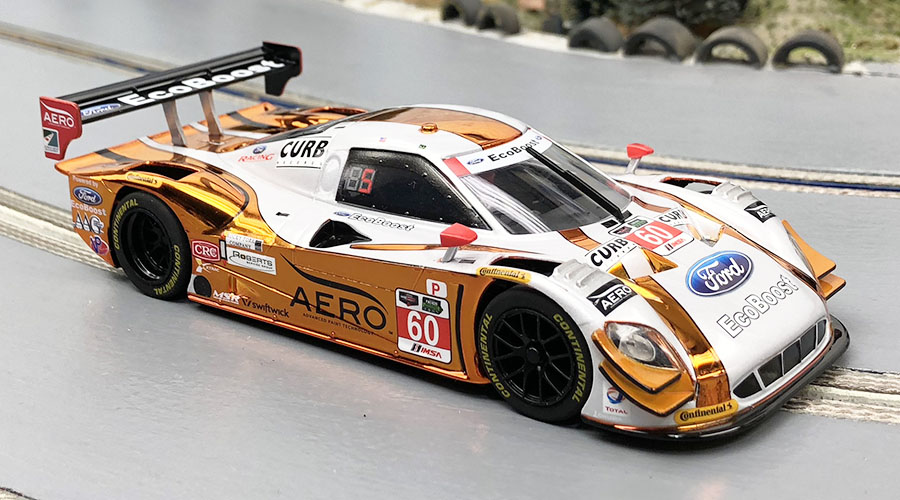 The paint and gold chrome just define "eye candy". It has already been said that photos just do not do it justice. I have to agree after seeing some very good images of it on this screen and then opening this case.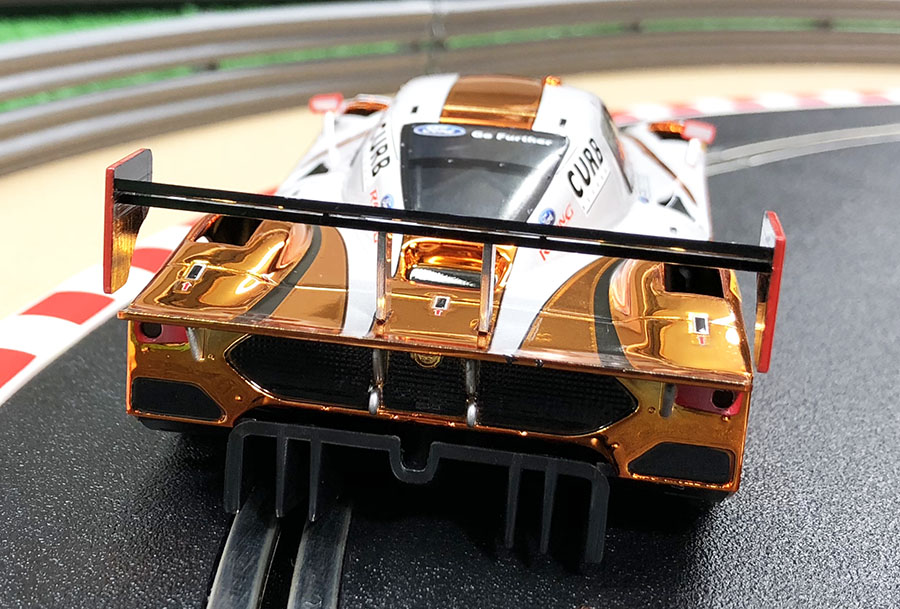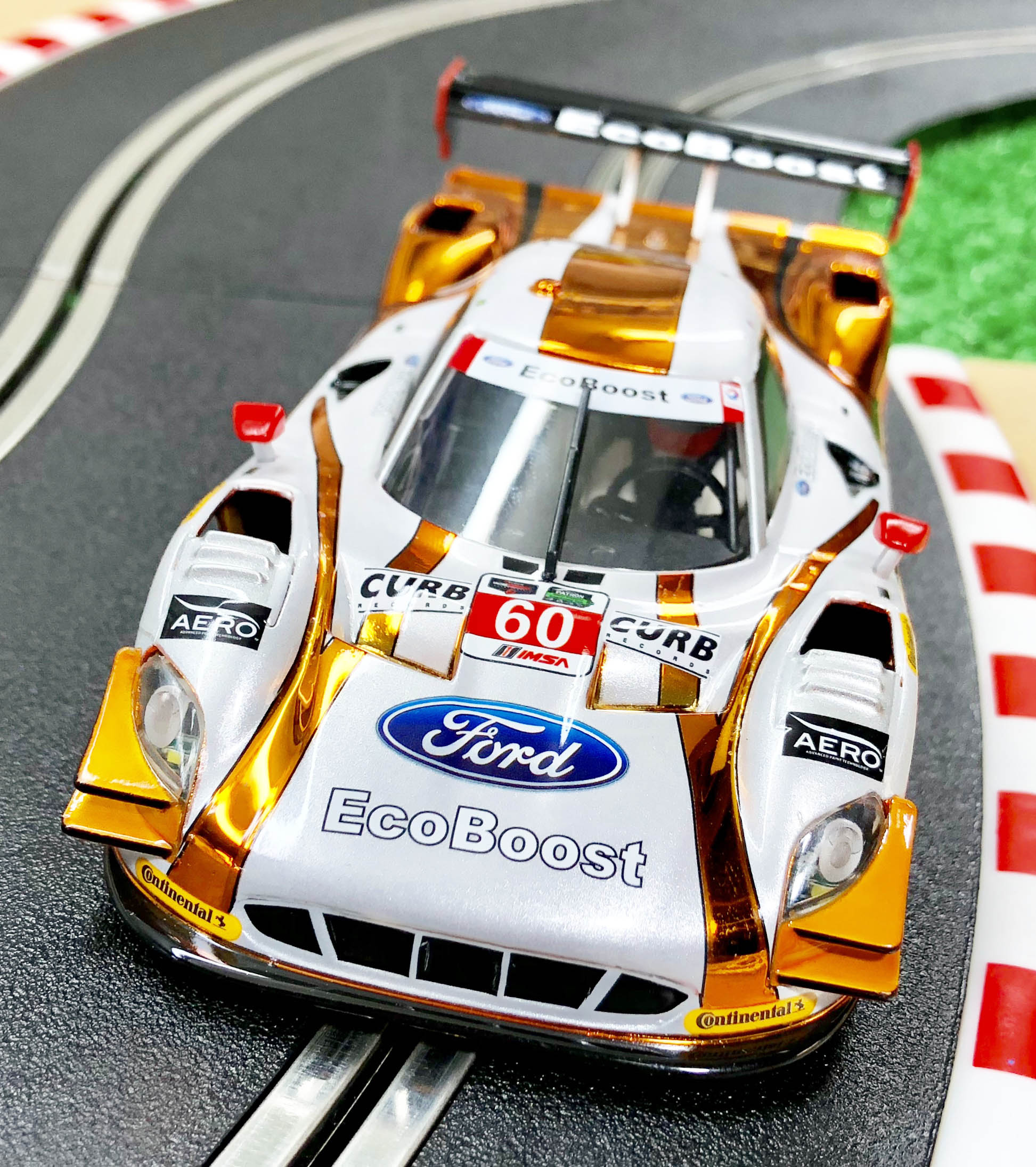 Mechanically speaking it is of course identical to the previous release. Full review here if interested.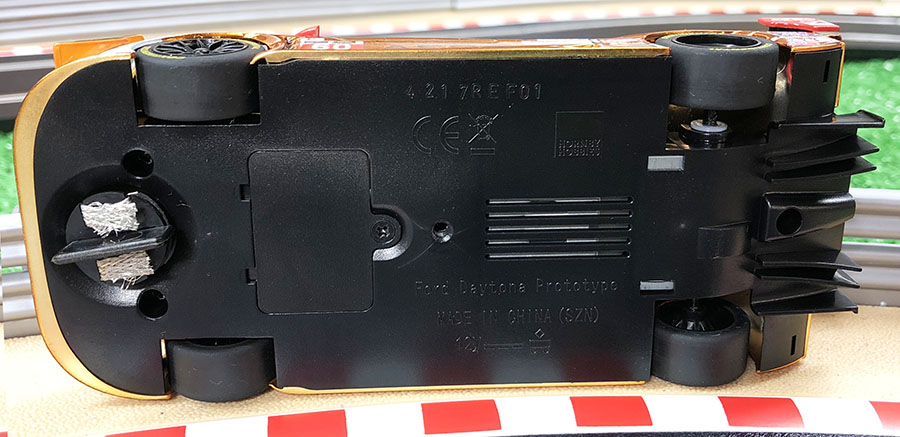 Scalextric and other companies can sometimes change a motor. It can be due to availability,  cost, etc. There have been some models released last year a green end bell motor and then this white/translucent version. Nothing to worry about, the performance ratings are nearly the same and well within the usual tolerances for simple home racing models.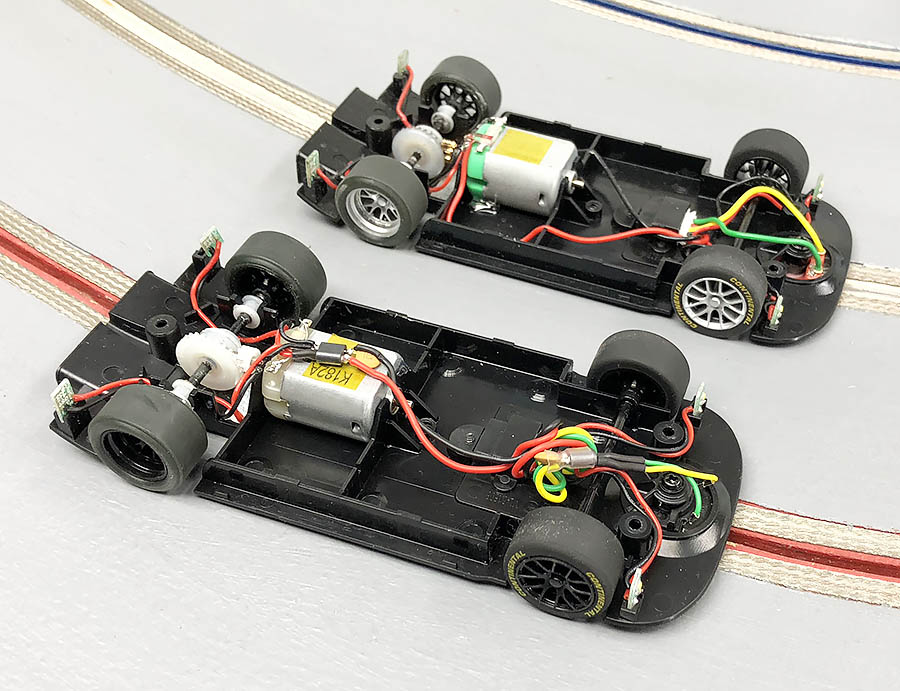 Last years release in the background. New one with different color end bell.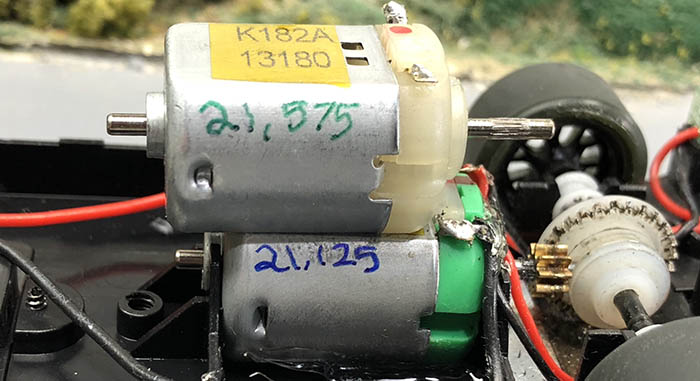 I have tested 14 motors in the past year.  Both green and white versions as seen above.
The variance is nothing that will affect most any racer. On our smaller track the few hundred RPM difference is does not make the race winner.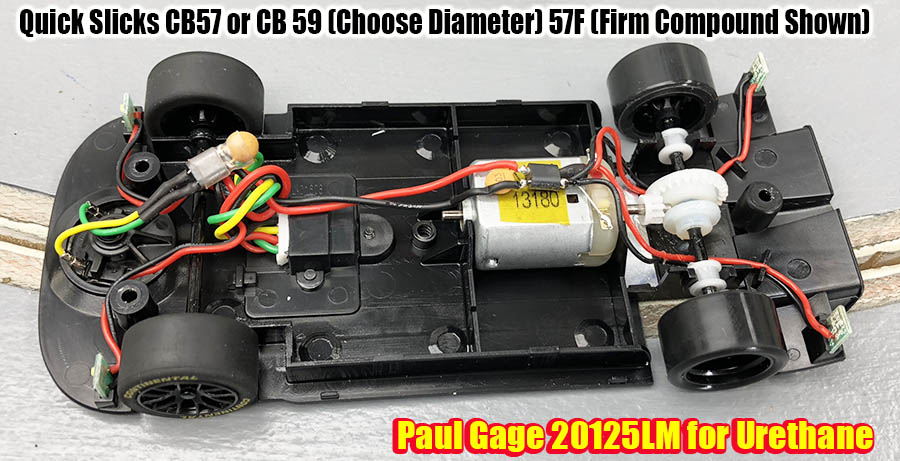 For the more advanced racer, there are plenty of options for tires. My choices are either the Quick Slicks silicone or the Paul Gage Urethane. The Quick Slicks FIRM compound is the best silicone for my own home track.
But I installed PG on the first model,  so I went with those on this model as well.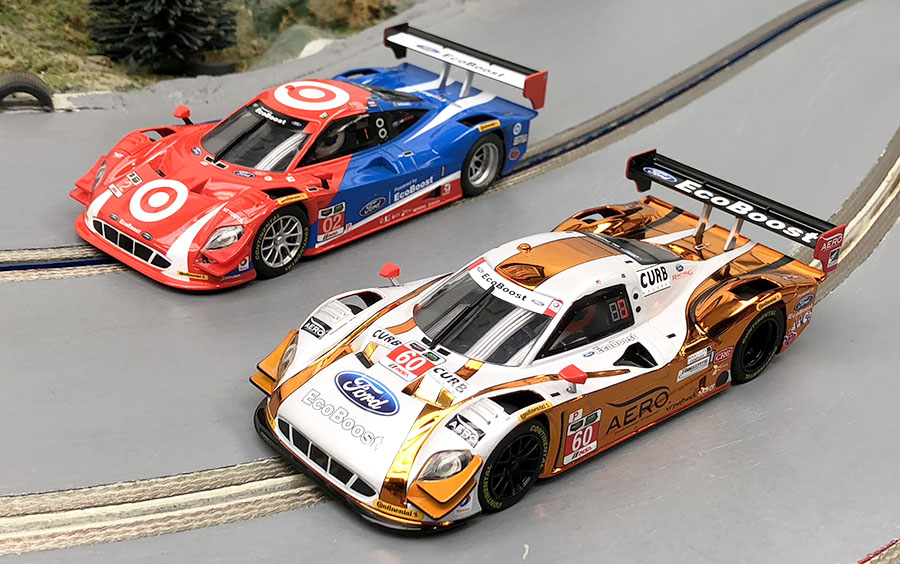 And lap times prove it.
New model: 3.744 average.
First Release: 3.810 average.
This is what I wanted in a "running mate" for this car. That small difference means it's all driver and setup technique. These will make a great side by side match up on any race day.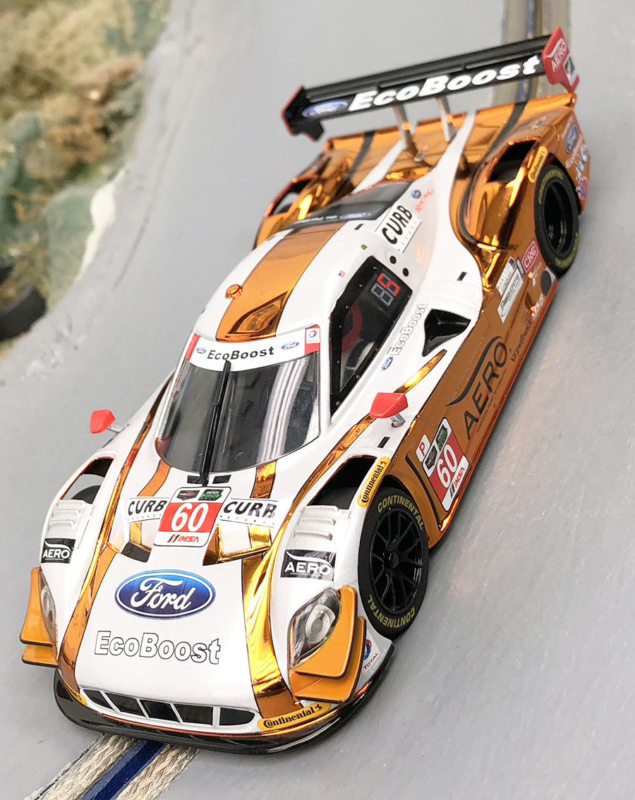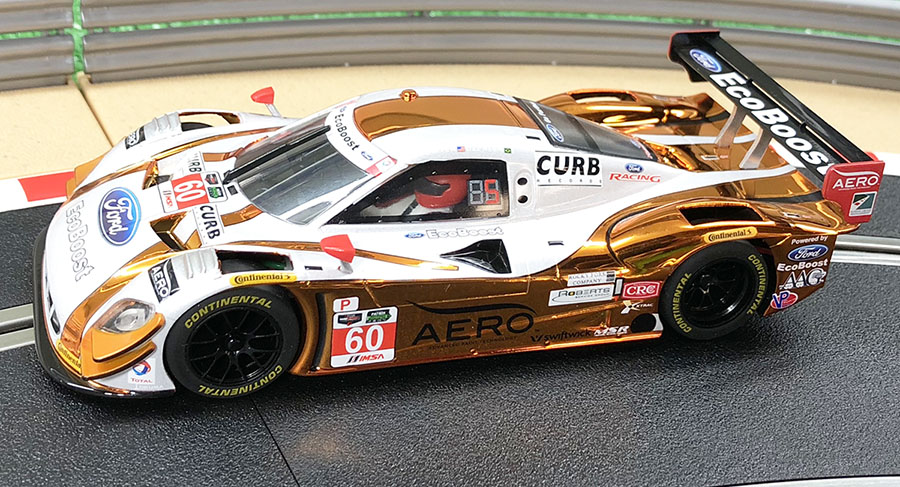 Just a fun slot car to tune and race. And that is all I really want for my hobby. I'm uncertain how many versions are planned for the future, but for my home track Scalextric could make quite a few more.
-Harry
Sponsored by Scalextric/Hornby Hobbies USA

Check local USA stockists for Scalextric product availability.  Here are a few we use often.