It has been quite a spell since a new Cougar has joined the ranks at my home track. The history of a car is always part of the appeal, but it never hurts if it catches the eye.
This release has both.
Scalextric did a good job overall with the paint and markings. The yellow might appear a little on the light side, but that depends on what reference photos you use. For me it's close enough and certainly depicts this classic well.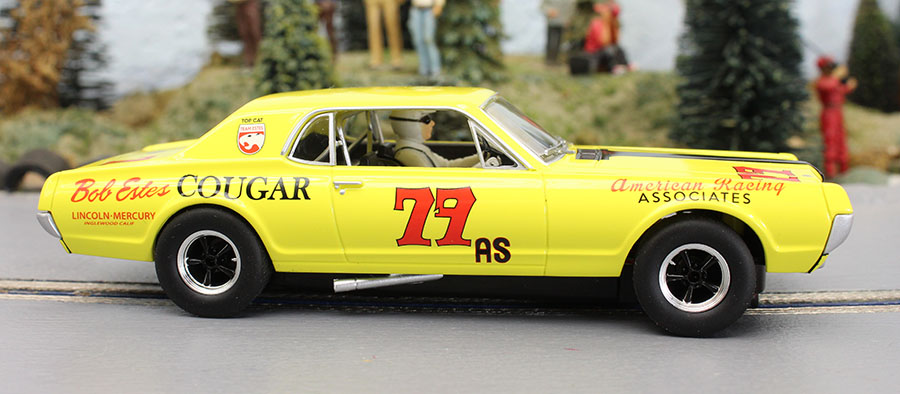 After a successful 1966 season privately campaigning a Shelby GT-350, Shelby employee Mark Waco was able to secure sponsorship from renowned Indy car owner Bob Estes to compete in SCCA racing.
Bob Estes' Lincoln-Mercury dealership provided a 1967 Cougar.  The conversion to a road race car was performed by fellow Shelby employee Bernie Kretzschmar, as well as Nels Miller and Mark Waco.  Kretzschmar's experience as the main fabricator responsible for all of Shelby's GT-350 R-Model Race Cars and all of Shelby's Trans Am Coupes made him the logical choice to perform the conversion.
All of the special race parts used on the Shelby Trans AM coupes found their way onto this car.  In addition, Bud Moore Engineering provided the lightweight front sheet metal and the oversized radiator.
The Bob Estes Cougar with both Mark Waco and Nels Miller driving compiled 6 wins in 10 races in the 1967 season.  For the 1968 season, a Tunnel Port 289 engine replaced the standard HiPo 289 for all but the Trans Am race at Riverside. The Cougar won 6 of 17 races. The Cougar was running in 4th place at the 1968 Mission Bell 250 Trans Am race at Riverside, CA before a broken brake rotor put the car back in 15th place.
The car, as it sits now, is exactly as it was at the end of the 1968 season.  A total of  7 Cougars participated in Trans Am racing, and only 3 are known to survive today.

Mechanically nothing has changed since the first version reviewed here.
The model does need some tuning, but that is half the fun for us. It will compete on our track with all the others although it's never been the quickest. That's ok. Sometimes just running Cougars is the fun part.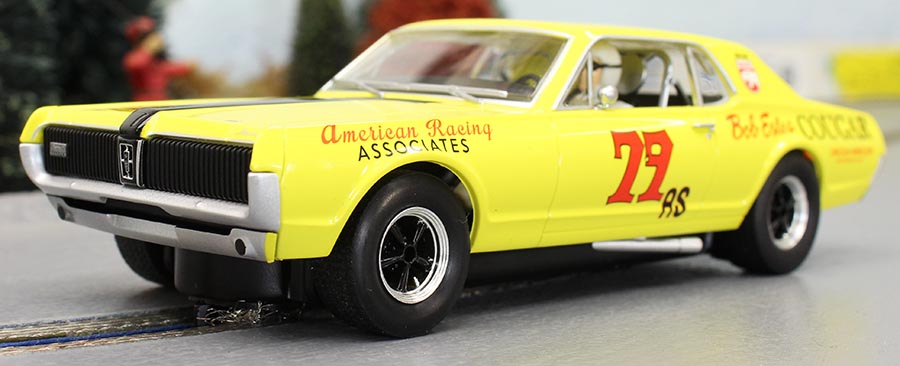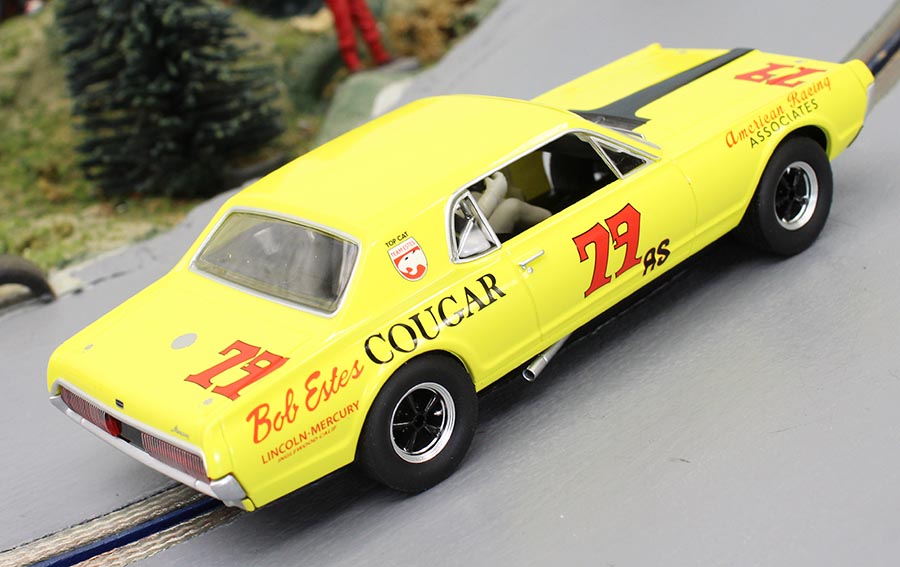 The car will either get your attention or it will not. Yellow is not for everyone. But veteran enthusiasts can easily relate to how challenging it is to produce a car in this color without it looking "toylike". An odd term considering that is exactly what it is, but it sort of describes it the best. We like to have nice finishes and paint work that has a realism to it. Many older models in this color just didn't have the opaque depth of color or shine this one has.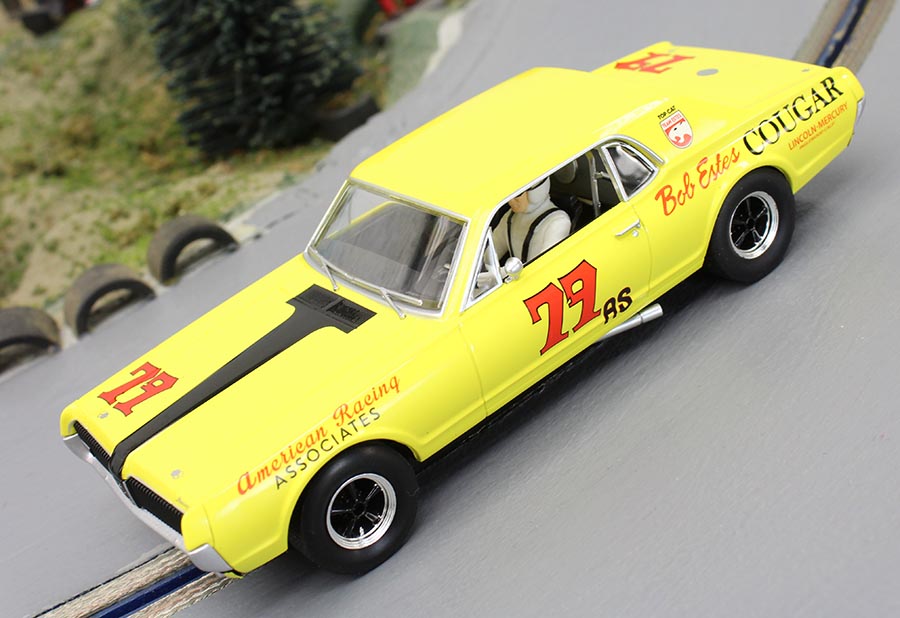 The moment my oldest son saw this model he immediately took "ownership". That's fine by me. It's that: "wow that is incredible" reaction that makes 1/32 slot cars so much fun.
-Harry
This review proudly brought to you by SCALEXTRIC / Hornby America