We finally have a new option for a low-cost controller upgrade. The new Professor Motor 35 OHM model is new style of resistor based controllers that are designed for those on tight budgets and want plug and play power base connections.
If you ask online about what controller to buy, forget it. You will get a slew of answers that range from $30.00 to $300 (or more). But ask for a controller on a very tight budget that will plug directly into a power base? The "pickings get slim" as we say around here.
Because we are not talking high-end performance based options or commercial tracks. We are talking about simple home racing, either plastic sets or small routed layouts.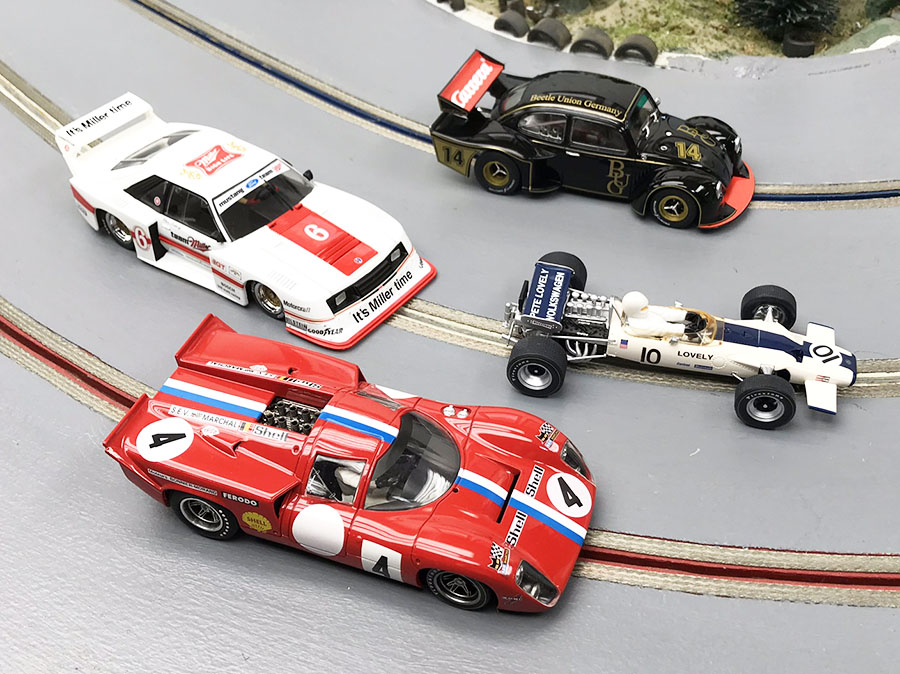 For simple home racing I have never felt anyone needed a high-end, competition based controller and I still don't. For many years the good old PARMA Econo controller worked just fine. It was easy on the budget and provided a significant improvement over the stock set controllers.
Then Professor Motor released the "Low Cost Basic" line of electronic controllers. This helped some of us outfit our tracks without breaking the bank, but at almost $60.00, we still needed an even lower cost option.  (Our Show-Me Speedway Oval uses these as shown here)
This is that new option.
Typical high quality construction from Professor Motor that uses 16 gage 42″ PVC insulated wire harness, nickel-plated alligator clips with color coded insulating boots and electronic self resetting circuit breaker to protect against accidental misconnect.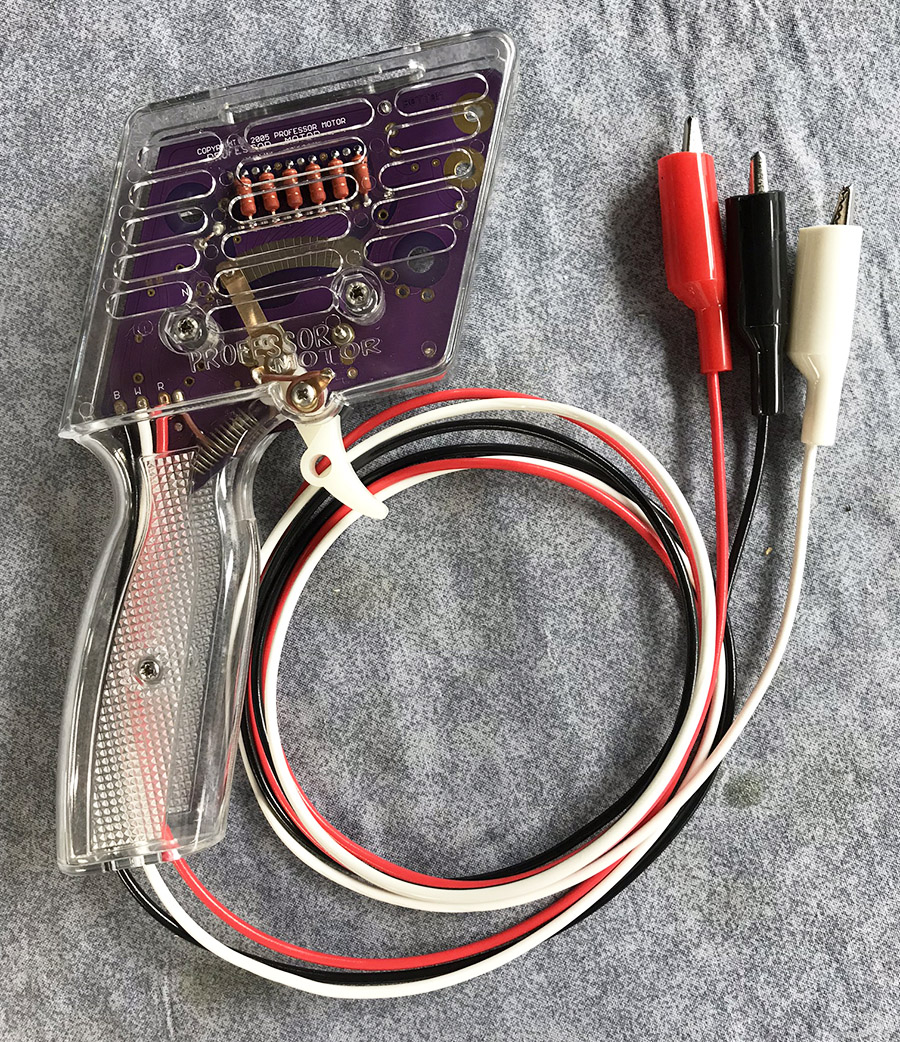 I will let the video tell the story, but rest assured that this outfit does the job very well.
This controller is NOT polarity sensitive – Recommended applications are boxstock or mildly tuned ready to run cars (1/32 Scalextric, Carrera, Ninco, Monogram, etc.), along with stock to moderately tuned HO scale. I cannot comment on HO as I do not run them, but we did test a vast majority of 1/32 models with excellent results.
Choosing the OHM rating for a controller has always been personal preference. 35 is a very good choice as it has a smooth control band for a very wide variety of motors. The important thing for me is the low-end control. Some lower OHM controllers act too much like an on/off switch for me. 35 OHM is just about the "sweet spot" for most.
The nicest feature for me is just how smooth the trigger control is. Anyone that has used an electronic controller will tell you that these types of contacts (PCB Printed Circuit Board) really provide you a smooth contact surface. Then there is the trigger itself that is mounted with a solid brass pivot that has virtually no free-play.
You can also add an adjustable braking pot in the future if you desired.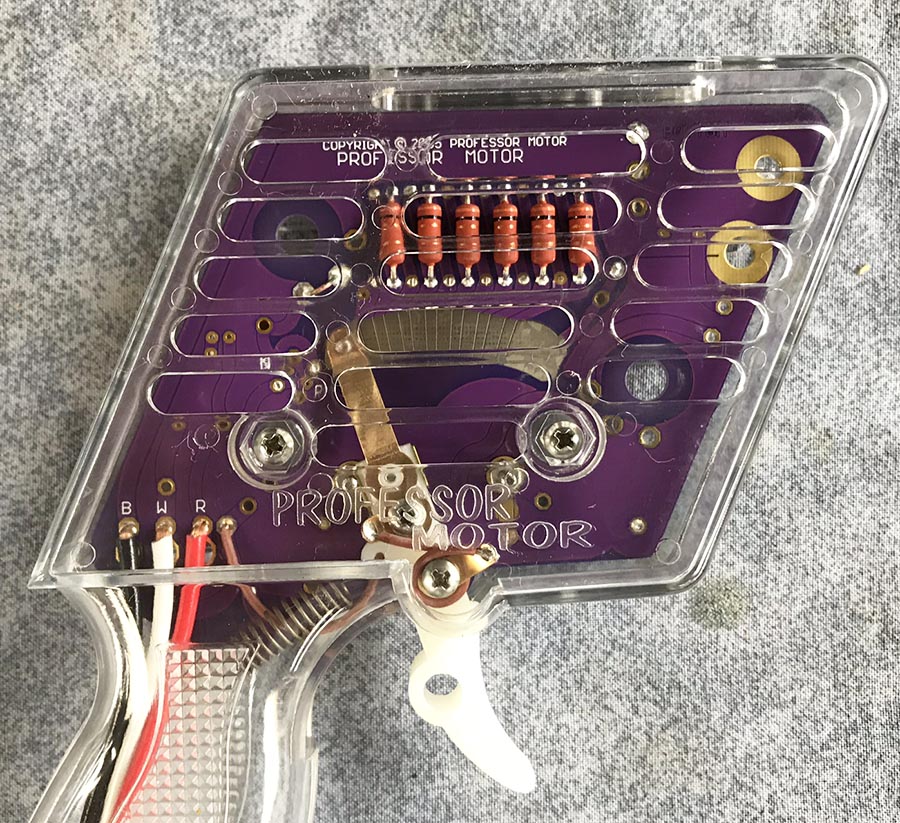 And the performance over a standard set controller is where this will really shine. Overall control will improve and the durability of Professor Motor products make it an easy choice for the upgrade.
Many home racers just want to unplug the old controllers and plug a new one in.
With plug ends for Carrera and Scalextric power bases, this will make them plug and play.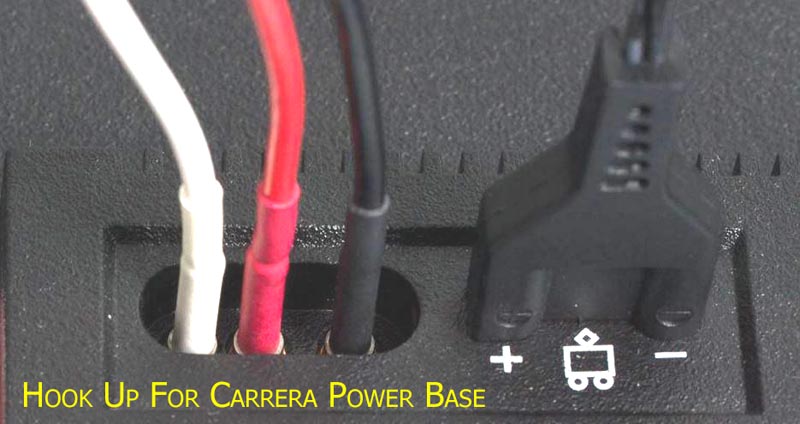 I acquired mine from Slot Car Corner and there are 3 Options: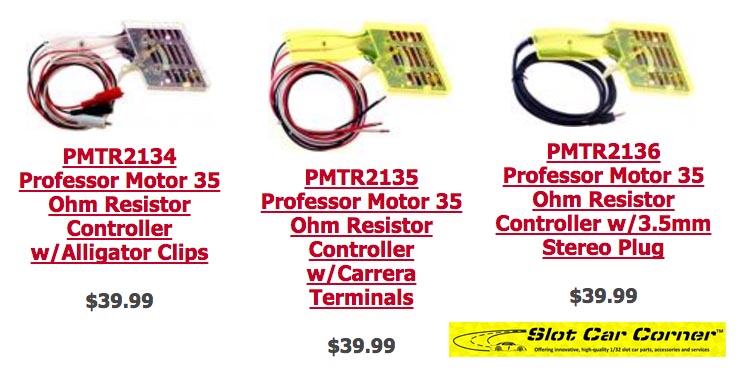 This is a very long-awaited product for our hobby. We needed an updated budget level controller and this one should fit the bill.
-Harry
Thanks go to Slot Car Corner for sponsoring this review. Support those that support YOU!