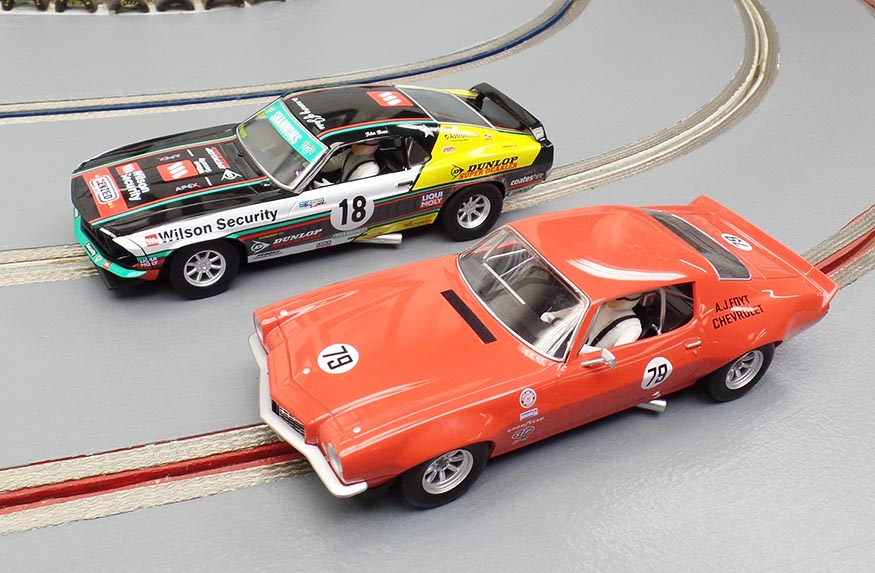 Two more classic icons from this series have just arrived at HRW HQ. The new Javelin might be hogging the spotlight these days, but both of these models deserve a closer look. 
They deserve some time on the stage because these models have earned it. In my circle of slot car enthusiasts, I cannot think of anyone that does not have at least one example of them. At every slot car event we host or visit, the slot car boxes I peek into usually have at least one ready for combat.
These are two very unique paint schemes. As usual, they will appeal to you or they won't.  For me, each car is something different and will have fans wanting them regardless.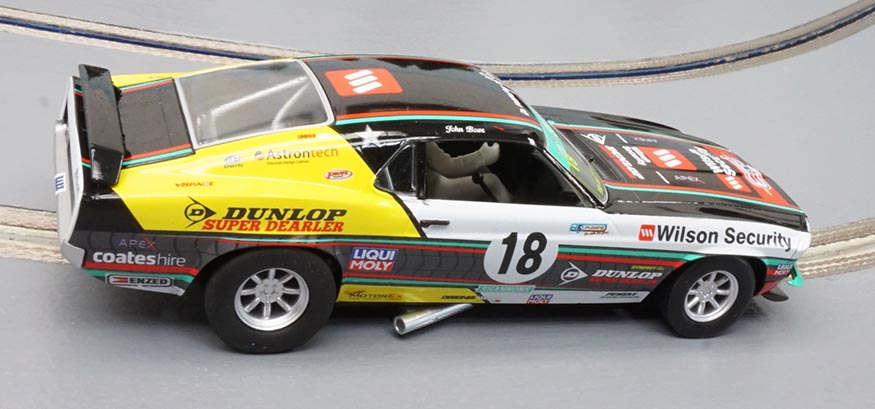 The Mustang is modeled after the car John Bowe raced in 2014 for the Australian Tour Car Masters series. Here is a link with a little information if you are curious.  This is the second car driven by Bowe Scalextric produces. Yes, Scalextric needs a new spellcheck manager. Once again we see a pretty glaring mistake in the Super Dealer…or Dearler as they have it.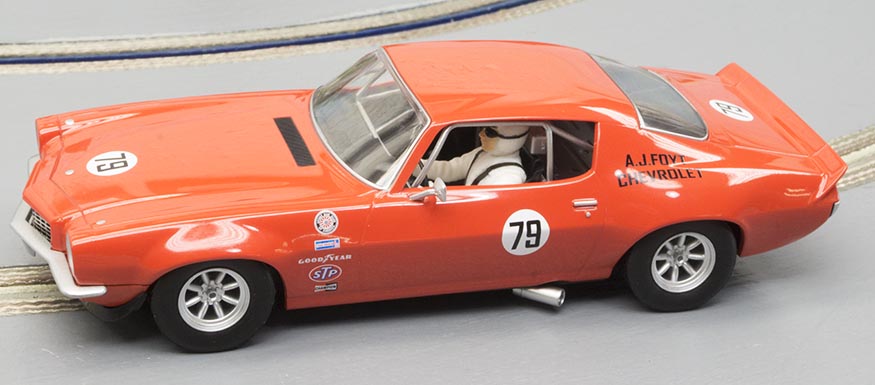 The Camaro seems very plain, but think about this: This is an ex Smokey Yunick Camaro, sponsored by A.J. Foyt Chevrolet (who was to drive it) but ended up being driven by Swede Savage at Watkins Glen in 71. How many racing legends can you ask for?
Colors and markings seem accurate enough. It's rather a challenge to get the A.J. Foyt "Coyote" orange though. Still close enough for me. My resources are limited on photos of the car, but what few I found indicates a decent enough attempt.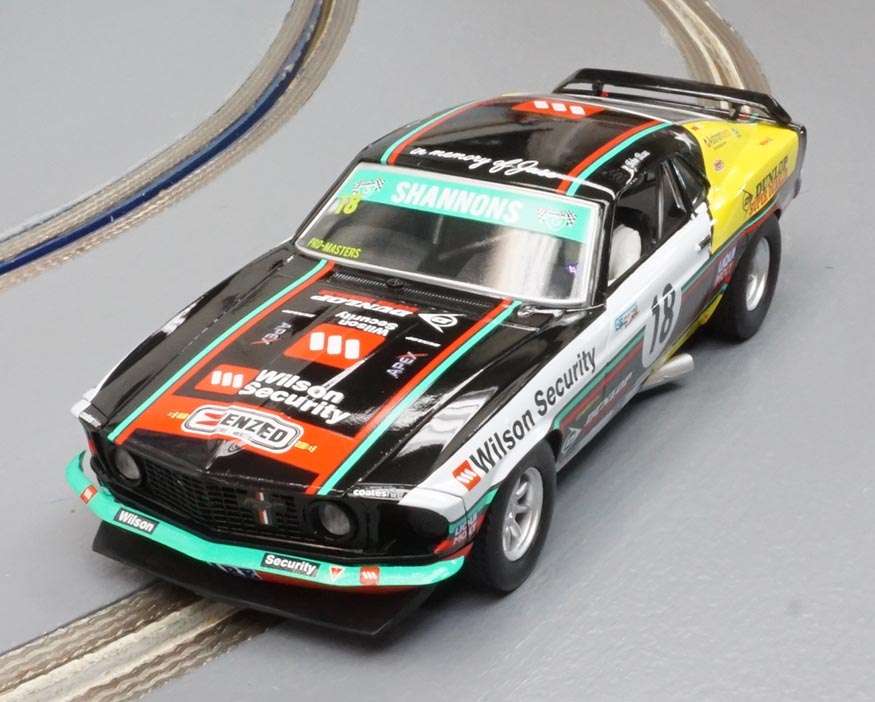 Same for the Mustang. Although the hood is not correct, it is still more than acceptable for me. Does the spelling error bother me? Yes a little. Enough to stop me from racing it? No. YOU will decide as always.
Looking underneath we do not see any surprises. Each of these models have stayed with the sidewinder configuration as they have had for years.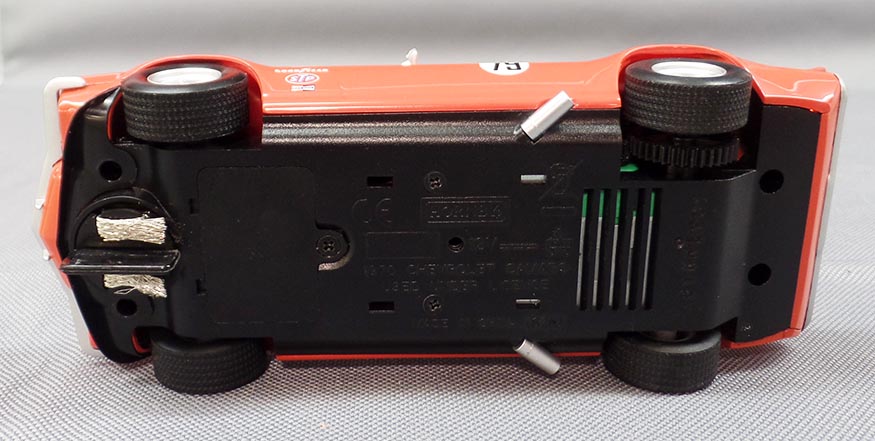 They do have the new guides and green endbell motor. Again, the motor is about the same as before. My test averages are 21,500 which is maybe 500 RPM or so over older versions.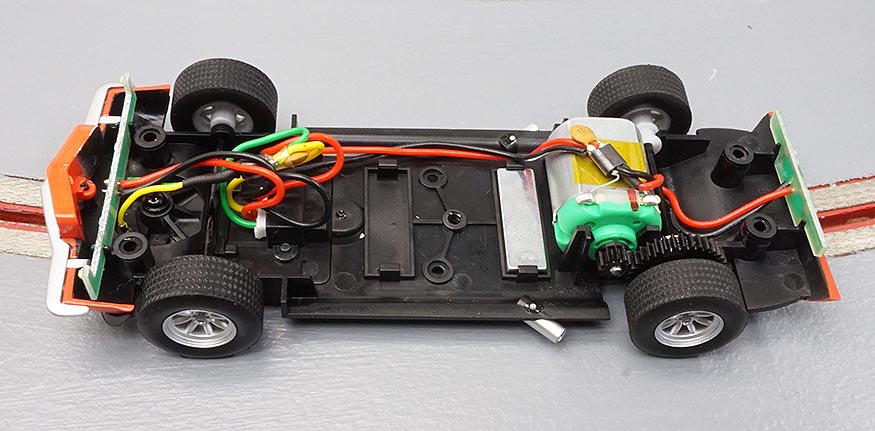 CAMARO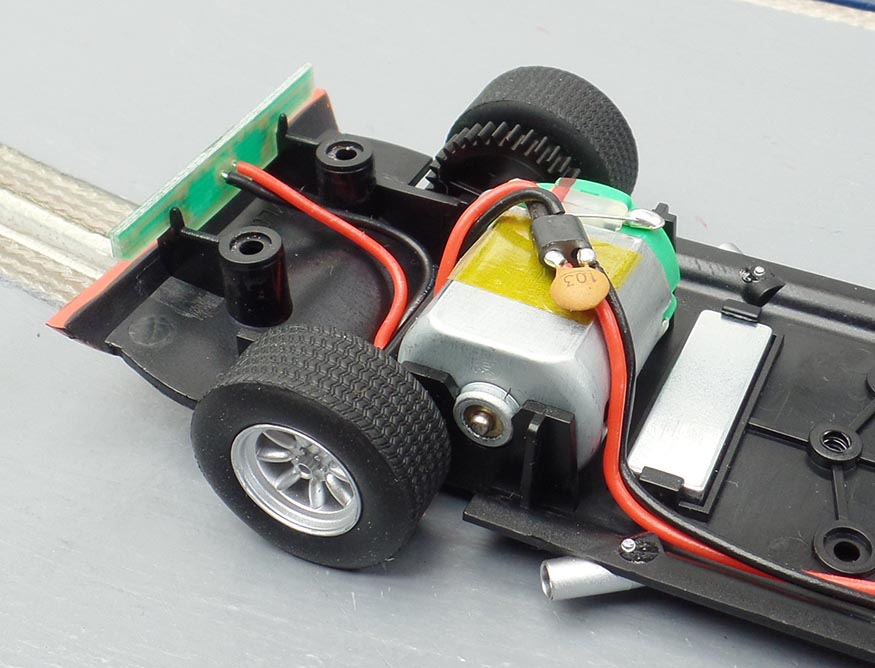 Check the guides on your models. They might be a little loose. Tighten the screw at the top to help eliminate the free-play.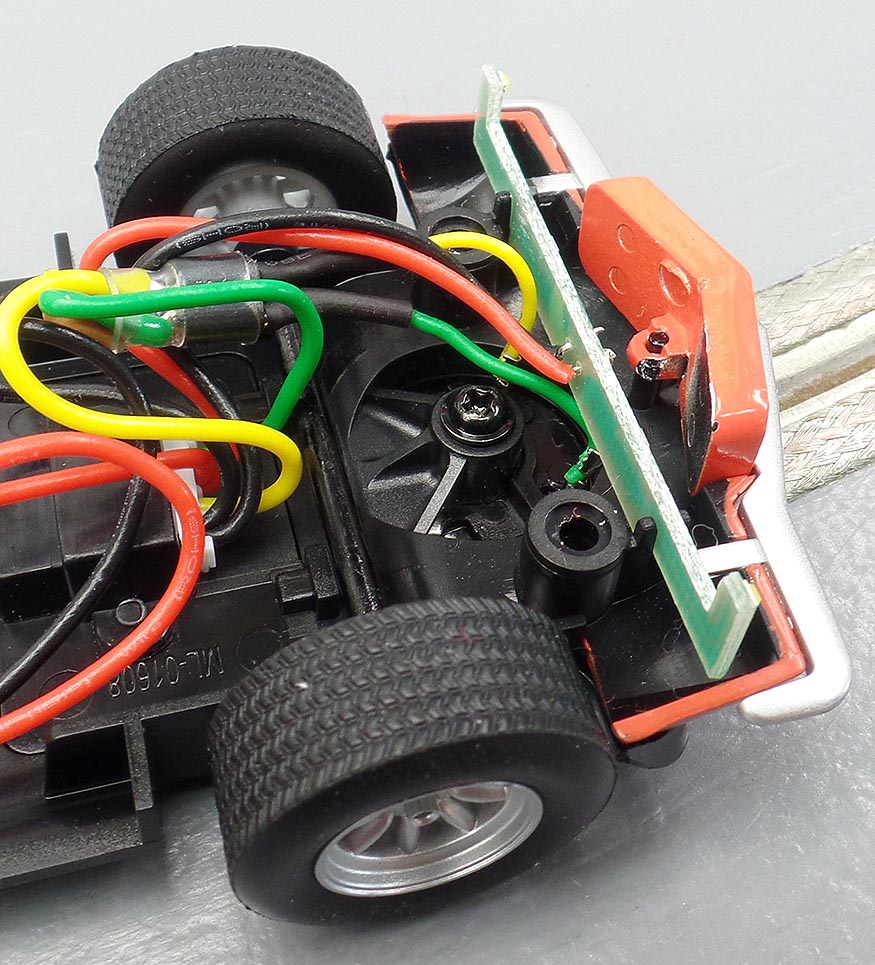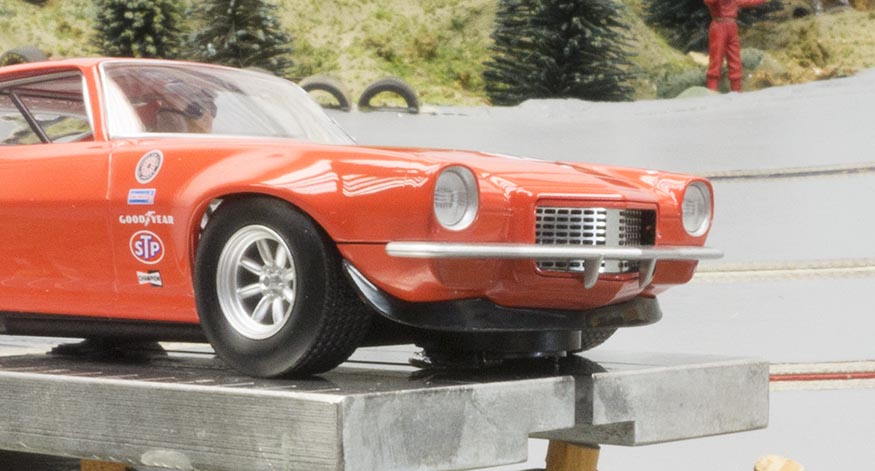 These new guides are also a little high up in the chassis. Not a glaring issue, the front wheels touch and spin under operation. For those seeking less weight load up front, a guide swap or tire sanding to reduce diameter will be advised.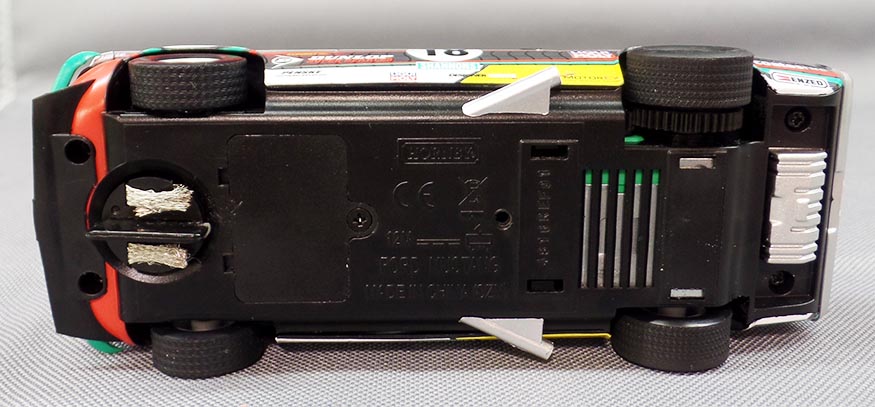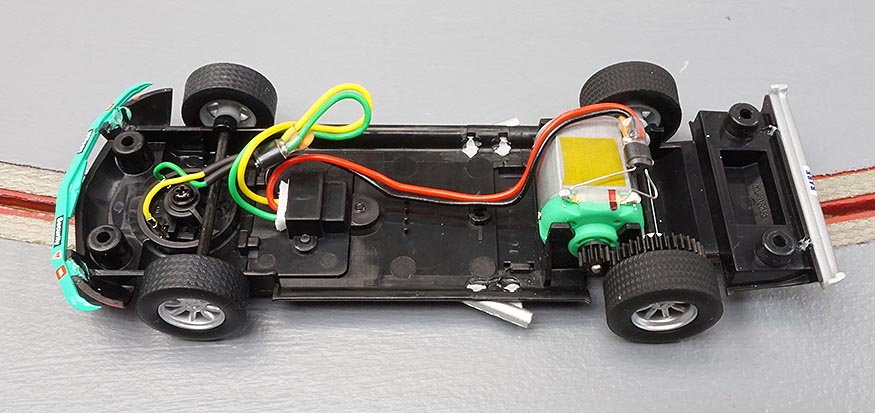 MUSTANG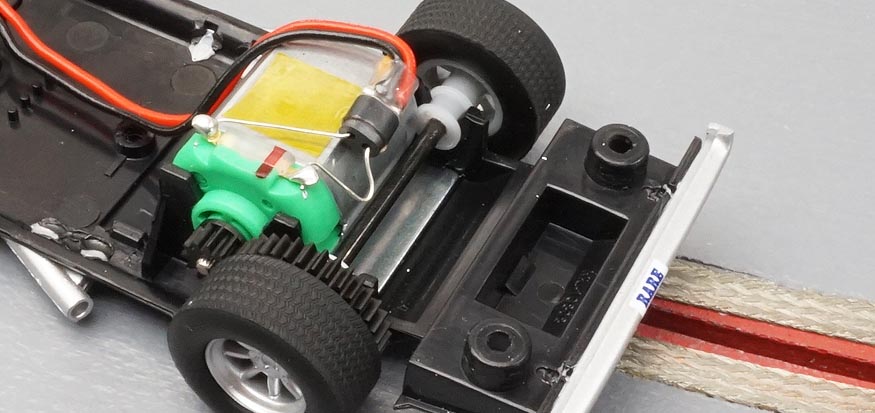 In box stock form on plastic track, the magnet locations will make a difference. The Mustang has the magnet under the rear axle but the Camaro has it right in front of the motor. I would move these around to better match them up if you are racing with magnets.
Gearing is the same with 11/36. (11 tooth pinion, 36 tooth spur).
New motor testing is averaging the same as the models before them. My simple test has the Mustang with 21,210 RPM and the Camaro at 21, 550 RPM. Different tests from others will vary of course.  I use a simple test rig with a very good supply. I have a multimeter hooked up as well to double-check my voltage accuracy. This range is about average in these motors. To date I have one motor run in the mid 20,000 range all the way up to 22,400. But that is about normal in our hobby, sometimes you get a hot one, sometimes you don't.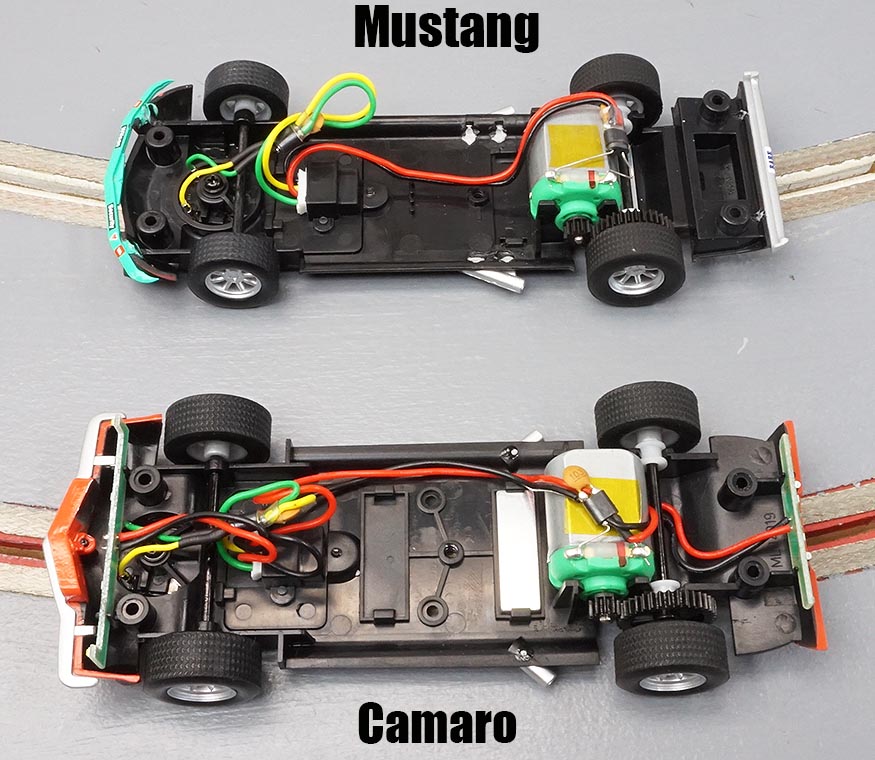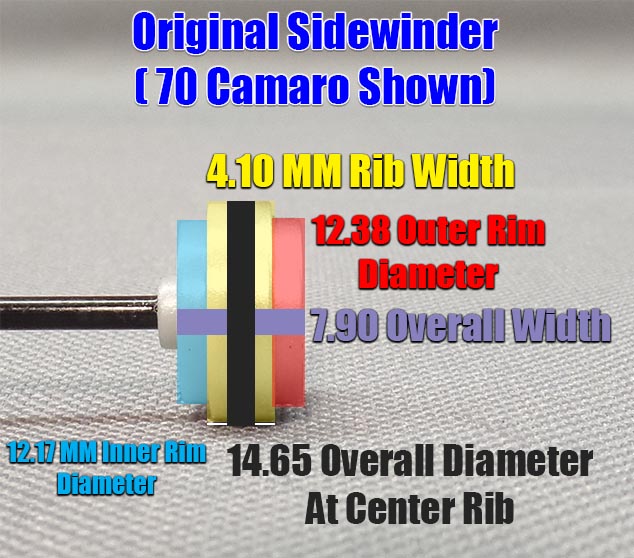 The wheel sizes are the same as prior models.
For my wood track, both these cars need tires and some light tuning to run the way I like. That is expected for models not designed for such a track and we have tuned many before them to perform very well. I expect the same with both of these releases.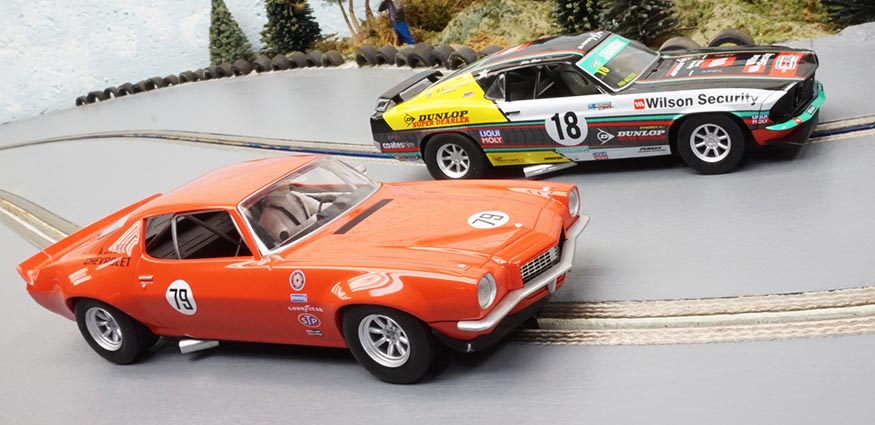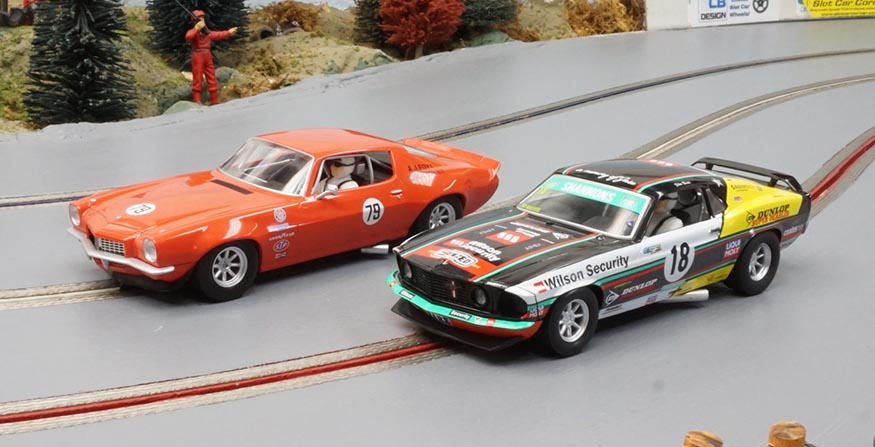 I am just happy to see them. Having more American iron to choose from is always a good thing in my opinion. I am sure both cars will end up in quite a few slot boxes very soon.
-Harry
This review proudly brought to you by SCALEXTRIC / Hornby America