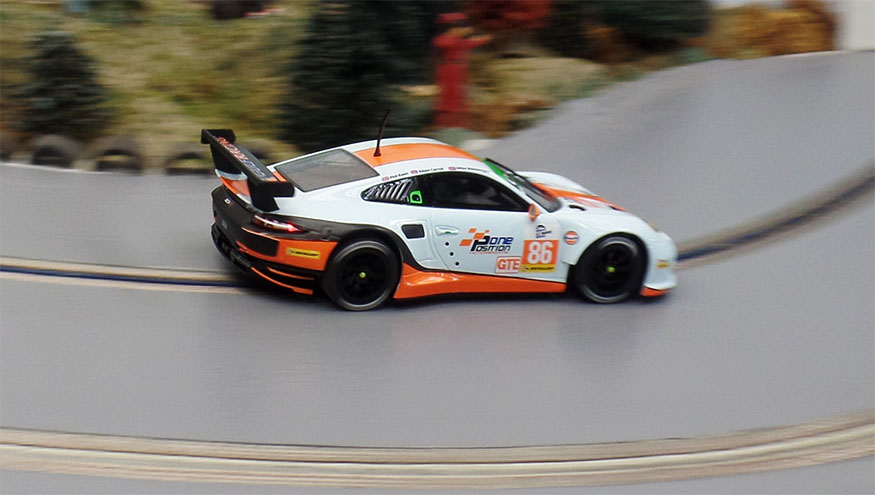 My collection of the Scalextric GULF series models has just increased.  Not only does it fit into the theme, but this release brings more than meets the eye. This is one of the all new inline models and I am really looking forward to matching up against the recent McLaren.
OUR VIDEO REVIEW

As far as the car itself is concerned, it's not nearly my favorite mold. Porsche 911's are likely one of the most released models in this hobby and I have more than enough of them.  But the GULF scheme worked the magic that it does and the car ended up in the good old shopping cart. I admit that I also knew the car as one of the newer tooling efforts by Scalextric that would feature the inline system. So given those two appealing factors, I was rather impatient for it to arrive.
As expected the car comes in the more attractive GULF decorated case. Meaningless to many of you of course, but there are those of us who like seeing it when on display.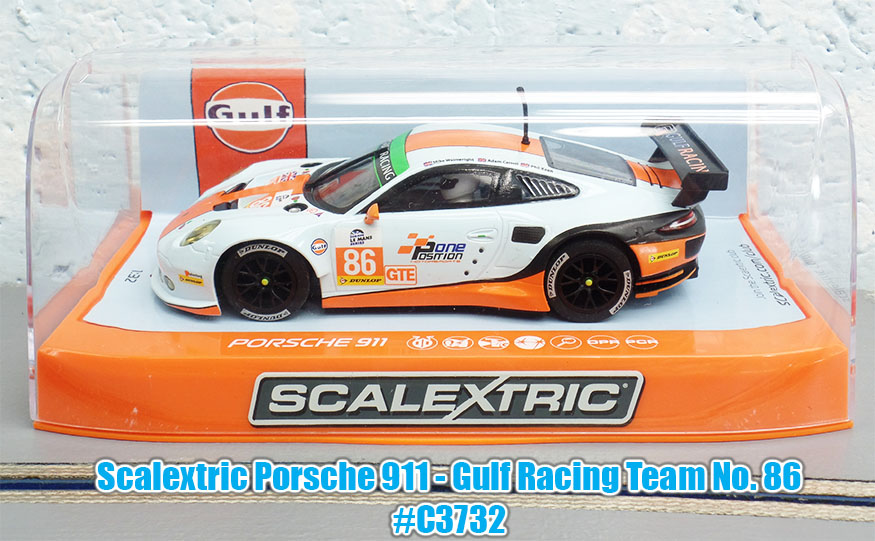 All the markings and overall shape of the car is done well enough for me.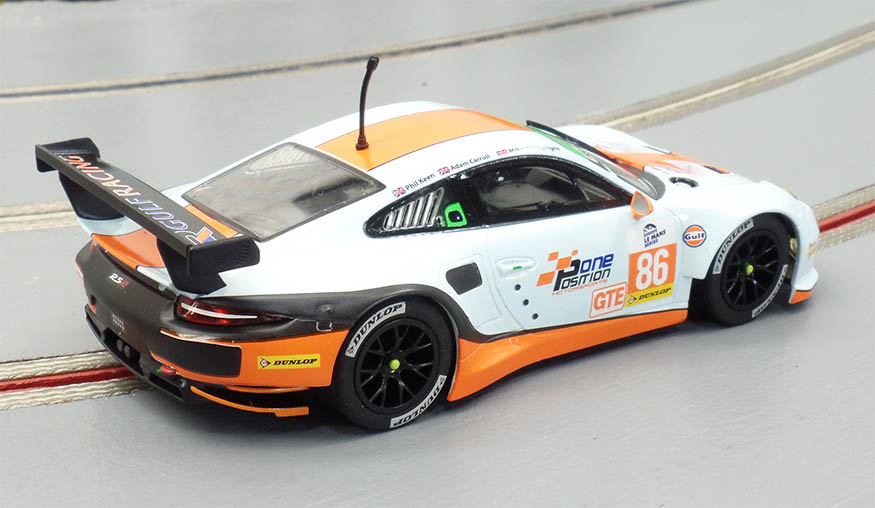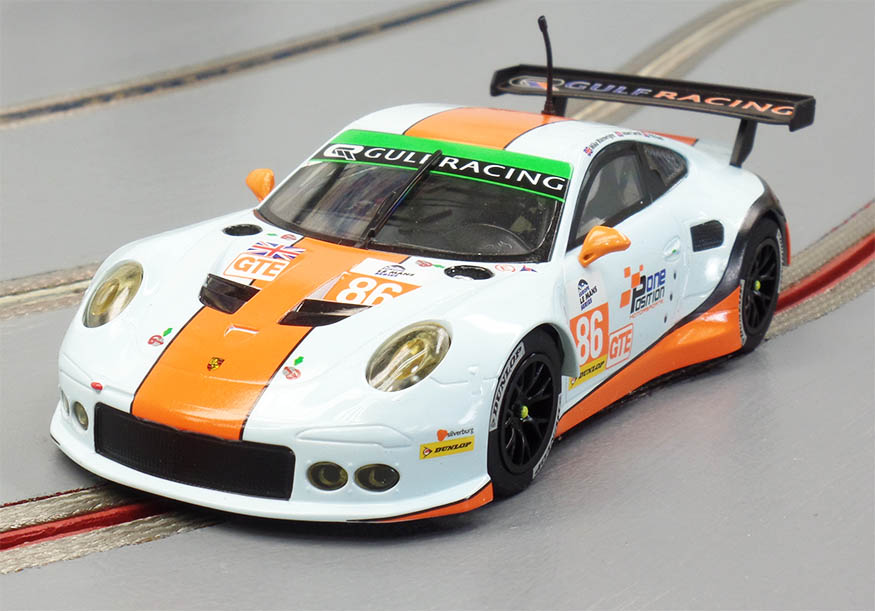 Detail level is also more than enough for my eyes. The new half tray interior does the job as fas as I am concerned. If I have to take apart the car in order to see the detail, then for me it's simply a waste of tooling effort. On some models with open or large cockpits, I can appreciate it. But on a model like this? A half tray is fine. I am sure the hardcore racer will appreciate it as well.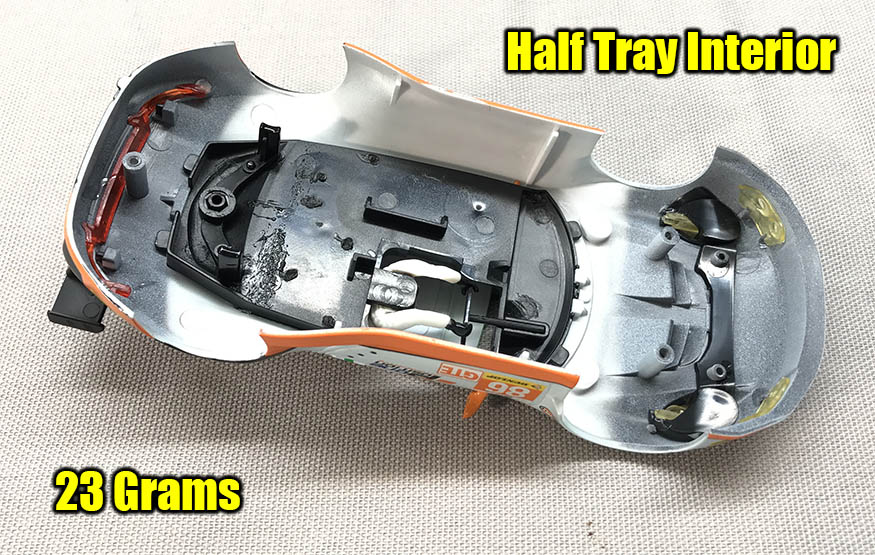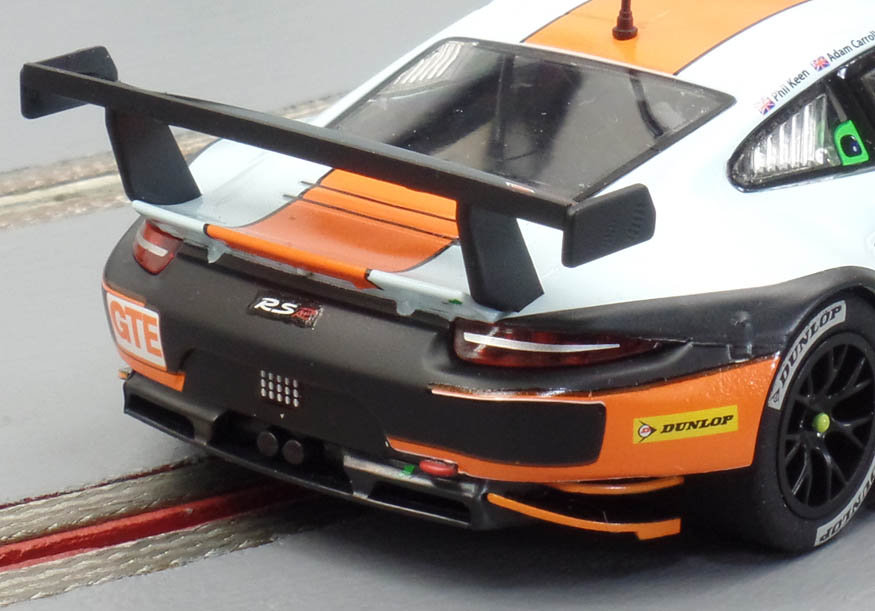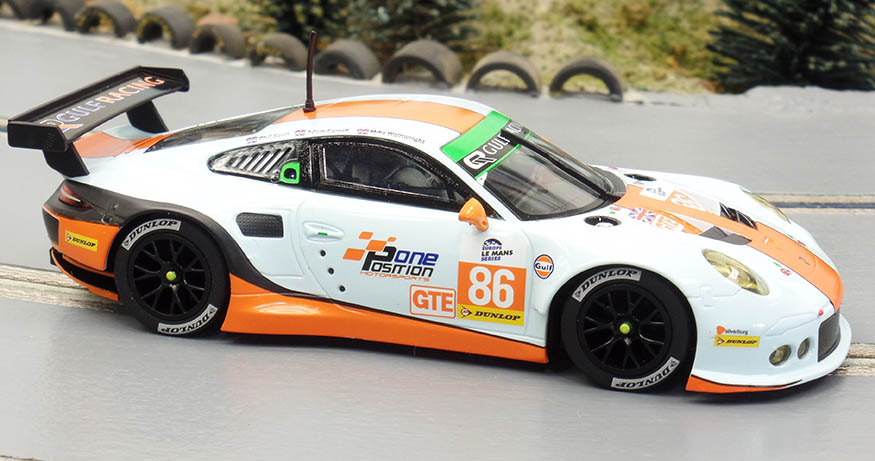 So far so good. Looks well enough overall on the outside, time to look closer.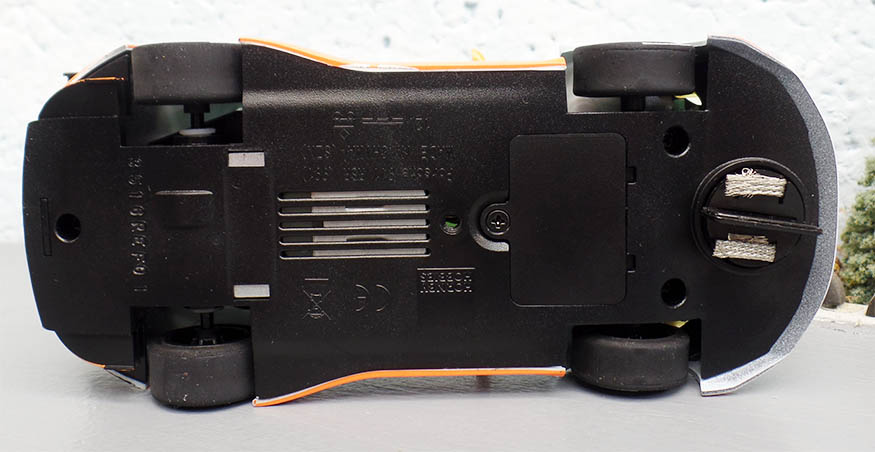 So here is the big difference between the GT cars such as my last McLaren and this one. INLINE configuration. Scalextric announced that they would be moving back to the configuration last year and so far I have no complaints. Both the latest BTCC BMW's I reviewed had them and they are some of the smoothest and enjoyable models by Scalextric.
Scalextric BTCC BMW 125 Review HERE
Scalextric BTCC  BMW E30 Review HERE
Hopefully this model follows their lead.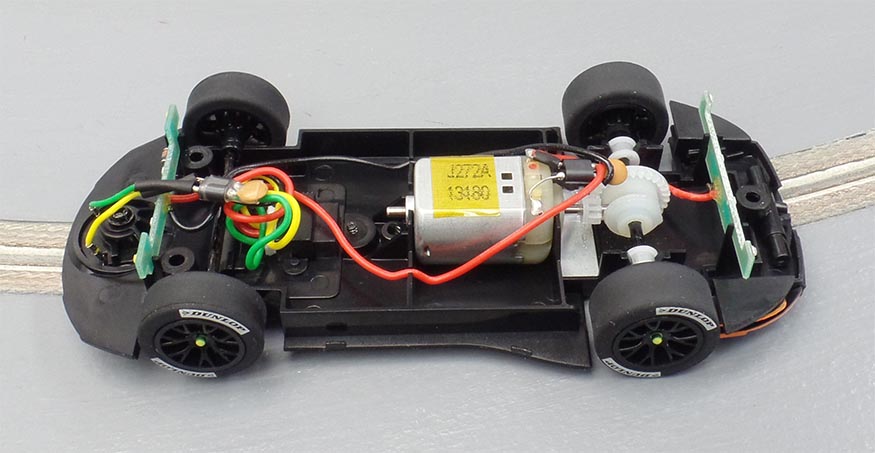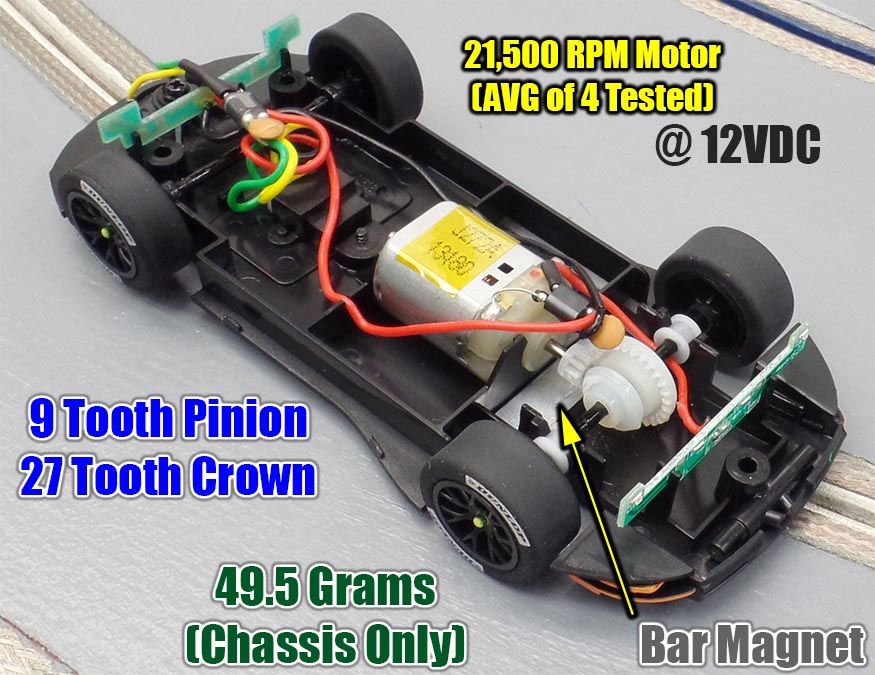 Inside things are simple, just how I like them. 9/27 gearing is just right for most smaller home tracks and the ratio I use as a standard. Bar magnet is in back where most enthusiasts like it and it holds the car down pretty well.

Scalextric announced that the new models would be utilizing more standard wheel sizes. In the BMW's we reviewed, this was the case and fitting after-market tires was easy.
However such is not the case here. The wheel is very close to the Slot.it 17 x 9.5 (PA62-ALs) size except the inner rib is smaller in diameter. This causes the silicone tires I tested to have severe cupping (low center). Sanding silicone is NOT the easiest task for most so I am sure a new mold will be made soon.
Upon closer inspection, it seems that Scalextric molded the new TIRE in the right size. I say this as the stock tire fits rather loose on the wheel. If the rib diameter would have been molded the same as the Slot.it size, it would have fit much better. 
HERE IS A VIDEO HIGHLIGHTING THIS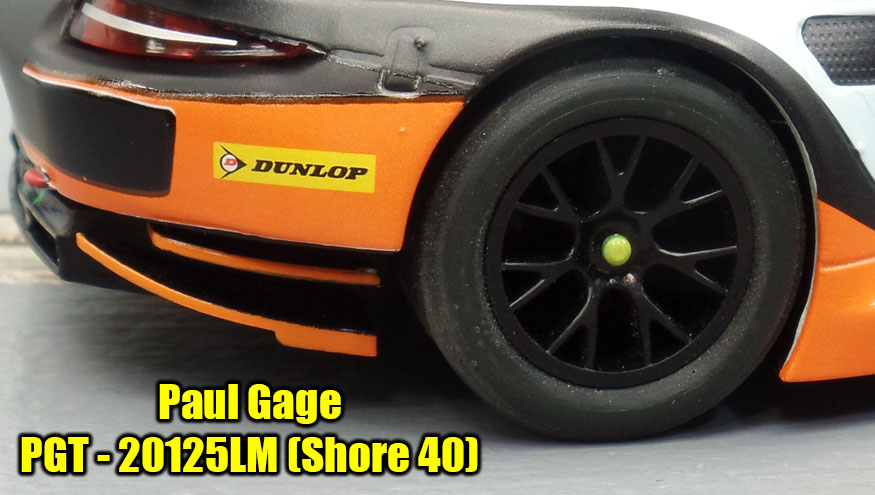 For my models I use urethane based tires and the one brand I trust is Paul Gage. I installed PGT – 20125LM tires and they fit well with very little sanding required. There was only some slight cupping that again is due to the small diameter rib.  And a tire change is all I want to do to match it up against the McLaren. 
I feel a quick comparison of this release to those still readily available a justified addition. Normally the review focuses on just the model itself, but one of the most asked questions about these new models is how they compare to their sidewinder counterparts. 
The Match Up!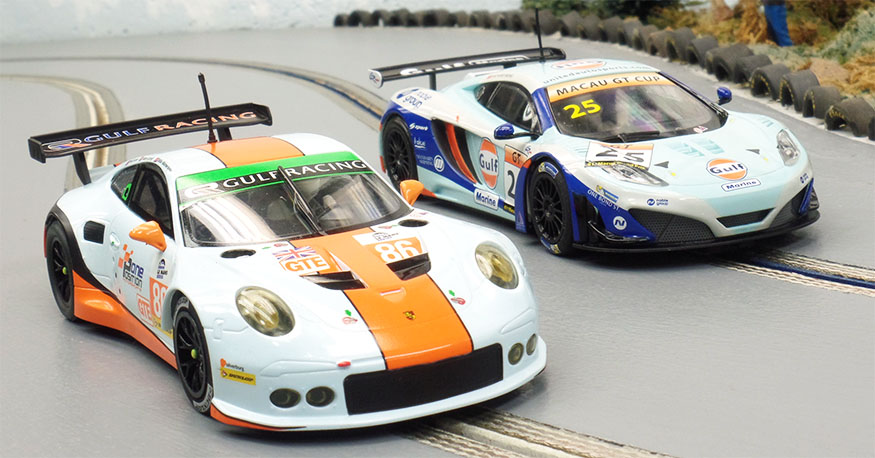 McLaren 12C (sidewinder) vs Porsche 911 (inline)
Each model has new Paul Gage urethane tires installed. No added weight. No body modifications.
Track Voltage: 12 VDC
Controllers: DiFalco
Track Conditions: Non-magnet routed wood.
Each car was ran at 25 lap segments. The results?


All I can say is that it's anyone's race. These times are so close that the driver will make the difference, as it should be in my opinion. Of course this is on our smaller home track on a surface the models are not designed for. Your mileage will vary.
Overall I am very pleased with this slot car. The return of inline along with a lightweight interior is very welcome for my taste. The fit and finish is also pleasing on my eyes and the lights just add more value overall. It's a model worthy of your attention if you prefer modern GT type cars and a slot car that runs well right from the box.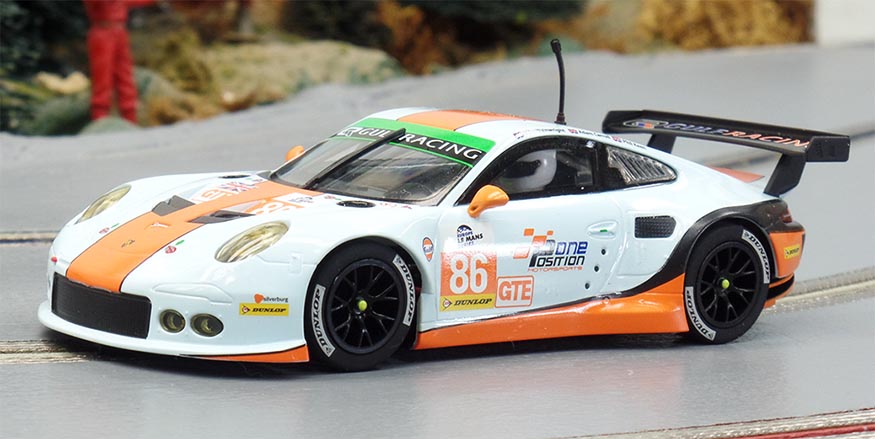 -Harry
This review proudly sponsored by Slot Car Corner