02/25/2014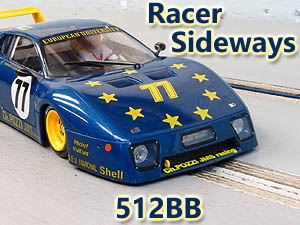 1/32nd Scale Racer 512BB - Le Mans 1980 #SW28
Extra offset blocks, motor mounts & wrench under box.
The
Racer 512BB has finally arrived. Watching it come to life over the past few months has made the wait a long one, but now we can finally get our hands on it to see how well it stacks up. The series it is intended for is fast becoming one of our favorites thanks to the performance of previous models and I expect this car to just increase the fun.
When Racer launched the Capri it began a new era in the Group series that many enthusiasts were excited about. It wasn't that this series has not been done before, it has. But not at the level that Racer would achieve. Racer already proved what they could do with the Daytona Prototype series and we expected the same here. And since it has began they have not disappointed us. With Capri's, Lancia's, Porsches, and BMW's all mixing it up on the track, the selection is impressive for a series this young.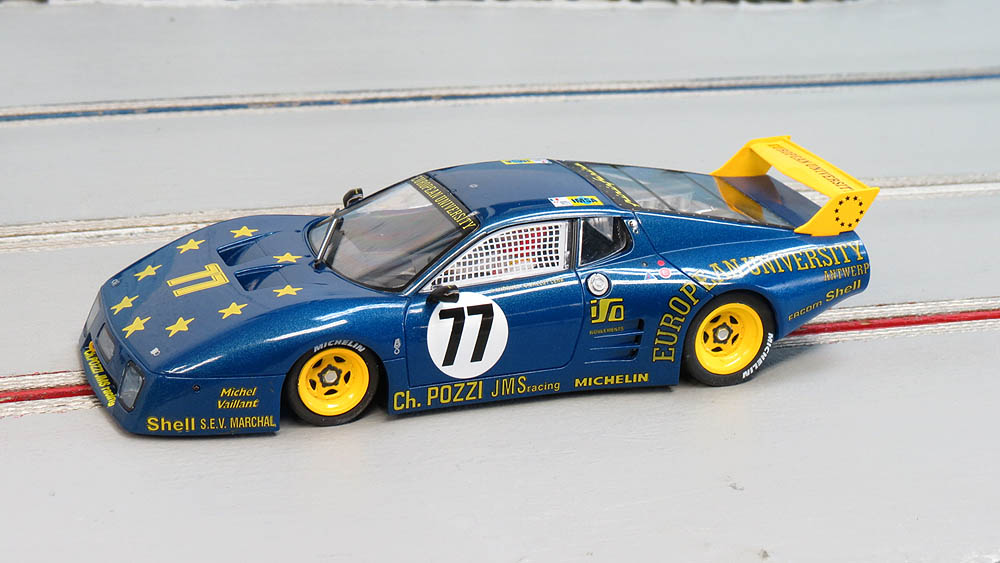 Now enter the 512BB. The car itself actually raced in the IMSA class at Le Mans in 1980 and did not fare well. IMSA or not, with the rules of these cars being so similar this car is a natural addition to the series. I know that here on our home track it will race right along side prior releases as it was intended to. So we have one more player to choose and from the looks of it, we will have another winner.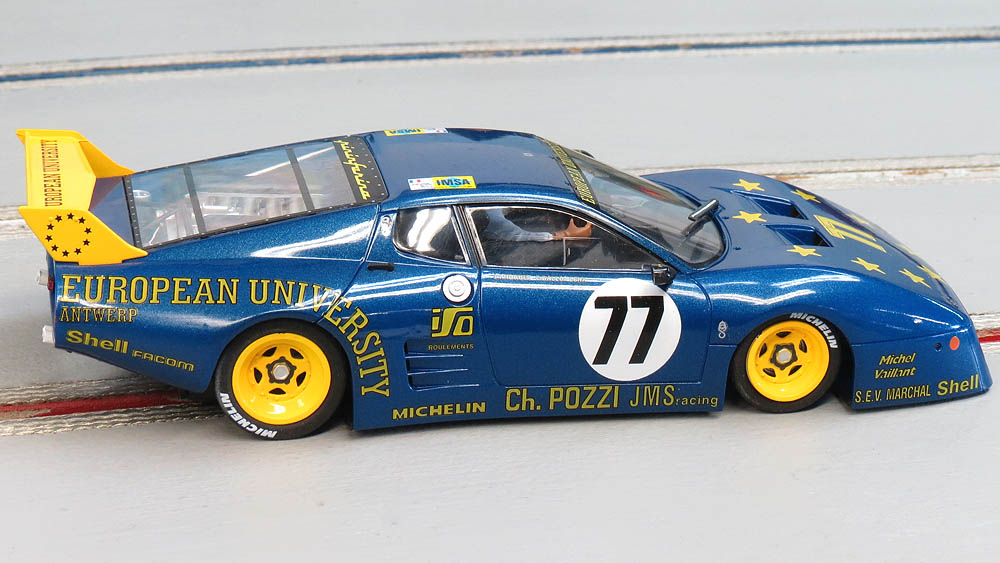 Quick Data (Please allow a little + or - here)
Length- 157 mm
Width - 64.50 mm (At widest section of rear fenders)
Height - 35 mm
Wheelbase - 79 mm
Body Weight- 21 grams
Total Weight - 82 grams
The body is very well done with an excellent fit and finish throughout. Markings are crisp and opaque with the clear coat clean. Missing is the small Ferrari emblems due to licensing agreements, so you have to decide if that stops you from owning it.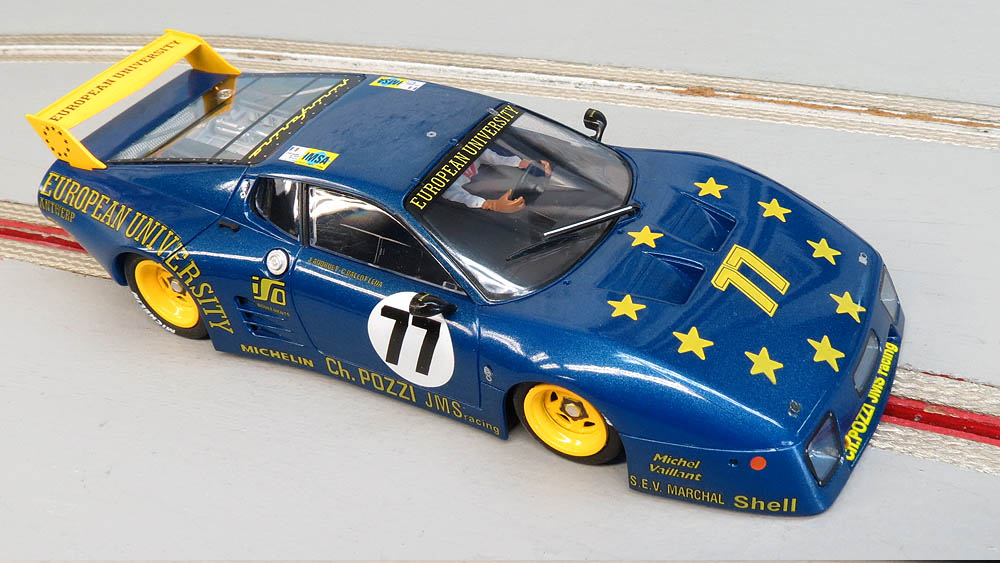 Detail level is just ideal to my eyes. From the engine department taking center stage to the rear mesh/exhaust also very pleasing. Even the interior is done well enough for a tray type design. Hopefully the photos you have seen from Racer and the ones here tell the story well enough.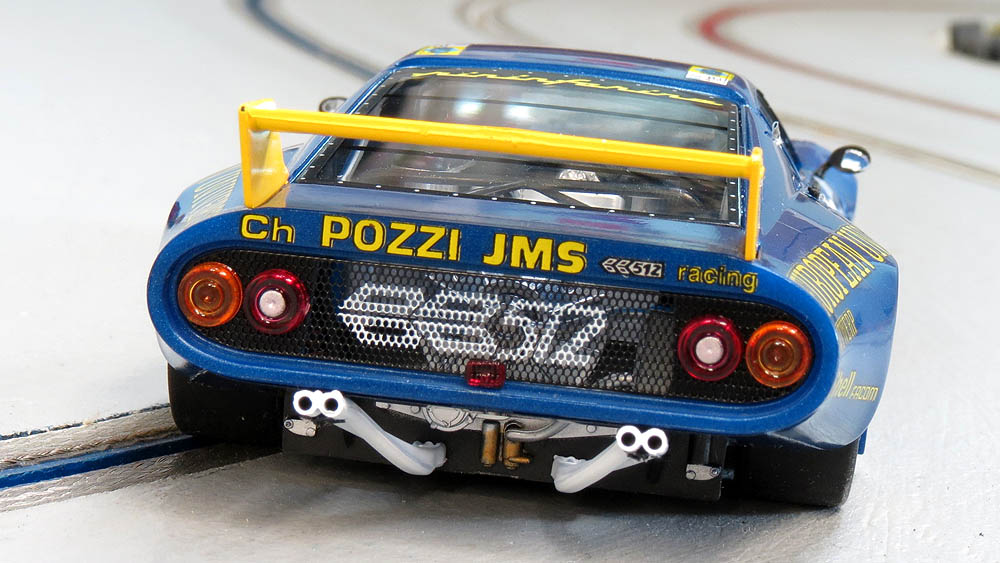 Wheels and tires look good as well. These are full inserts that really bring out the scale appeal.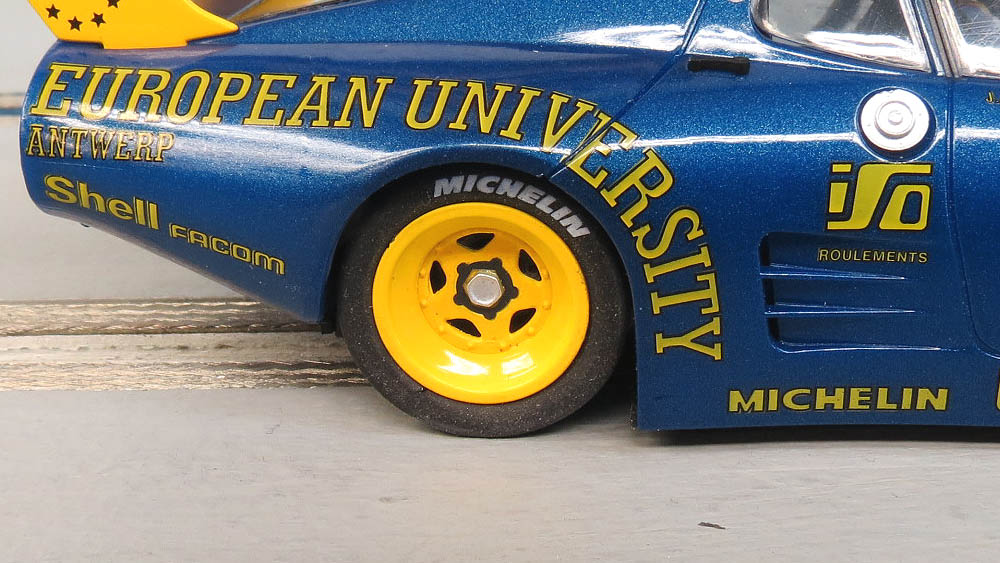 Looking underneath we see the now standard anglewinder configuration is used. I have grown to enjoy this setup and in the hands of the truly advanced enthusiast it has become a very tough competitor on virtually any track surface.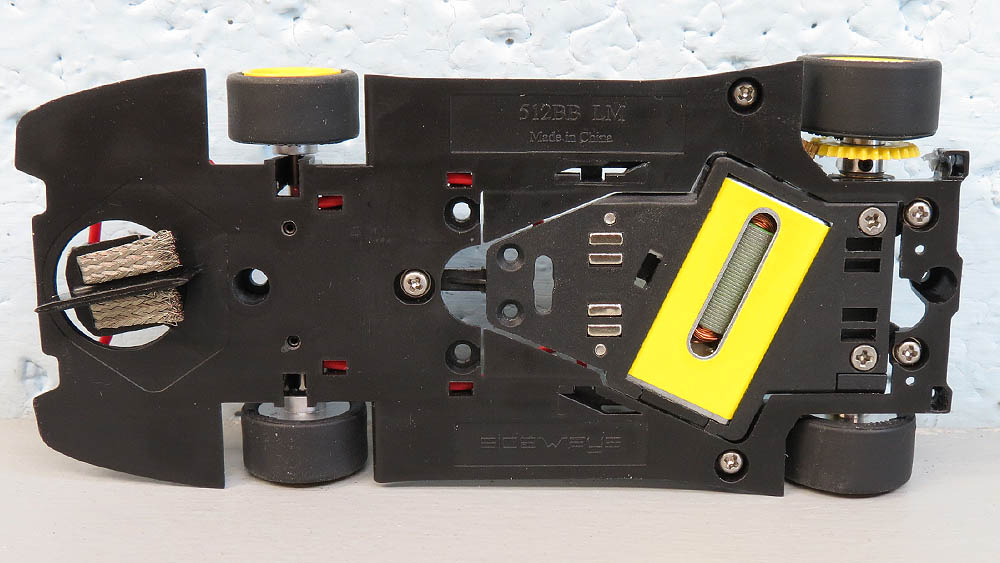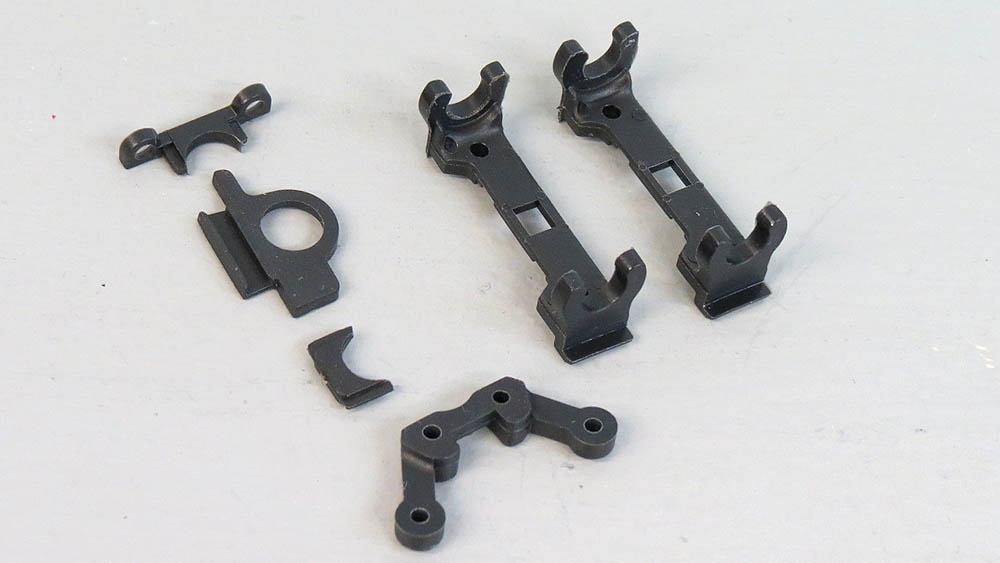 This model like the ones before it have additional offset blocks for you to lower the car if desired. Just in case you are new to our hobby, you can read all about this adjustable system here in our first Capri review. Nothing has changed so no need to repeat it here.
Two screws mount the body to the chassis. Once removed we see the design expected. Slot.it parts utilized all around tells you quality is first rate. Features like the adjustable front axle complete with set screws still impress me.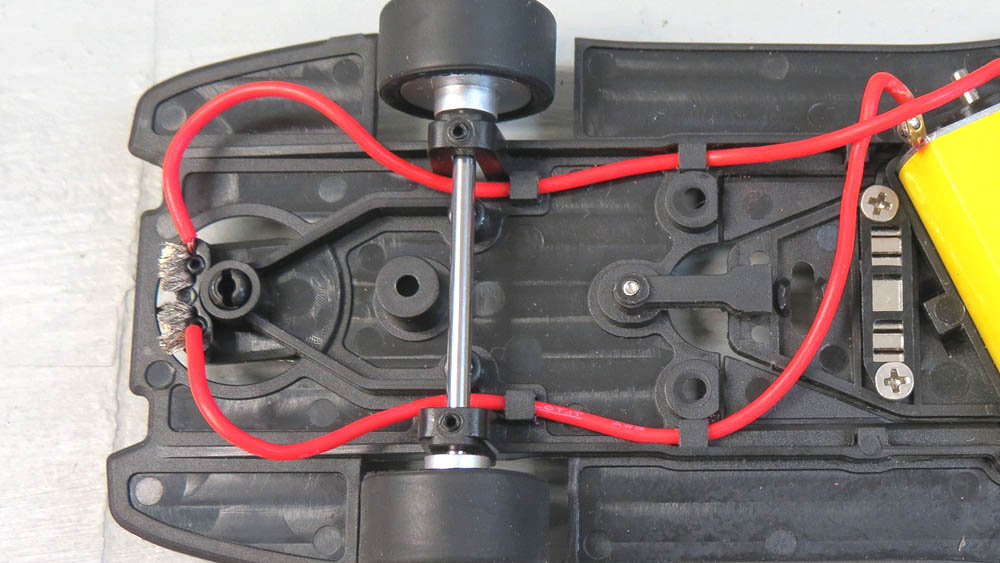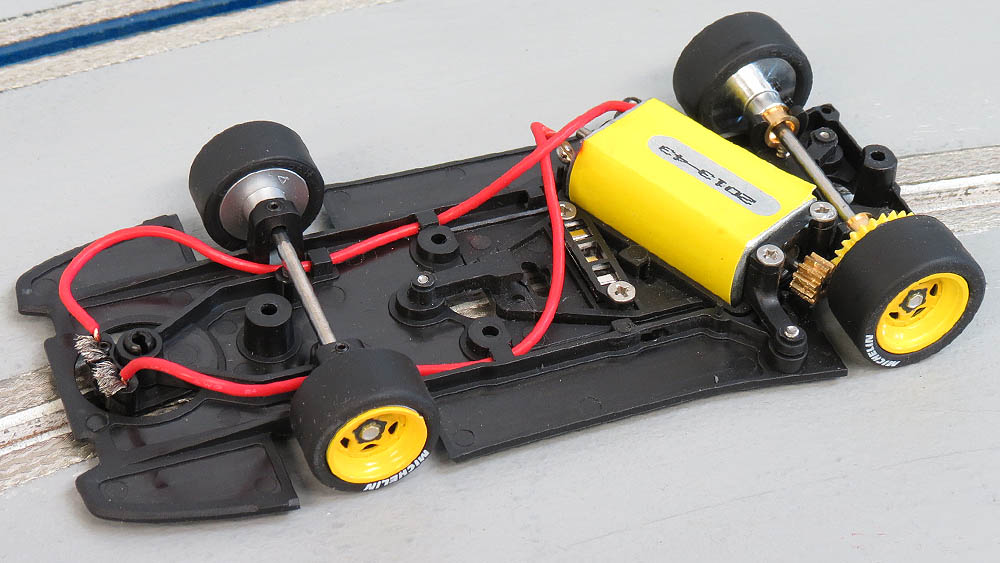 The magnet is just front of the motor and is strong enough for my liking. Slot.it Flat 6 motor is geared with a 11 tooth pinion that turns the 28 tooth spur gear as all prior models.
Routed Wood Track Test
MidMo International Speedway
4x16 - 3 Lane MDF - Satin/Flat Latex Surface
Slot Car Corner Braid/Flush Mount - Aftermarket Power @ Volts
Professor Motor 2110 Low Voltage Electronic Controllers
I expected this model to perform very closely to others in the series and I was happy to see it come true. First few laps were very pleasing with the model being very responsive and gear mesh was even smoother than expected.
This car seems to handle the corners very well and this is without a tire change. But soon the grip begins to fade and time for us to do a tire swap. But we have to report on the car as is, and right out of the box it is a very nice running slot car.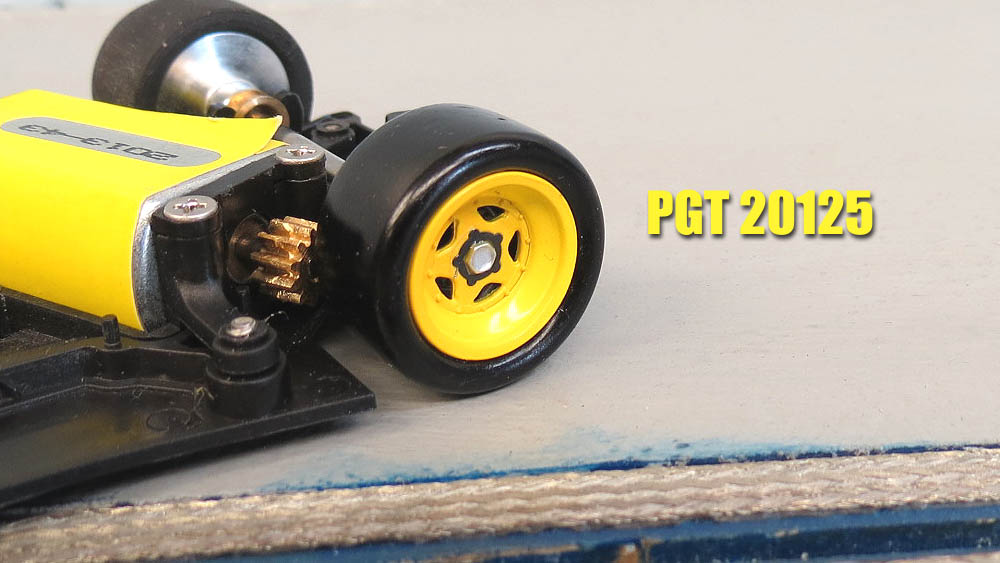 The Paul Gage #20125 tire is a direct replacement. You could try a larger tire but you will have to do some sanding/contouring to clear the body and pinion.
On our track the models in this series have been converted somewhat to match our track size. But the lap times chart tells me we had an ideal contender in this series.
| | | |
| --- | --- | --- |
| Model | Best Lap | Average (50 Lap Heat) |
| 512BB | 3.672 | 3.967 |
| Ford Capri | 3.664 | 3.914 |
Some people ask for comparisons between brands. Most often it is a waste of time as we need to understand that this model is designed for the advanced competitive enthusiast. A slot car that is as race ready as you can ask for with perhaps a tire change and a few adjustments in the pod. It already has the best after-market parts under the hood whereas other brands do not. So in my eyes comparing it to Carrera or Flyslot is unfair. The amount of work you would have to do to make these other brands comparable in performance is likely more than most are willing to make.
That is not to say I do not like or recommend other brands. The Carrera model is exceptional in scale detail and costs much less. In fact about half the price. I have a couple and enjoy them a great deal. But out of the box it is not directed towards the advanced enthusiast and in my eyes is not a fair comparison. It runs great in it's own right but won't perform like this model non-magnet.
The Flyslot version is a odd choice for anyone except the diehard Fly fan. I have the model and between the initial cost and the time and money spent to get it running smoothly on wood, I could have almost bought two of these. The model is nice and I enjoy it a great deal, but when compared to this offering from Racer it's no contest.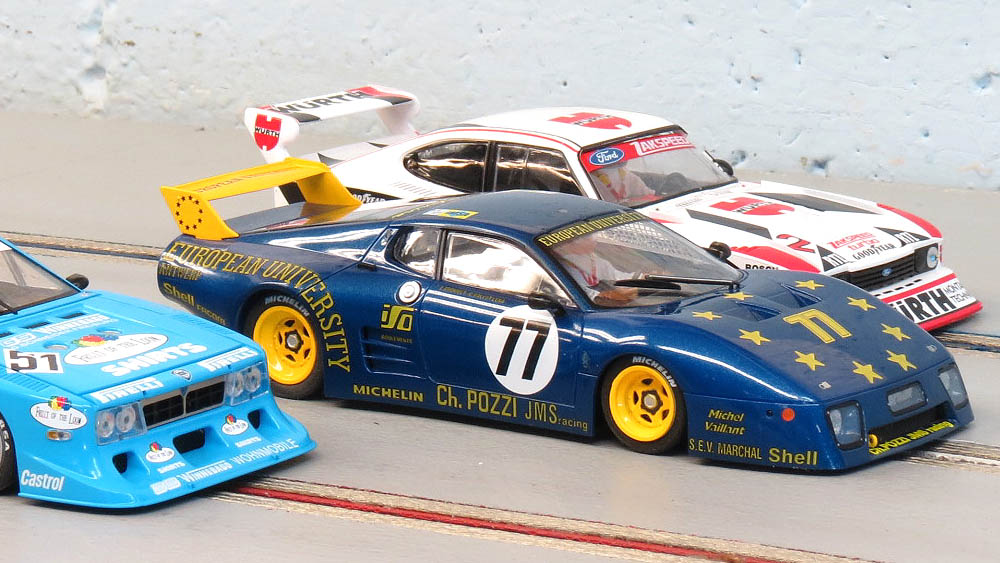 With this model you have a balance of the best the hobby has to offer. Quality running gear on the inside with appealing scale detail on the outside. Adding to the appeal of this car is that it is designed to race with other models in the series and it does that well. There are already numerous clubs and home racers enjoying this series and it will just become more popular as time goes on.
If you are looking to try a more advanced brand of slot car, Racer Sideways is one you should look at. I have collected quite a few of them and we really enjoy the fun they deliver. Dollar for dollar this series gives you a lot of bang for your buck.
-Harry
As always feel free to contact me about this article or just the hobby in general at harry@homeracingworld.com.
Better yet, drop into our Message Forum and share your thoughts with other enthusiasts!
Check Out The Other Models In This Series Here In Our RACER REVIEW ARCHIVES
Thanks Go To RACER & Great Traditions For Sponsoring This Review!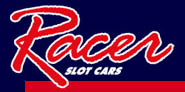 Copyright © 2014 HomeRacingWorld.com All Rights Reserved