2 FEB 2015
---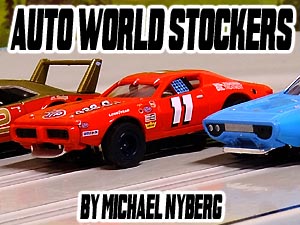 ---
As a long time slot car hobbyist, the look of the original AFX stockers were always indelibly etched into my mind as the cars for which all other cars were to be compared to over the years. So when I stumbled across the latest AutoWorld XTraction renditions of the perennial number 43 and number 11 cars, I took a closer look.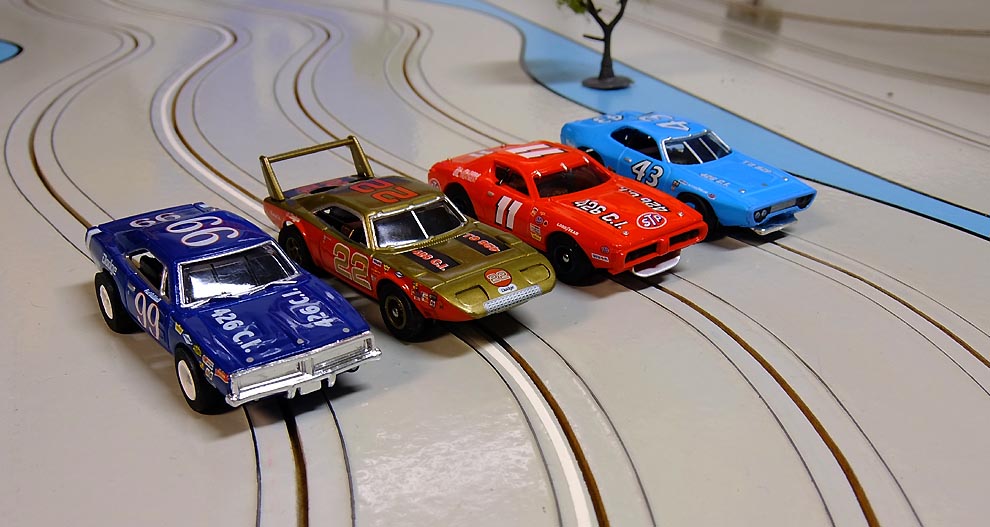 Fortunately, I was getting a friend started out on an AFX 69 Shootout set and took the opportunity to pick up "Release 15" of the XTraction "Legends" stock cars. There's no mistaking the new AW cars for the classic AFX cars but what captured my imagination was the particular colors they chose for these newer versions. The off-the-hook baby blue of Richard Petty's #43 car is fantastic. Couple that with the lipstick red #11 of Buddy Baker's third-generation B-body Charger and I am hooked into a purchase. Oh wait, there's also the subtle gold and red Daytona along with an almost-purple 69 Dodge Charger. All four combined make for an irresistible four-car matchup. Luckily I have four lanes waiting for these new releases.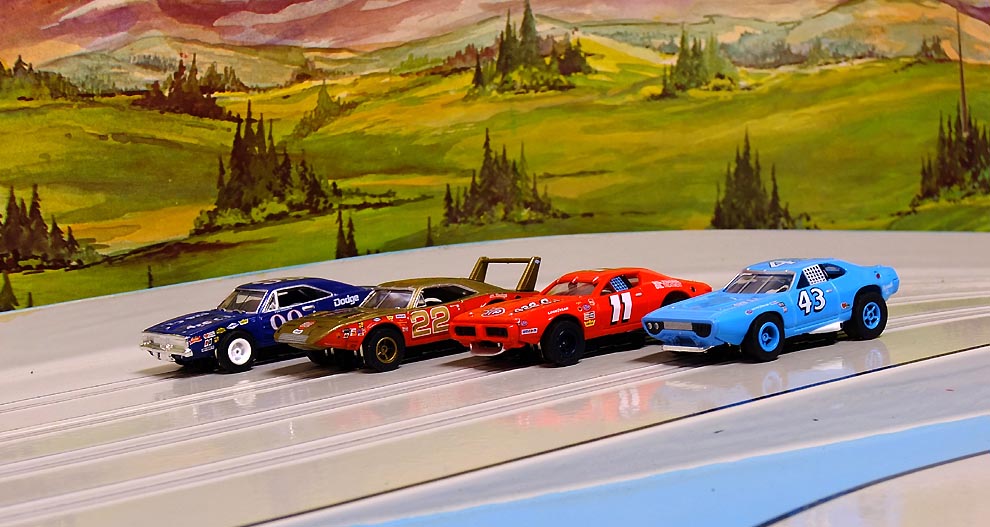 Like most hobbyists, you really have to get under the hood of your cars to ensure that they run properly and last for a long time. Quality control of the total of eight cars I purchased recently tells me you would be well advised to take your chassis apart and inspect it for proper alignment of the brushes and the commutator before you apply any power to the car.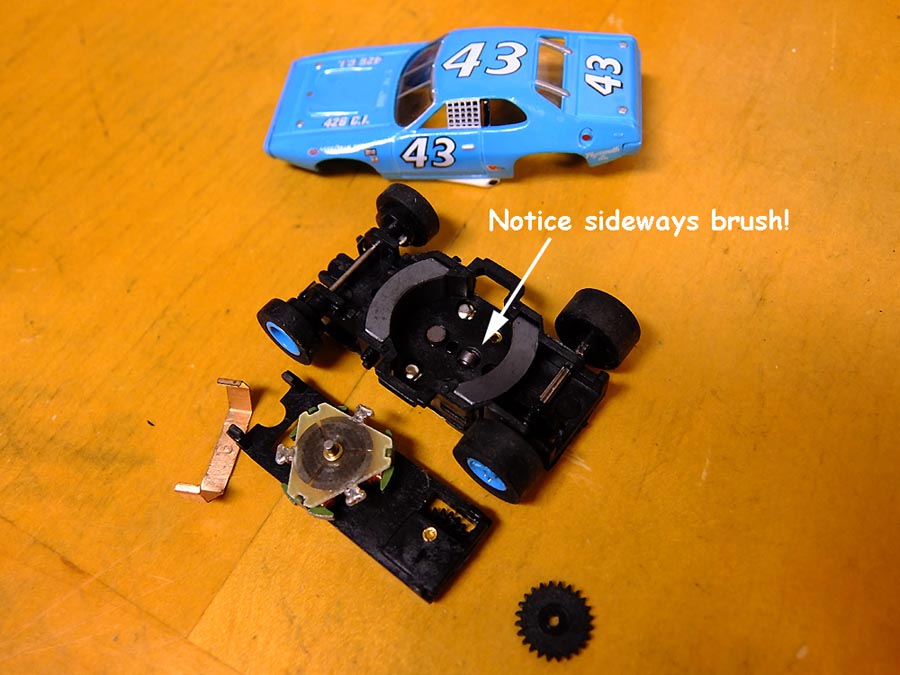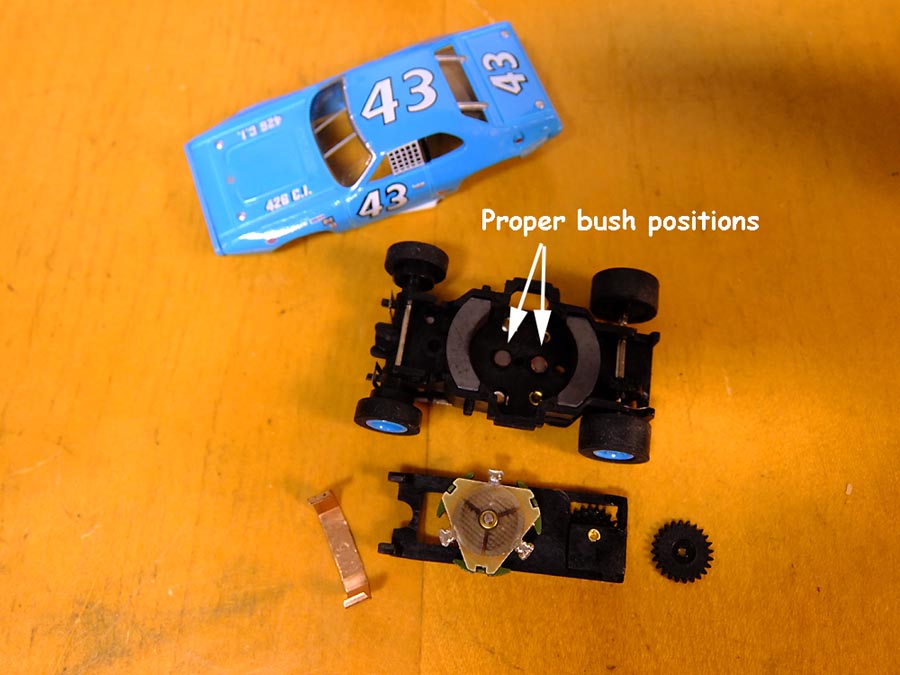 What I discovered was that one of the brushes had slipped onto its side and was sandwiched into the tube. I found this to be the case on four out of the eight cars I purchased and all were factory sealed. Of course, to a hobbyist, this is routine maintenance but for those of you lacking the experience, this could make or break the fun of the moment. Luckily, after a few minutes of fiddling with the chassis and dropping a touch of oil on the armature shaft the cars were ready for racing. And what a thrill that turned out to be.

Call me a traditionalist, aka: OLD, but I am not really a fan of excessive magnet power for handling. Knowing this, these cars tend to be a little more stuck down that I generally like but as I was racing with someone brand new to the HO hobby, I knew the extra holding power would be a real help for the newcomer. In time I fully expect he may want a little less traction but for now we just have to accept that speed is the thrill and the more speed, the more thrills. It's just the way it is. And boy did we have fun.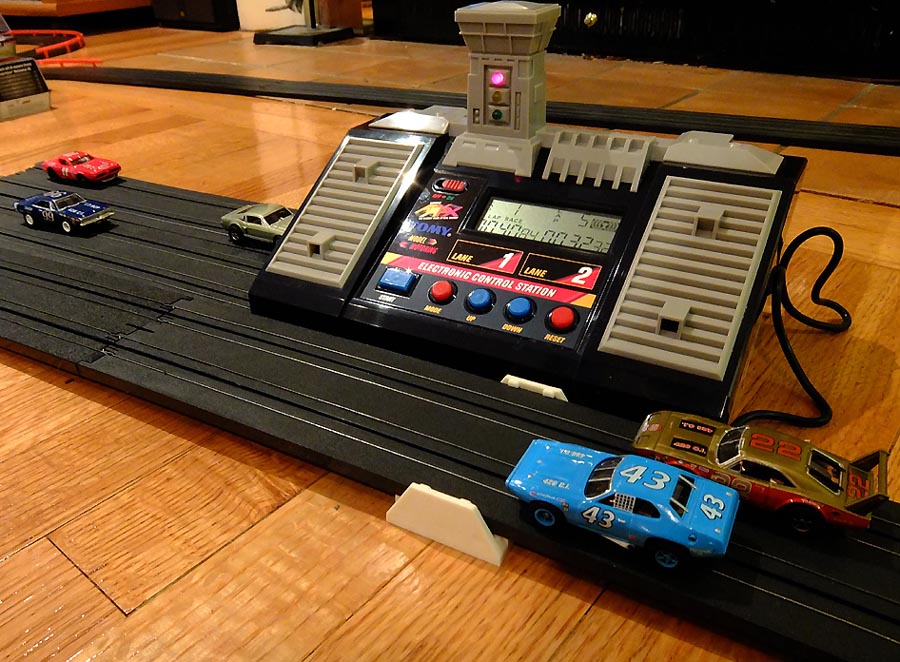 We had enough track to make some 10-foot straights and these cars were built for that kind of length. You could get up to top speed on that length and then have to determine which driver was going to shut down first coming into the turn. It was great fun.

Overall, I think AutoWorld hit the mark on these particular bodies coupled with their XTraction chassis. Quality control issues aside, all the go fast stuff is there waiting for you to go toe-to-toe with your slot racing buddies. And the colors will definitely help keep track of who's who at racing speeds. While perhaps a little different in shape and proportions compared to the original Aurora AFX cars, I view them a little more like how real NASCAR cars were only similar to their street car cousins with enough variations to make them completely different. If you are like me and get the urge to put the rear bumper on the front of a 68 Ford Torino to make it a Talladega, then these cars will fit the bill nicely for your HO NASCAR aspirations!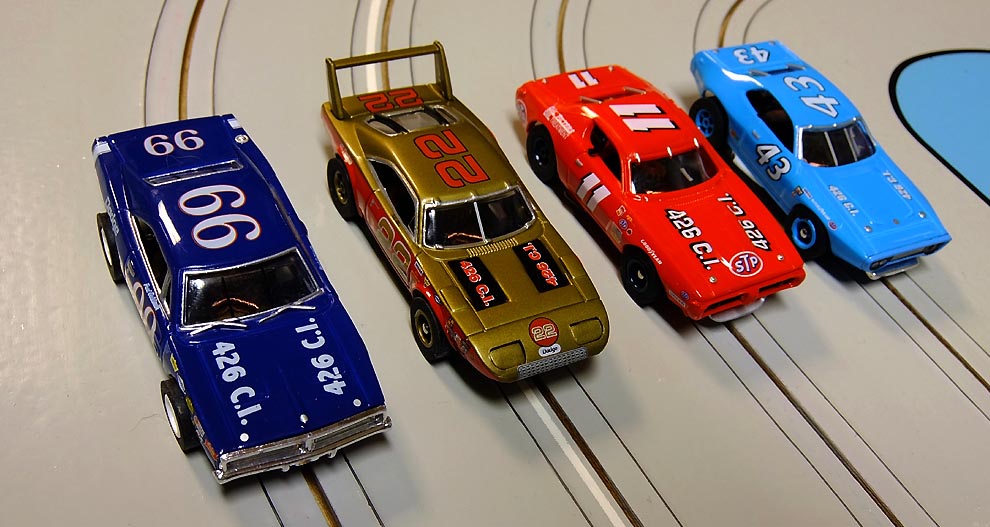 Have fun and stay in the slot!
Mike

Copyright © 2015 HomeRacingWorld.com All Rights Reserved