12/5/2014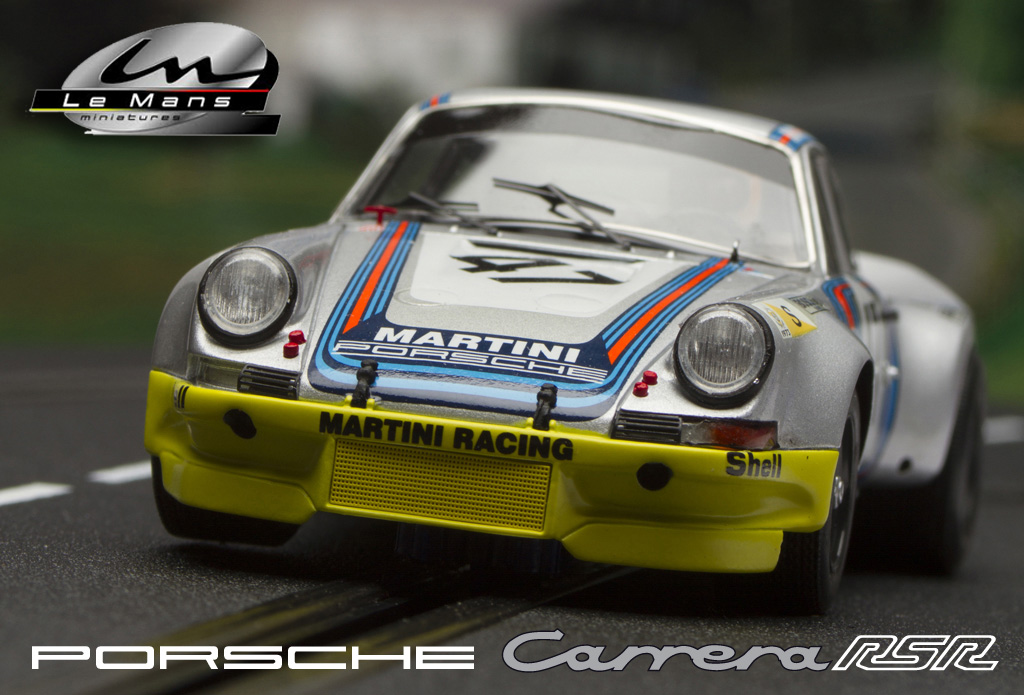 1/32 Le Mans Miniatures 1973 Porsche Carrera RSR Nr.47 (chassis Nr. 911 360 0588 R6)
Item #132053-47M
(Unfortunately, this is listed as, "exhausted" out of production and was just released in mid-2014!
The sister car Nr.46 in silver and red livery lists as still available at Le Mans Miniatures)

This is a photographic and historical review of a real
1973 Porsche Carrera RSR, brought to life in a 1/32 scale slot car model.
Art Direction, editorial story and historical research by: Thompson "studioRS" Smith
Photography: Kevin Thomas King
This review will focus on the beautifully crafted, limited edition, hand-built 1/32 scale slot car depicting the 1973 Porsche Carrera RSR, entered in the 1973 24 Hours of Le Mans race as Nr.47 (replicating chassis Nr. 911 360 0588 R6) with silver and yellow Martini Porsche Racing livery. Modeled by the talented Le Mans Miniatures (LMM) crew in France, the Porsche 911 Carrera RSR with chassis Nr.0588 "R6" is one of the 8 works RSR cars that were entered throughout races in the World Championship for Makes 1973. LMM has also created the sister car that raced in the same 1973 24 Hours of Le Mans, Nr.46 (replicating chassis Nr. 911 360 0686 R7) and this had the 'famous' silver and red Martini Racing livery, more on the colors later.
This is a kit where each one is hand made. Imagine for a minute, or make that several weeks, you were tasked to create and build many of the finest, most detailed slot car in your life. Building something at this level would literally suck the daylights out of me. I'd be tuckered out flat, I can't imagine how they do it. Each model isn't stamped out of a mold in a dimly lit sweathouse. No, these feature a poured resin body, beautiful graphics, clean paint work and sculpted details down to the last metal electrical switch on the front cowling. There is a lot of love in each one of these kits.
I'm a stickler for details too. Correct, authentic scale details when it comes to Porsche and Audi quattros. I'm utterly amazed at the level of detail with some of the Porsche slot cars I've acquired. Take for instance the MRRC Porsche 910 press car. All white Porsche 910, just perfect in execution and details, right down to the screens for the flat-6 intake. One of my favorites is an older Fly Porsche 908/3, beautifully detailed, rear engine intake, gearbox and Lufthansa livery paint work. Another beauty is the Fly Audi quattro rallye spec A2 car. Proper all-wheel drive, rallye lights and decals to match. I've owned two Audi urquattro real cars, two Porsche 911s (one a Carrera 3.0 and the other a 911RS replica). I'm a verified, true died-in-the-wool Porsche and Audi quattro nutter and this RSR model is right up my alley.
When LMM announced the Porsche 911 Carrera RSR in mid-2014, I just knew I had to own one, even if it would mean paying more than what I'm used to. With the level of detail I've seen in photos from LMM, these RSRs look amazing. Although, the fragile parts and details will limit track use, as one good off or shunt at speed would severely diminish it quickly. None-the-less, I have a special connection to this particular Porsche 911 Carrera RSR, chassis Nr.0588 R6 and this is the only model of it to date—fortunately it just happens to be a slot car! So, this absolutely had to be in my Porsche slot car collection.
While searching for one of these two LMM RSRs I found the best deal at Powerslotcars.com in NY. I've ordered from them before and received great service and fast shipping up to Vermont. I came to the conclusion that through the search, LMM listed this as NLA—this was the RSR I wanted. I caved and clicked the 'buy now' button on the Nr.47 silver and yellow RSR (the Nr.47 silver/red RSR was not in stock here, but is at LMM). Easy enough, let's get on with the photo and limited running review.
Open the LMM box, looks straight forward enough. This is the first time I've even purchased a slot car on this level, so bear with me on the excitment with a photographic 'box opening ceremony'.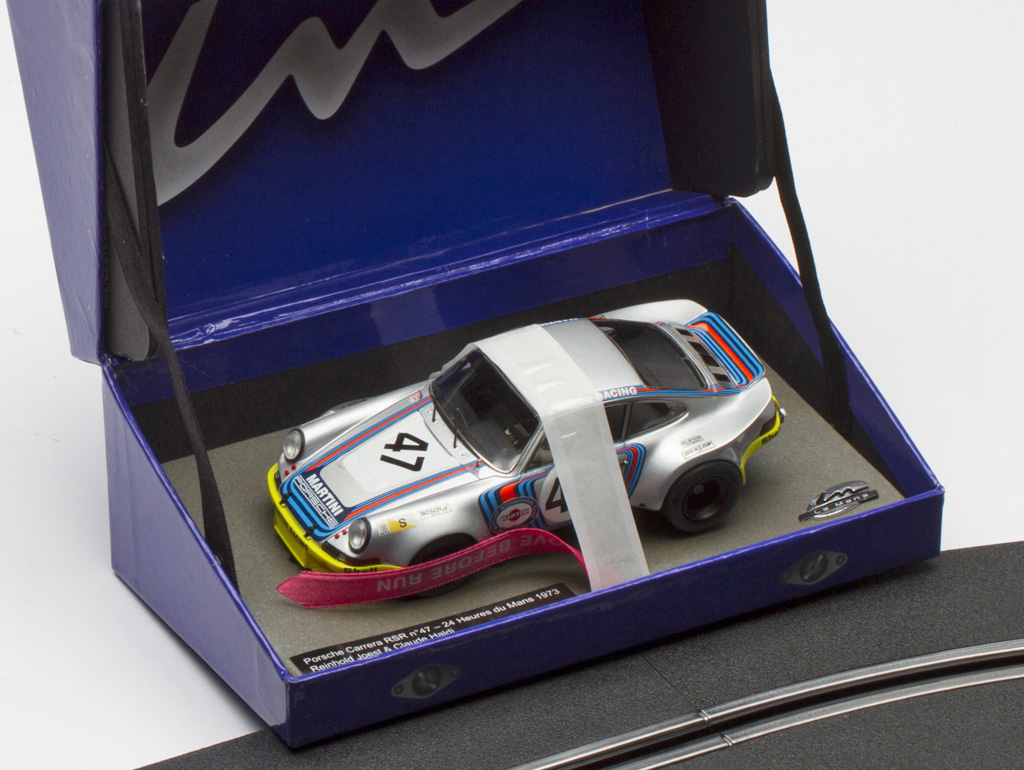 Let's get my grubby little hands on this RSR and take it out of the box. It's nice to show how really small 1/32 scale slot cars are.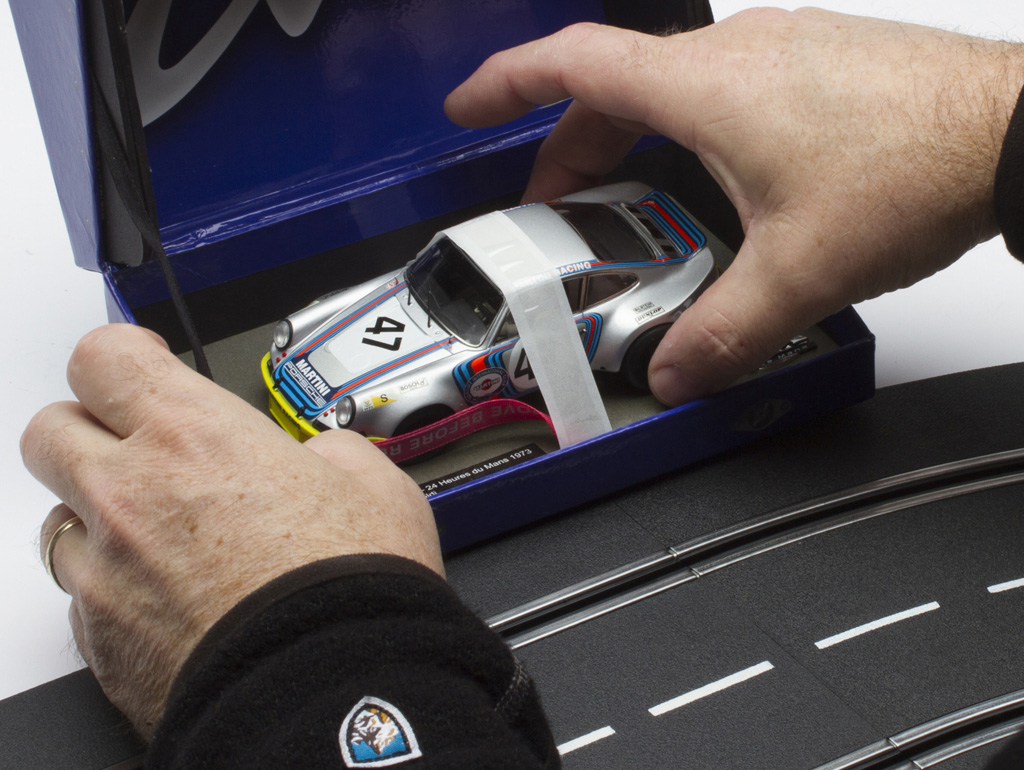 Ruhro, there seems to be something missing. My keen Art Director eye notices the right front turn indicator lens is missing. Drats. I have a feeling it isn't floating around in the box either, I was correct. Oh well, this RSR is NOT getting returned and any true modeller will just fabricate another. Brush it off to 'hand-built'. This must be embarrassing for LMM and or I also suspect that this wasn't the first 'box opening...' I have since emailed LMM in France directly, so we will see how they respond with a replacement part.
After the packaging tape comes off, I'm truly in Porsche Carrera RSR bliss! Imagine this has the same level of detail as a Minichamps 1/43 scale model and with the supplied Slot.it sidewinder gear with some whine, it can scoot around a slot car track—totally awesome!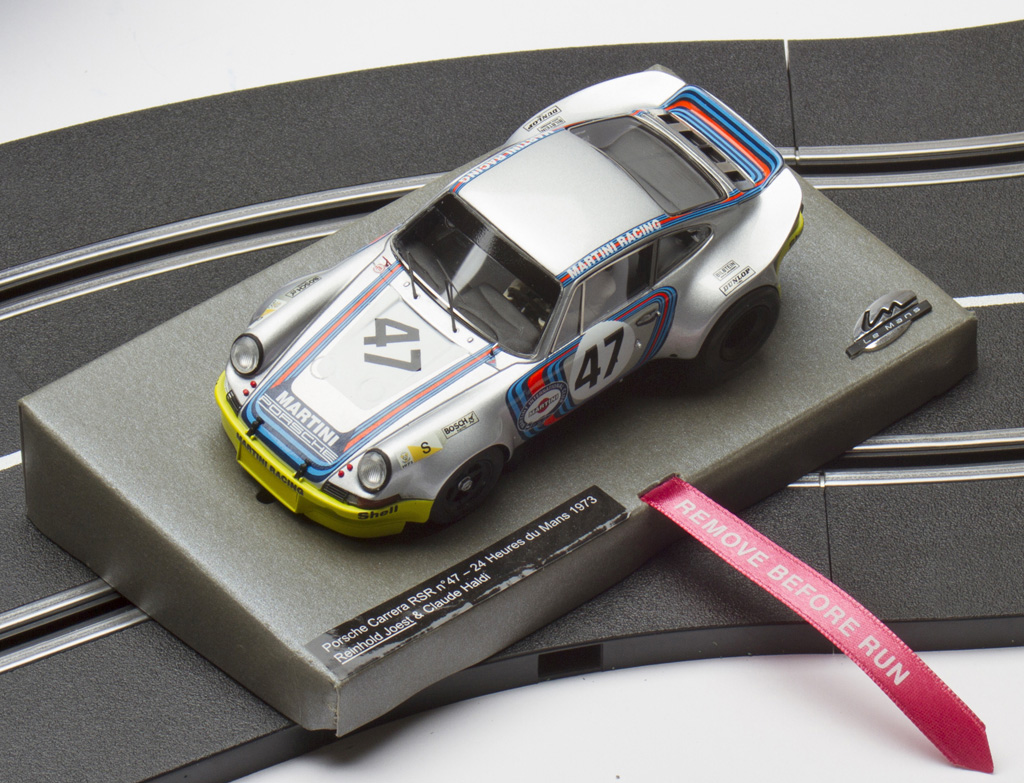 Somebody did the homework on this piece of kit, amazing. Look at the wide rear "Mary Stuart" hips.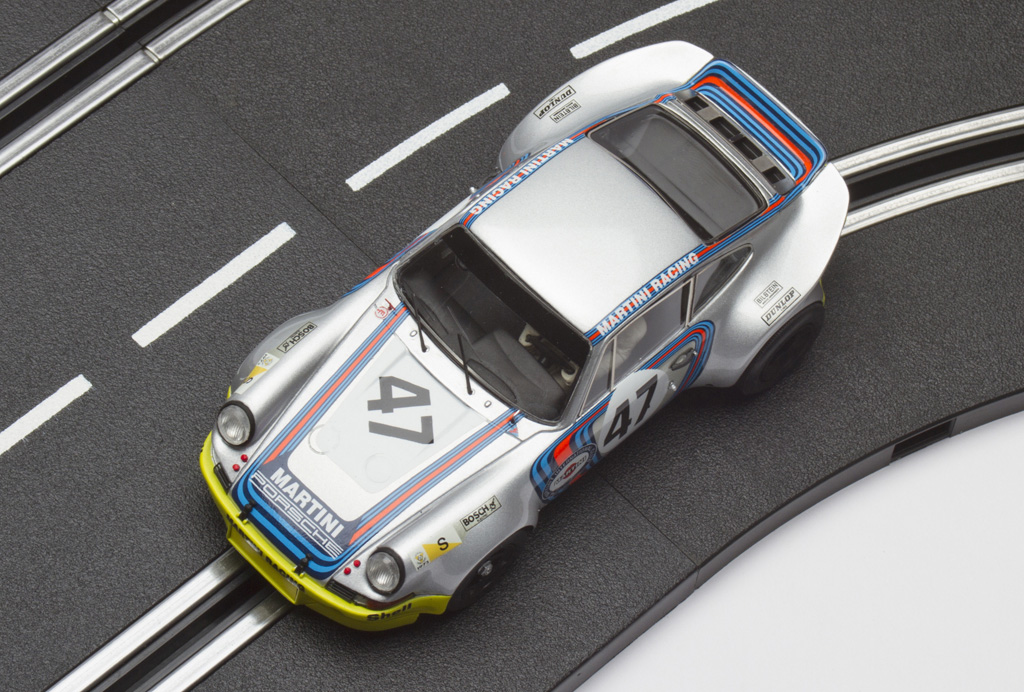 Alrighty, lets fire up that flat-6 and wake up the Austrian and Swiss Bergrennen!
I'll start right in with rousing some sheep up first. This Porsche Carrera RSR just sits and looks right. Pictured is my backdrop image I use for giving flavor to my shots, somewhere in Austria. We were fighting the gloss printing hanging on our seamless white backgound in the photo studio, need to reprint on matte finish.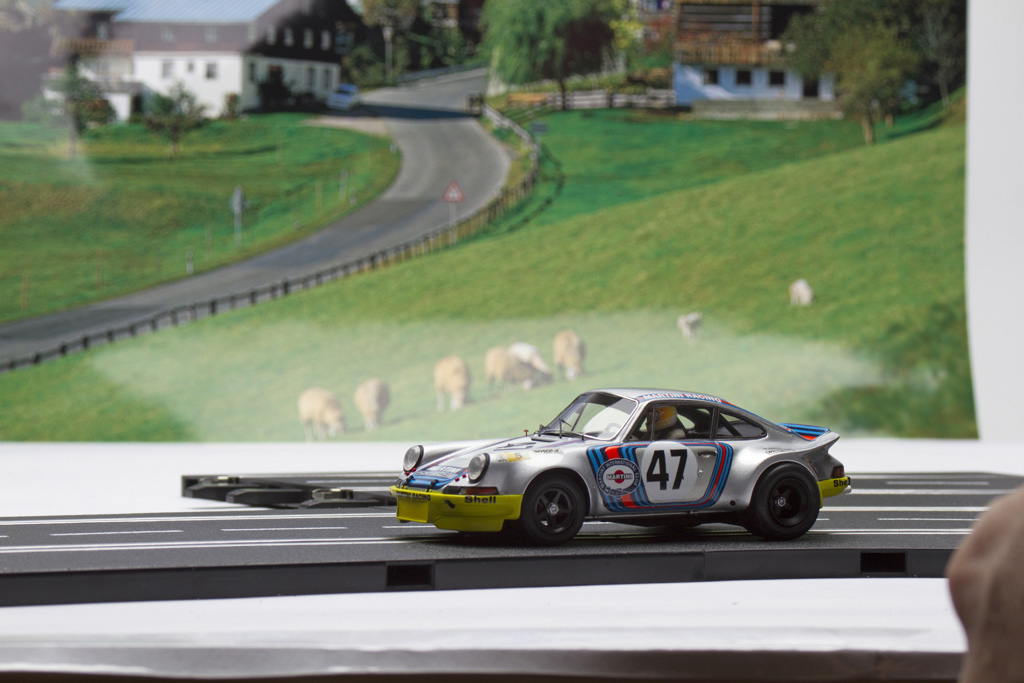 If you aren't a Porsche fan yet, not to worry, you will be after seeing these photos and reading the history of this real RSR. Ahh, drats again! Silly French LMM elves must have been sipping the maple syrup. They forgot to glue the windscreen down at the base and finish the metal etched windscreen frame the same. Bah humbug! Elfs will be elves. The transport across the pond was too rough or chalk it up to 'hand-built'. All of this still won't put me off on purchasing another LMM product.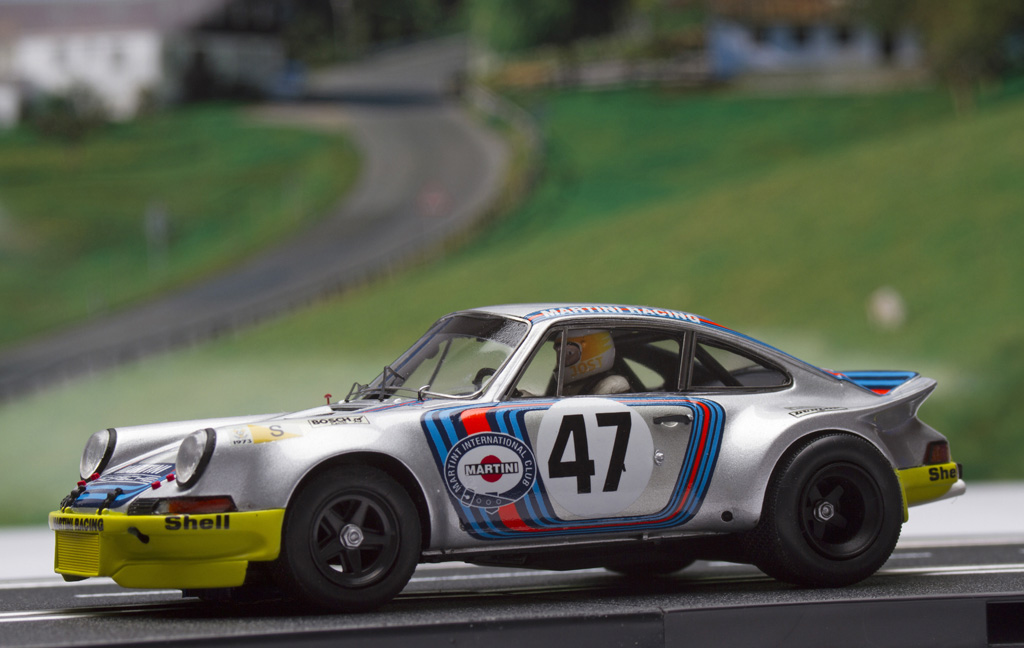 As you can see, I've got some mild issues to sort out. Rough voyage across the pond? I'd imagine so. This will be a shelf queen and I just can't leave it like this. Should be a straight forward fix, but you would think for the price level it would be fully sorted. If I was Reinhold Jöst, I'd look that scared too with the base of my windscreen half popped out! Oh, but look at the details—wipers, red electrical switch, light on the door, red light and rubber straps on hood. I'll need to see if the spec of black on the '7' is and extra peice, looks like it will come off. LMM has even detailed the pinched metal at the bottom by the rocker panel with the factory jack point.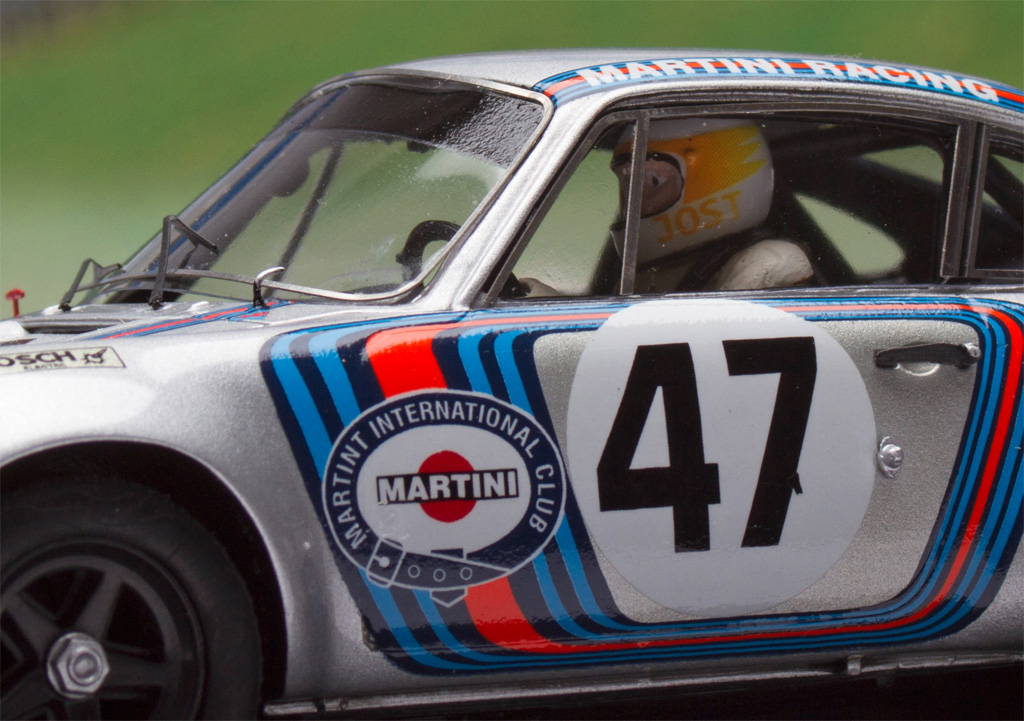 "Fahren en Siener Schonsten Form", which means Driving in its Purest Form. I can hear and feel the mechanical fuel injection now and oh that characteristic Porsche flat-6 exhaust noise! Ok, wake up. The motor brushes and straight cut Slot.it gear would be good noise too.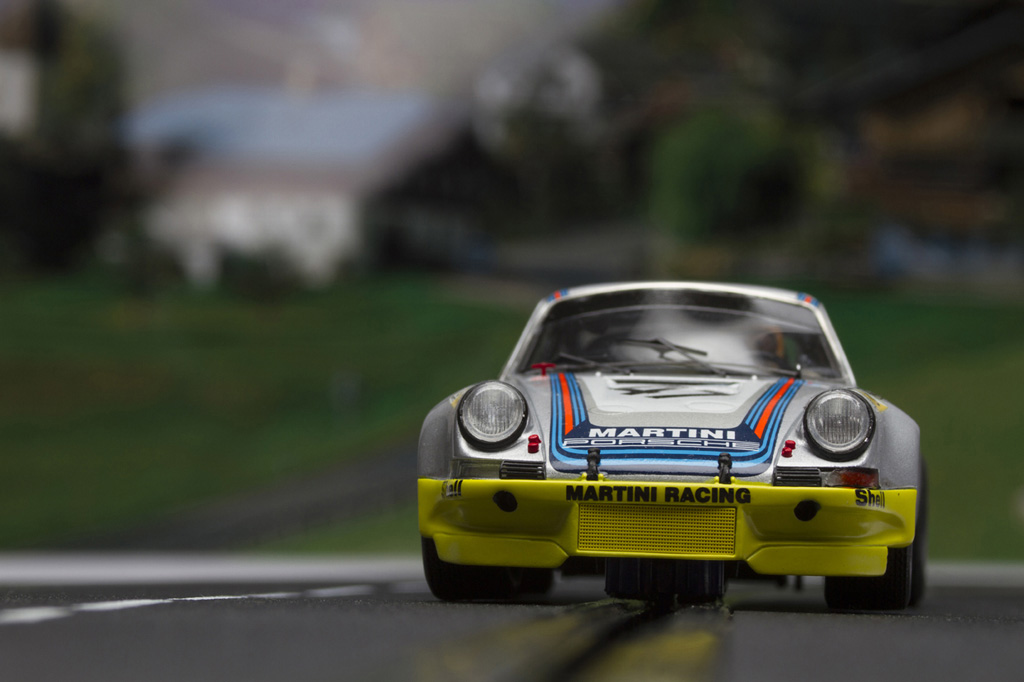 Those are some seriously wide rear tires. When I get my hillclimb track set-up (borrowed some sections for the photoshoot), called the "RS Bergrennen", I'll chime back in with a running update to this photo study. Please excuse the slight lint on the left side reflector.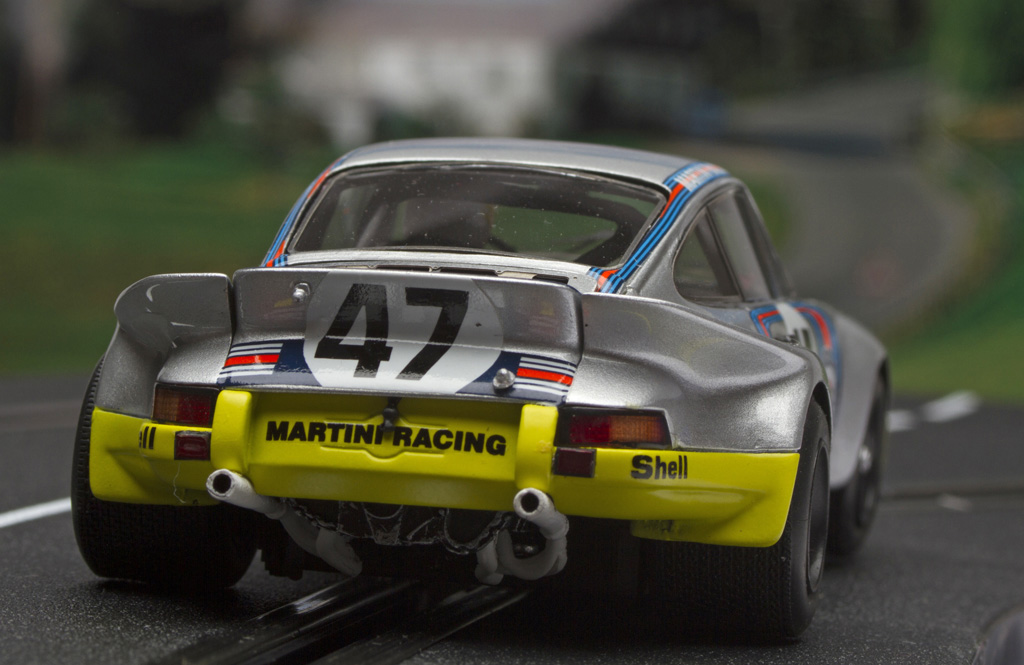 This last year I built a 1/32 scale Porsche 911 with scale engine, for a replica T.Adamowicz orange Trans-Am car (photo 1, photo 2, photo 3-engine detail). It was complete with rear megaphones and photographic detail, fan shroud and as many items that would fit underneath. But this RSR is just over the top for scale detail, or wait is that under the ducktail? Look at the twin rear straight pipes, the mandrel bent exhaust headers and the small detail lights for the rear number. The detail in the side reflector lens is just beautiful—I hope LMM comes though with a spare for the front! I can't forget to mention the rubber ducktail strap too. This engine begs for some oil drippings on the white headers and megaphones.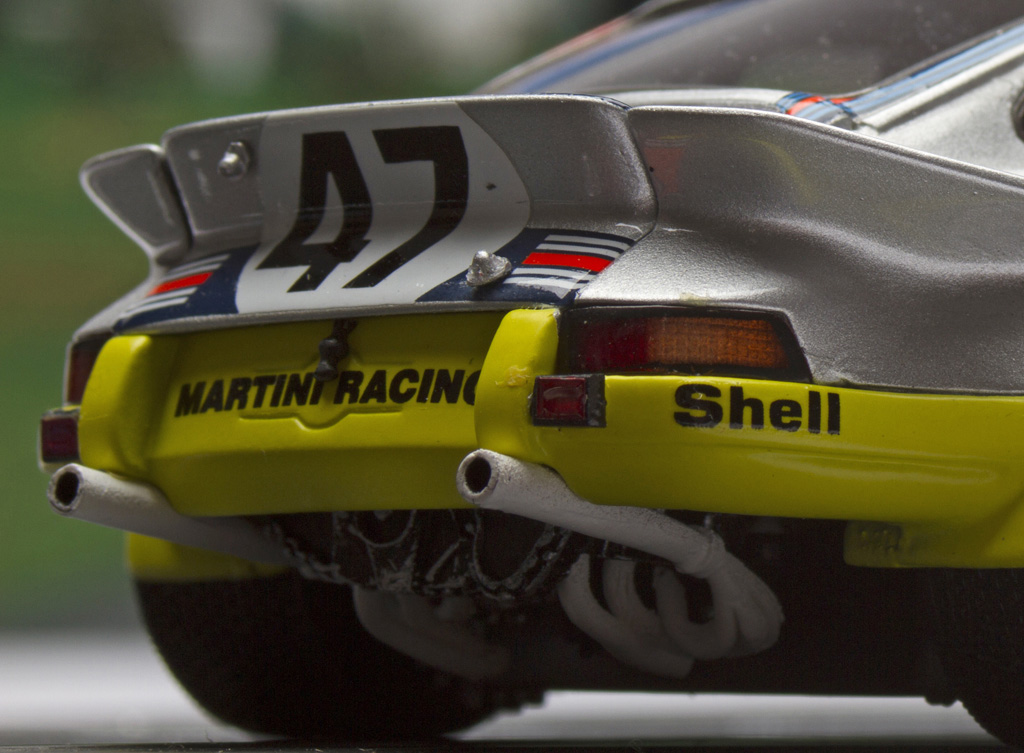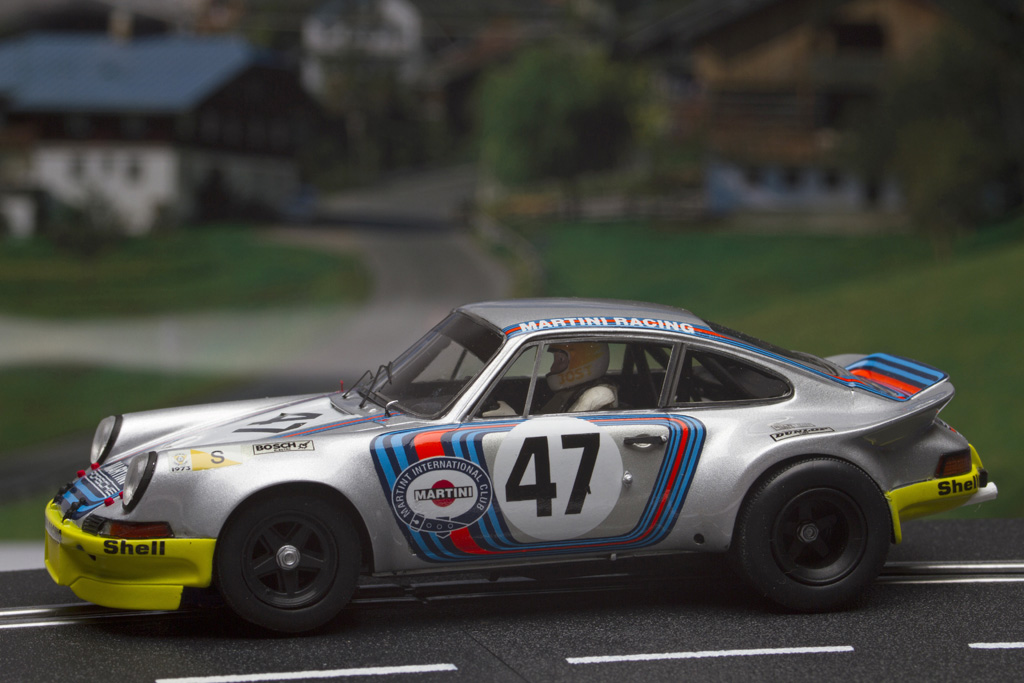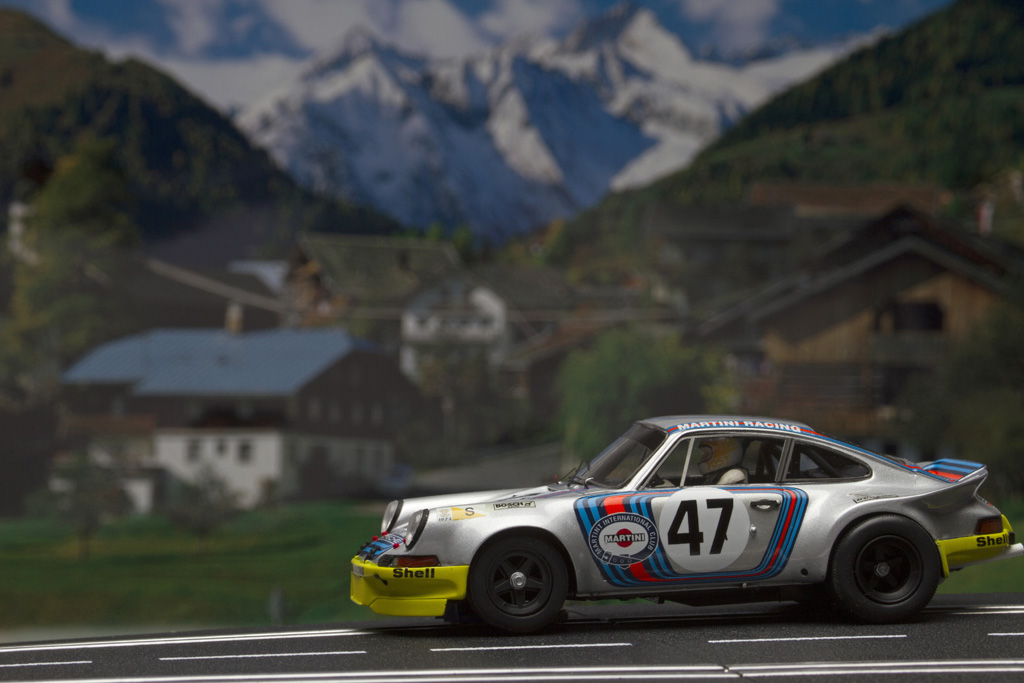 The oblitory slot car review underside photo. I really didn't want to disturb it any more than the rough sea voyage has, so I left it buttoned up for now. Even the tread on the tires is correct. Very well done and a keeper.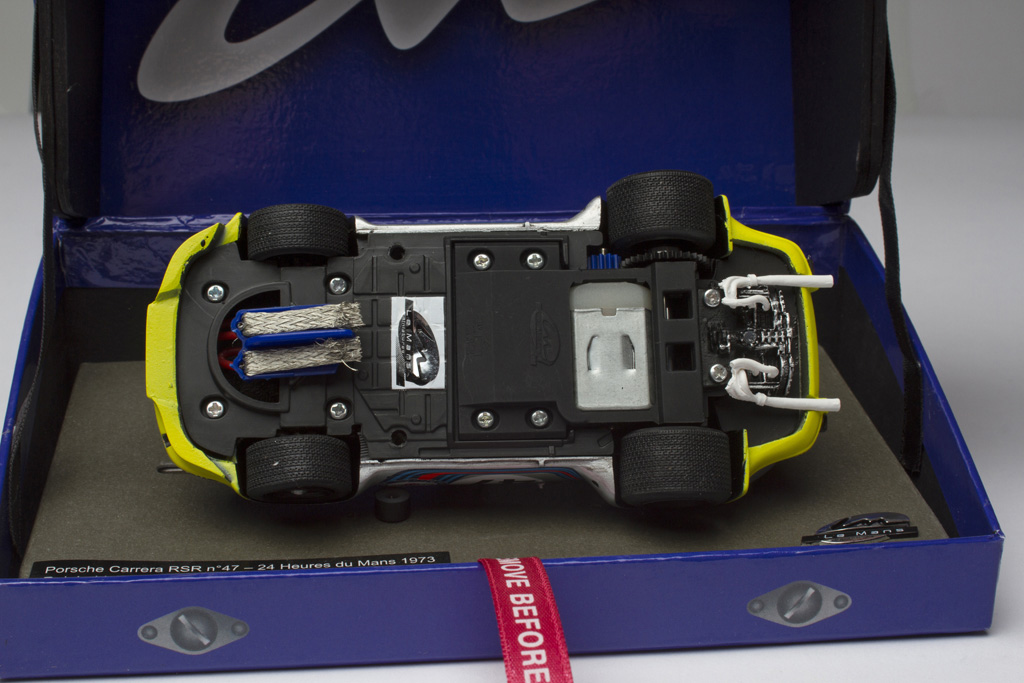 UPDATE: LMM is totally magnifique! I never heard back via the email I sent on Dec 3, 2104. However, better yet, a front set of turn indicator parts just arrived in the mail direct from LMM France two weeks later on Dec 17, 2014, no charge. Superior customer service from LMM, this is an A+ company!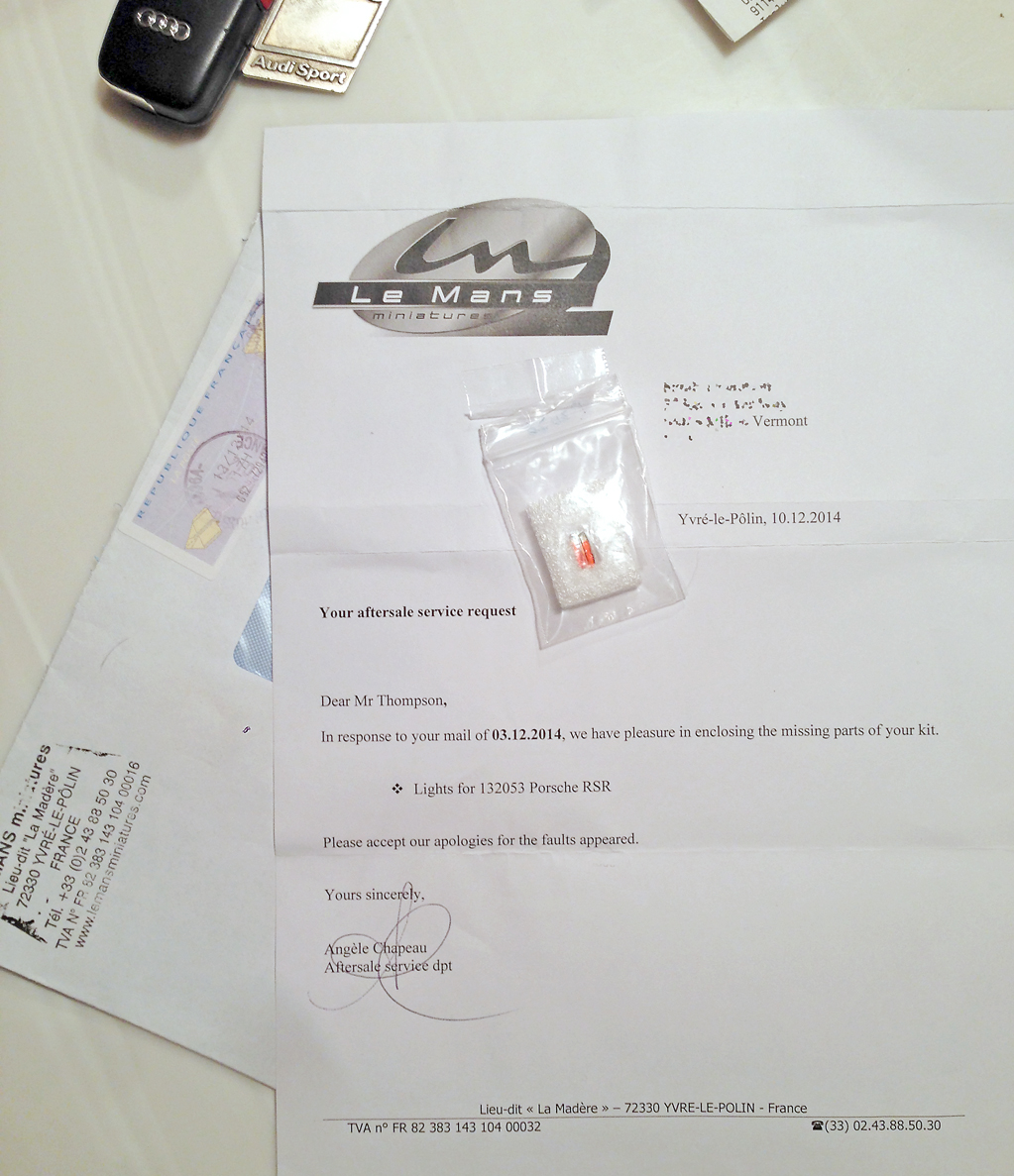 ---
If you've stuck with me this far, read on it gets even better. On with the history of the real RSR...
1973 Porsche Carrera RSR Nr.0588 R6 history
Often times in racing, engineers, mechanics go through an exhaustive process of upgrading race cars throughout a race season. This is most always the norm with the Porsche factory engineers—always making small adjustments to make the cars faster, handle better and perform at maximum endurance. Most of the time in the early years, Porsche would use the same VIN chassis and keep modifying to suit each race venue. Different race tracks presented challenges for the team; gearing, tarmac conditions, drivers, different livery graphics, changing paint colors and of course, trying to obtaining podium finishes.
One of the most cherished, controversial (1) and highly valued Porsche race cars of all time, this specific RSR version was, and still is today, considered the finest early Porsche 911 race car ever built. In the beginning of the 1973 season, the engine was a 2.8 Litre flat-6 with slide valve mechanical fuel injection. In the 1973 24 Hours of Le Mans configuration, the RSR had evolved with a larger 3.0 liter engine, wider flares, wider rear duck tail, 917 style center lock wheels, long distance brakes front and rear, aluminium doors and front fenders, prototype seats, short trailing arms, and special suspension with titanium springs. Confused yet? You should be, lets play musical RSR and colors, read on.

1973 Race Season
The first race R6 entered was the 6 Hours of Vallelunga in Spain (6 Ore di Vallelunga, Trofeo Marlboro) on May 25, 1973. 'R6' was 1 of the 2 GT cars campaigned by Martini Racing Team (D) with Porsche werks support and sported a green lower front valance spoiler. Both RSRs ran the 2.8 Litre engine and for the most part looked like a standard RSR with very wide Fuchs wheels front and rear. This is the business end, where all the noise comes from.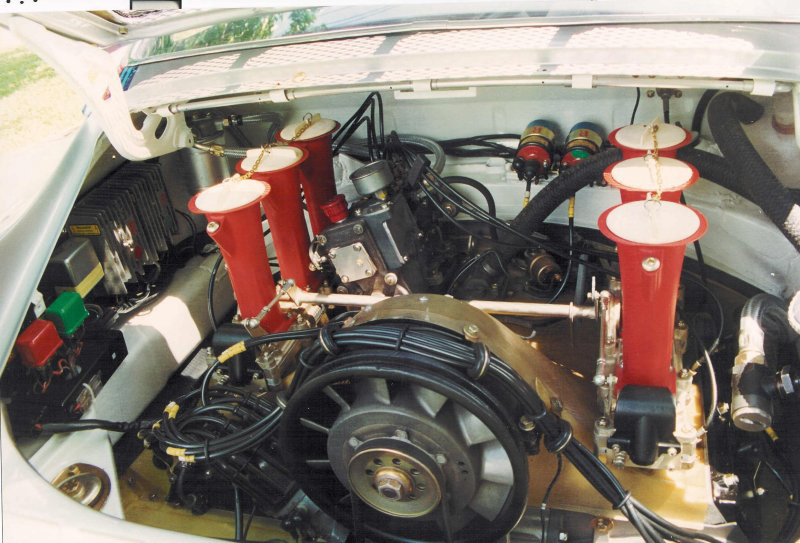 The next race for Nr.0588 R6 was at Spa 1000 Kilometers in Belgium, May 6th, 1973. Entered in the GT class and sponsored this time by Porsche Stuttgart (D), it sported the same silver Martini livery but had a new bright yellow lower front valance spoiler. Driven by George Follmer (USA) and Reinhold Jöst (D) they finished 10th overall, 1st in GT. Note: a sister car was entered too (and earlier chassis than the 'R7') and this had the first instance of the extended duck tail along the rear fender flare sides. This was later to be known as the "Mary Stuart" tail for additional downforce at high speeds.
Third time is the charm
The biggest success for Nr.0588 R6 chassis was one week later, May 13th, 1973 at the Targa Florio in Italy. Porsche decided not to compete in the GT Class for two reasons. First, they didn't want to race against customer teams and secondly in the prototype class they could experiment with development more. Porsche werks department prepared five 911 RSRs for the race, entered by Martini Racing (D). Now fitted with the extended duck tail and changed from yellow to red lower valance spoiler, 'R6' was driven by Herbert Müller (CH) and Gils van Lennep (NL) for the overall win. This RSR, with its 'famous' silver/red livery Martini Racing graphics and Targa Florio outright win will be remembered in racing history books for years to come.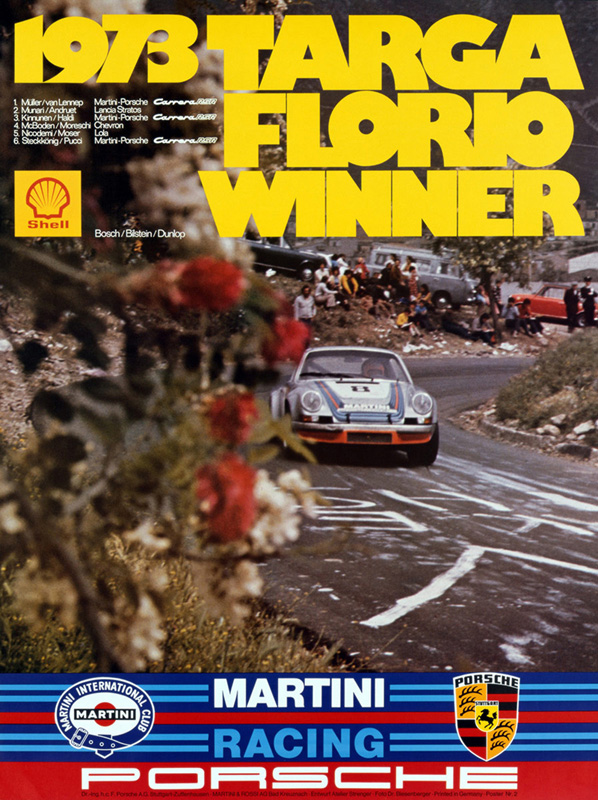 In the Nürburgring 1000 Kilometers race (ADAC-1000 km-Rennen aug dem Nürburgring) May, 27, 1973 Porsche AG entered a revised Grp.5 spec RSR with the wider centre lock wheels for the first time. This necessitated widening the RSR flares to accommodate. The wider duck tail was now a molded part of the rear body work rather than a riveted and taped on addition as in the previous Targa Florio. These modifications were fitted to a newer sister RSR chassis Nr.0686 'R7' with silver/red Martini Racing livery graphics. The Nr.0588 R6 chassis was not listed in this race as was in for repairs and upgrades from previous win at Targa Florio.
1973 24 Hours of Le Mans
On June 10th, 1973 Porsche System Engineering Ltd. (D) entered two 911 Carrera RSRs to the 24 Hours of Le Mans, both with Martini Racing livery graphics. This included the Targa Florio winning Nr.0588 R6 chassis (featured LMM 1/32 scale slot car review) with livery colors changed to silver/yellow lower valance spoiler, and the new sister car, R7 with the silver/red lower valance spoiler. The engines were bored up to 2998cc and included the wider body and Grp.5 running gear additions noted in the Nürburgring 1000 Kilometer race. Unfortunately, the Nr.0588 R6 chassis did not finish the 24hr race and retired with fuel system problems. However, the newer sister car with the silver/red livery did and was 4th overall (2) further reinforcing the 'famous' silver/red RSR, but on the sister chassis, R7.
At Zeltweg in Austria for the 1000KM race on June 24, 1973, Porsche went completely wild on the body design and added a long tail to the RSRs.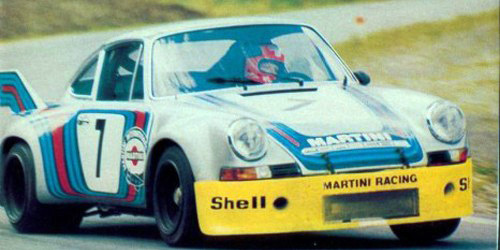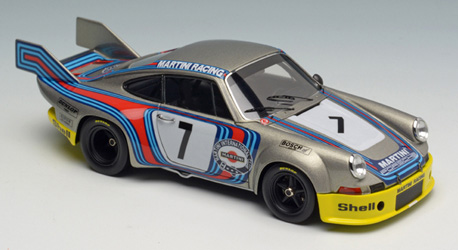 The last race of 1973, chassis Nr.0588 R6 was sold to Roger Penske Enterprises (USA) and raced by Mark Donohue at the Watkins Glen 6 Hours on July 21, 1973. On the new long tail, there was an additional airfoil between the rear fins. Repainted in new Sunoco sponsored dark blue livery, Donohue brought the RSR over the finish line in 6th place overall, this was a stunning end to the Nr.0588 R6 original short 1973 racing career.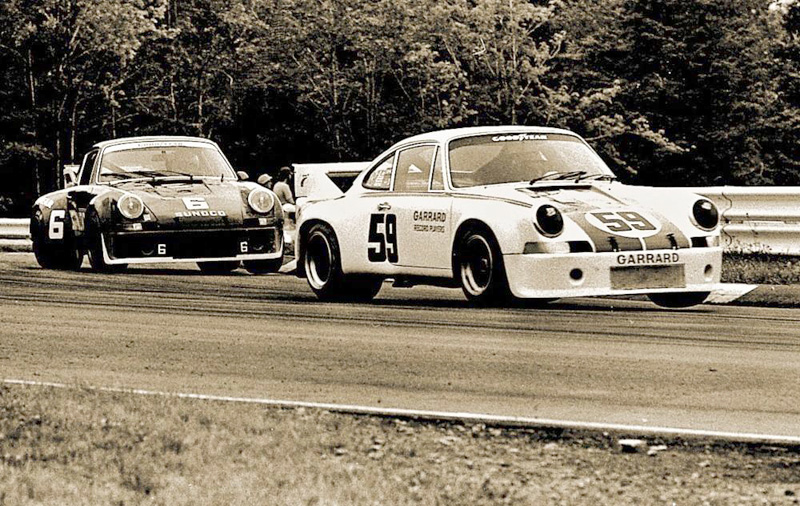 [ image Watkins Glen 6 hours ] Photo above: "If my memory is correct, this was the same Can-Am race at Watkins Glen, because we ran both the long-tail RSRs. I don't remember, but it might have been Al Holbert in the Penske Porsche, with Peter running ahead of him. This car was sort of a joint endeavor between us, Penske and the factory, kind of like in 1973 when Porsche came out with the first RS and they gave one to us and one to Penske, to kind of test for what would be the next generation of racing 911."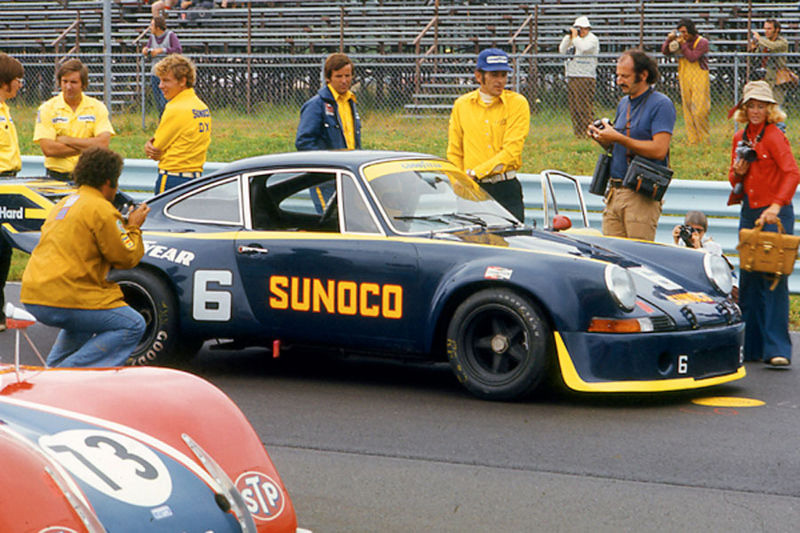 [ image Watkins Glen 6 hours ]
After racing in USA events, Nr.0588 R6 was sold in Mexico, then sold in 1992 to Porsche collector Peter Kitchak (USA) and eventually was sold 2008 in Europe. Before Kitchak took delivery, the restoration effort was handled by Dave Morse at Morspeed in Campbell, CA. The new owner decided to have the chassis returned to the 1973 Targa Florio specification livery with the silver/red lower valance spoiler and Martini Racing winning Nr 8 nomenclature.
I was there for the restoration effort in 1991 when Morspeed restored Nr.0588 R6. While designing a logo and corporate graphics for engine specialist Jerry Woods, his shop just happened to be right next door to Morspeed, lucky me. There were some 'extra' stickers left over from the RSR R6 restoration and these have been proudly stuck on my tool box for the last 23 years. The 'famous' silver/red Martini Racing livery colors are indeed tied forever to the RSR and chassis Nr.0588 R6 racing heritage with the outright win at the 1973 Targa Florio. This makes the 1/32 scale LMM 1973 24 Hours of Le Mans version of R6 with silver/yellow graphic even more special to me, because it really was the winning Targa Florio R6 chassis. I wonder if my next tool box should be silver and yellow?

1973 Porsche Carrera RSR Nr. 911 360 0588 R6 — T-Shirt design by Thompson Smith
http://www.cafepress.com/studiors.1246216744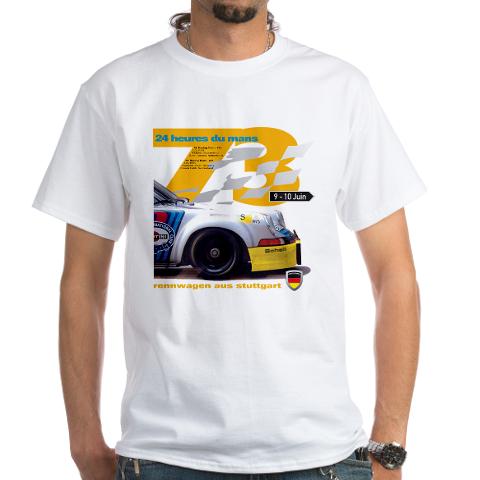 1973 24 Hours of Le Mans Films
https://www.youtube.com/watch?v=l82bPepNJaI



https://www.youtube.com/watch?v=O-IBBK3J9rQ

(1) http://www.early911sregistry.org/forums/showthread.php?37197-The-real-73-RSR-TF-Winner-Porsche-Factory-Scam
(2) http://touringcarracing.net/Pages/p%201973%20Le%20Mans%2024h.html
http://www.lemans-history.com/fotos.php?ok=&ano=1973&equipa=%20%2047&equipa_seq=0&piloto=&novo=&motor=&data=
Visit our discussion forum to read and share more about this and other models, HERE.
I purchased this model from Powerslotcars.com
Click their logo below to visit their online store!


Copyright © 2014 HomeRacingWorld.com. All Rights Reserved.