11/26/2014

1/32 Carrera Chevy Corvette C6R GT Open
Item #30679 (Digital), Item #27456 (Analog)
Another great livery of a respectable GT Open series Corvette...she is a beauty in black!
By Jeremy "bibbster" Bibbee
While this is not a brand new model from Carrera, the livery is and what a stunning looker they have created. I'll go ahead and dive in to this so that any new folks looking at this model will hopefully get the information that they need to make the decision to add this car to their paddock. As if the looks alone aren't enough, there is always that low price to help sway you into the best decision there is, and that is to buy it!
On to the review!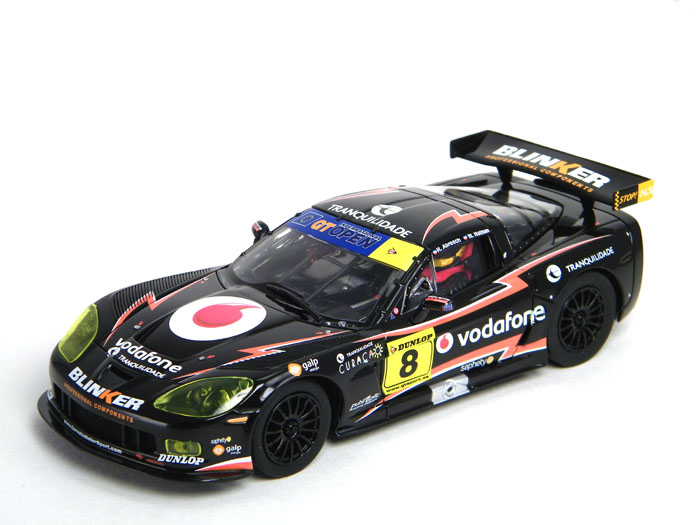 * Spare guide blade (analog model only) and braids are located in the back of the case. *
As usual, the craftsmanship from Carrera is stunning, and that not only includes fitment of parts, but also the decoration, or tampo (short for tampography) on their cars. Getting an ultra smooth paint job is one thing, but to do it in black is another. And along with that gorgeous black paint comes crisp, and vibrant colors of the sponsors and such. One thing I noted, for the picky folks out there, is that the red stripe is more of a salmon color. Regardless, it looks nice and on the track at speed, it doesn't really matter. After all, we're racing cars not paint jobs. The detail you'll find on this and other Carrera cars is just remarkable given the prices that you can purchase them at. You can find models, including this one, under $50(digital) and $35(analog).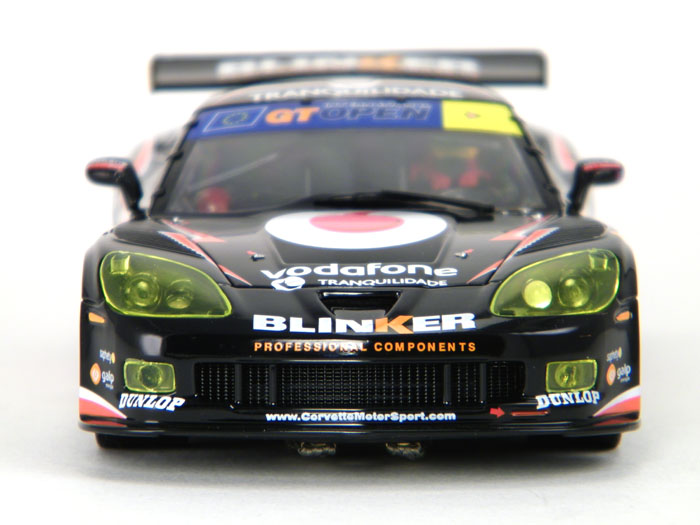 The interior of the car is well done, including a nicely painted driver, detailed gauge cluster, roll bar, and other things. All details that you will find on the real race car.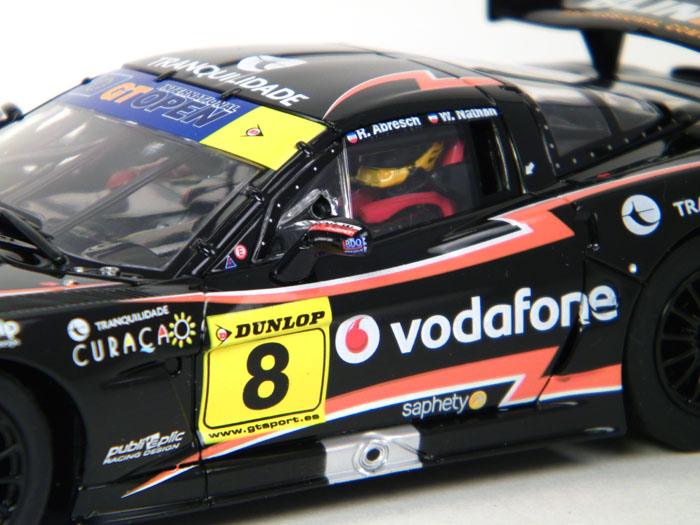 The exterior of the car dons some great details such as rivets and the correct yellow head light lenses.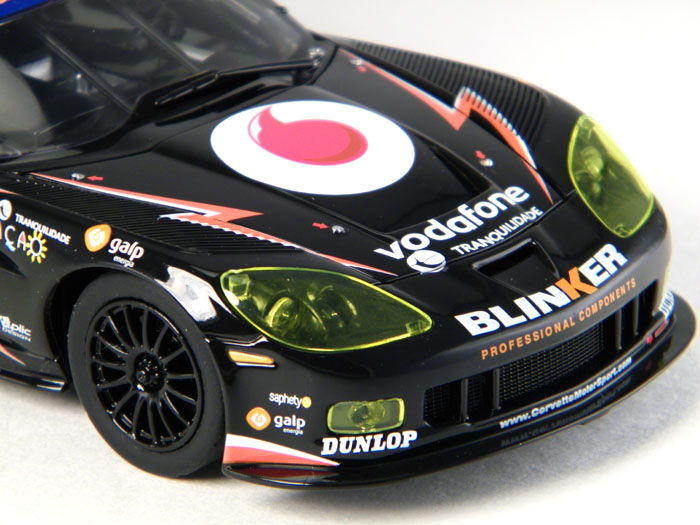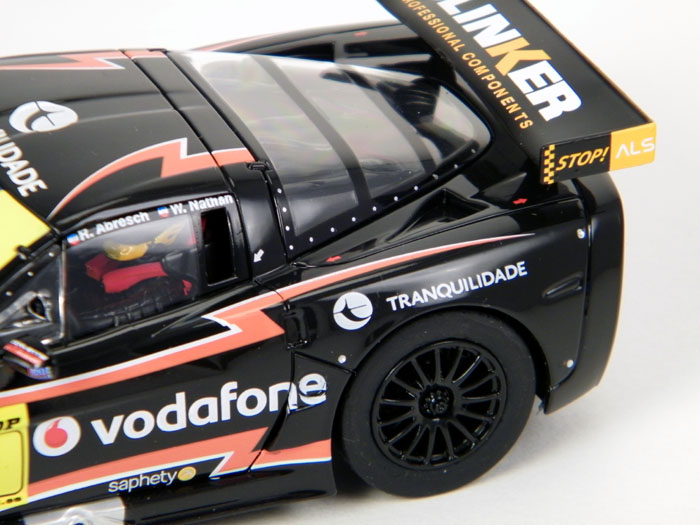 Tire manufacturer logos are non-existent on this model just like the real car. As much as I enjoy logos on tires of slot cars, Carrera modeled the tires on this car correctly.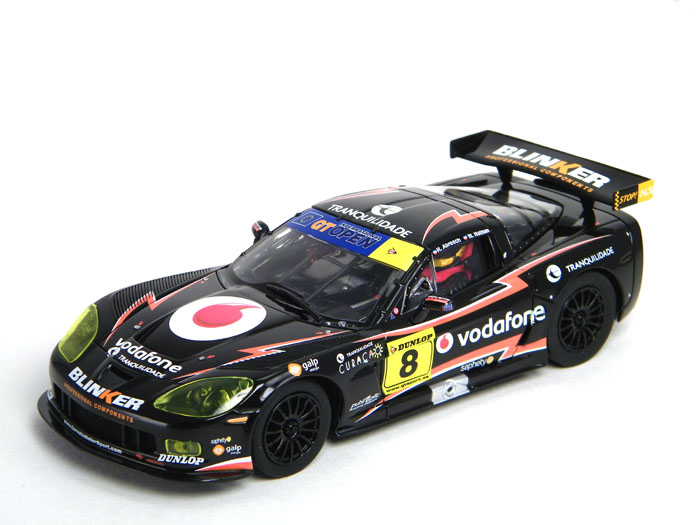 Here is another look at this sharp looking car...it looks great, doesn't it?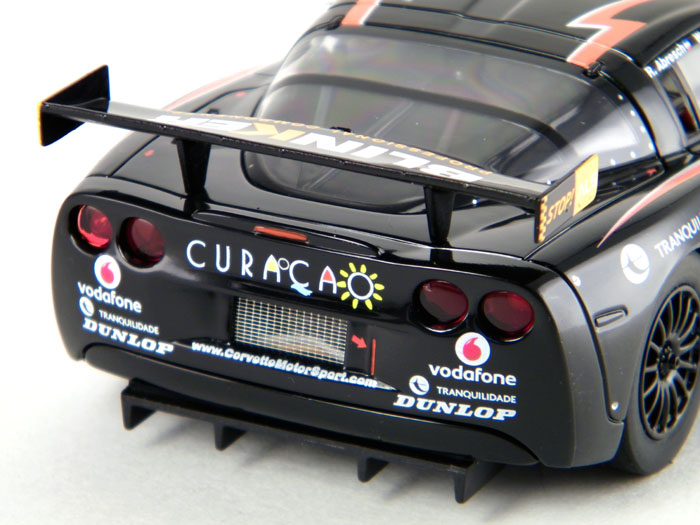 Looking from the rear we see the spoiler and vent detail (where the license plate would be). This is not just a printed detail, it is actually a mesh/screen part.
You can actually see the rear light wiring through the mesh. Again, more great attention to detail by Carrera.
The spoiler is removable, and with hard racing, I'd suggest doing so. Spoilers are sometimes fitted tightly, but with a little simultaneous pulling pressure on both struts, NOT the wing, it will come loose. You may also choose to remove the mirrors as well when racing gets intense.
Now for some track testing! For this review we'll test on both a wood track and Carrera track!
If a car doesn't perform well out of the box on plastic track, it definitely won't perform well on a wood track.
With both types of track to test on, let's see how this C6R shakes out.
Track Test #1:
Carrera Digital Un-Named Track
6' x 12' - 2 Lane Track
Power set to 30% (Perfect for this size track)
Stock D132 Wireless+ Controllers

Track Test #2:
Veteran's Memorial Speedway Roadcourse
6' x 16'- 3 Lane Particle Board- Flat Latex Surface
Copper Tape - Pyramid PS26KX Aftermarket Power @ 12 Volts
Parma 45 Ohm Controller

A quick look to make sure all the tires are seated on their rims properly, proper guide blade movement, and adjusting the pickup braid to ensure contact with the track rails and off we go!
On the Carrera track this car handles like a dream. If it wasn't for the guide blade making contact with the slot on occasion you wouldn't even hear it going around the track. No, I'm not kidding. This car is super smooth! It powers around the turns without any sliding of the rear of the car. This is, of course, due in part to the magnets, but also to the tire compound that is being used by Carrera. The tires are soft and grip well to the track. Acceleration is quick and full speed is reached easily. Braking provides a very predictable car which allows you to drive deeper into the turns than you would expect making entry into and out of curves a real treat.
*NOTE* This is a digital car that was converted to analog for testing on my wood track. Please watch the video below for instructions on this simple conversion.
DIGITAL to ANALOG CONVERSION VIDEO
Moving on to the wood track, the experience of the cars handling is very close to that of the plastic track. There was a very slight, and I mean very slight, hop in the rear, but as with all ready-to-run home type cars, this is caused by excess play in the rear axle and axle bushings. This is an easy fix and smoothes any car with this extra play in the bushing nicely. You can visit the HRW forum and search for "super glue trick" to see how I correct this. And of course, you can email me at the link below as well. Cornering, braking, and acceleration are again, very nice and will surprise many folks. Adding your choice of aftermarket tires will help the handling even more, but out of the box, this car is a lot of fun.
Now on to the details of the make-it-go parts and such...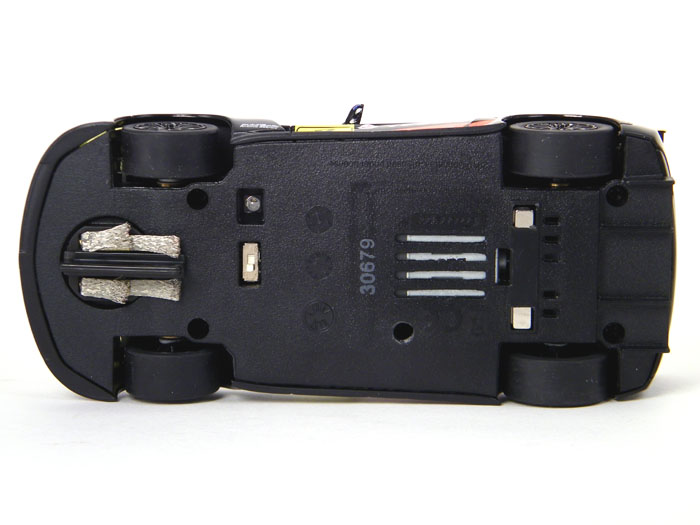 The underside of the car shows that there are four body mount screws; two at the front and two at the rear.

If you are a magnet racer, you'll get two as standard equipment with this car; one forward the motor that does not show from the bottom and one aft of the motor.
You'll also see the long guide blade, IR sensor and dipswitch for digital/analog conversion.
Let's take a look inside!
Weight: 100 grams, Length: 142mm, Width: 61mm, Height: 36mm (bottom of tires to top of roof)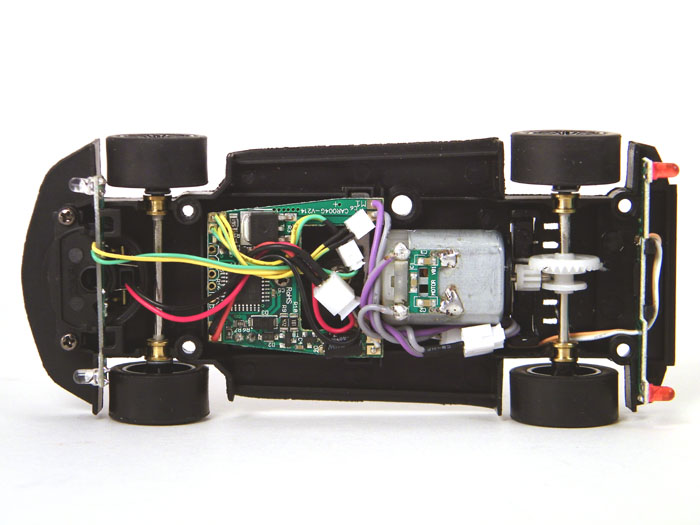 NOTE: ANALOG VERSION DOES NOT HAVE LIGHTS

With the body removed, we can see the inside of the chassis including the digital chip. You'll also see solid front wheels in the front.
Again, the standard E200 motor as well as the 9 tooth pinion and 27 tooth crown gear.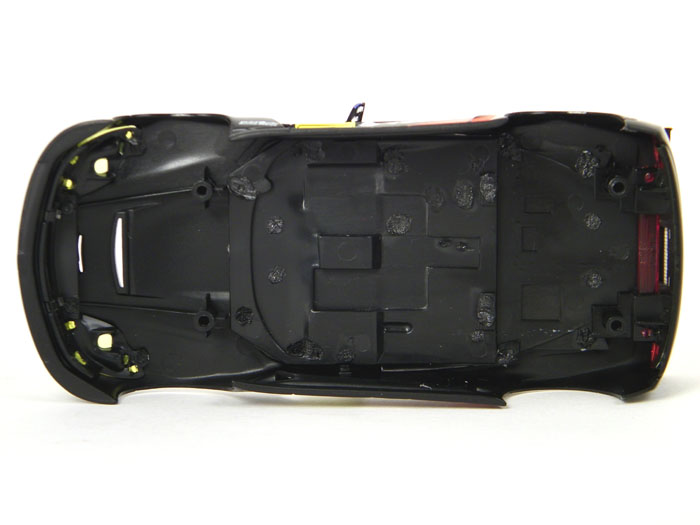 Looking at the underside of the body, you can see the standard half-tray interior which is plastic welded to the body.
And one more look at this beauty because it deserves a second look...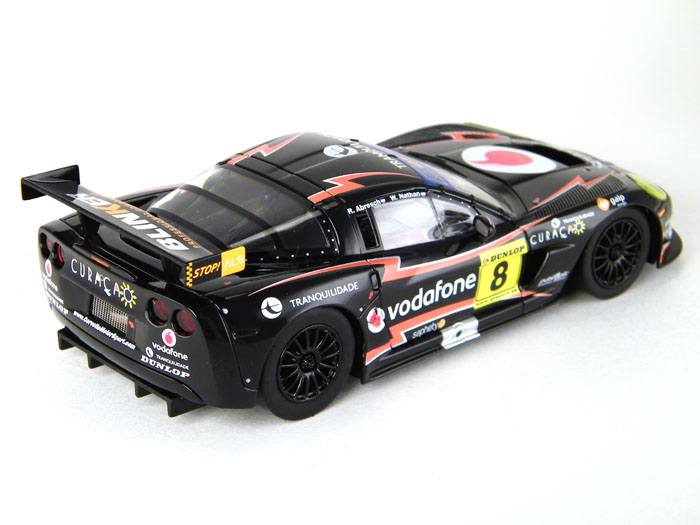 For the fans of GT racing, this model is one that will look great against all the other GT counterparts from Carrera. If you have not purchased a Carrera car recently, you're going to want to try this one. As always, I have to mention the price of these models. Great detail, lights, digital, and an overall well running car all for under $50 ($46.99 at LEB Hobbies). That is one heck of a deal for a car that runs as well as this one does right out of the box. I'll be picking up a couple more of these C6R's for sure! And remember, if you're not having fun, you're doing it wrong!
Jeremy
Contact ME here about this review or the hobby in general.

Or visit our discussion forum to read and share more about this and other models, HERE.
Thank you L.E.B. Hobbies for sponsoring this review!

(Click their logo below to visit their online store!)


Copyright © 2014 HomeRacingWorld.com. All Rights Reserved.